Music For Users! | AmbiScience™
By Tesla Audio Sciences
This app is only available on the App Store for iOS devices.
Description
HOLIDAY SALE 50% OFF!!
WWW.TESLASOFTWARE.COM

TRON Music for Users! - music for TRON fans! See our review on TUAW.com - under AppReviews!

** The Best Selling Line of Brainwave Apps on the Store - Since 2008. **

PRAISED BY APPLE, MACWORLD.com, TUAW.com, iPHONE LIFE, INFORMATION WEEK AND 148APPS.com SEEN IN PUBLICATIONS AROUND THE GLOBE. OVER 600,000 USERS WORLDWIDE.
** Type 'Tesla Audio' in search today **

WHAT IS AMBISCIENCE?
First, AmbiScience provides soothing, evocative ambient music that takes you to another place - a sonic journey. Second, we also provide the option of combining the music with entrainment (en-train-ment) - a safe, audio process of stimulating your brain to certain frequencies.

HOW DOES IT WORK?
Once you choose a particular frequency, such as the 'sleep' frequency, this state is then more quickly achieved than normal. This is done by a mixing of tones sent to each ear - the difference between the two tones, that your brain creates, is called binaural entrainment. We also include isochronic entrainment, which is a different form, using a single pulsating tone in each ear - people who don't respond to binaurals, often respond to isochronics.

THE ONLY APP
AmbiScience is the only app, which includes binaurals and isochronics in ONE.

PROGRESSIVE ENTRAINMENT
This app also offers Progressive entrainment, which is a gradual inducement to your chosen entrainment, and this is done by starting at the waking state frequency and gradually moving the user down to his/her chosen frequency.

FEATURES:

- 21 LONG Professional Ambient Tracks
ALL created by Ryan Wise and the Award Winning SoundPersuader
ALL TRACKS are several minutes in length
• 8 ENTRAINMENT Program Tracks
• Create your own CUSTOM programs
• MULTITASKING background audio available!
• PLAY your iPod music WITH entrainment
• PERFECT Seamless Loops
• Full-Featured presets / Multi-Track Save
• Countdown Timer with fader
• Countdown end chime
• Alarm with Snooze option
• Auto Quit/Exit feature
• Adjustable independent volumes
• The smallest available files
• Highest quality audio
• Easy to use interface
• Easy Instructions & Free Updates

BRAINWAVE/ENTRAINMENT PROGRAMS:
(headphones or 2.1 speakers are REQUIRED - the iPhone/iPod speaker is not able to produce some of the frequencies below)

- 8 Super Long Entrainment Programs!
• 3min. Progressive Energy Boost Program
• 12min. Sleep Progressive Program
• 12min. Relaxation Progressive Program
• Focus Program Isochronic and Binaural
• ALL selections include Isochronic and Binaural programs.

• Isochronic - headphones not required.
• Binaural - requires headphones.

AMBIENT MUSIC TRACKS:

- 21 LONG BEAUTIFUL Ambient Tracks:
• Man in the Machine
• Cruising the Circuits
• My Electric Life
• Cycle Chase 001
• The Beacon
• Aboard the Solar Sail
• Bit by Bit
• Relentless
• The CPU Factory
• Cycle Chase 010
• Near the Frontier
• Power Cycle
• A Digital Dream
• The Search Continues
• Router and Switch
• Cycle Chase 011
• A Digital Requiem
• Memory Reconstruction
• The Journey Home

PLUS as a BONUS! - the following 2 tracks from our BEST Selling products:
• Hide and Seek (100 Beats and Tones)
• The Android's Dream (Bundle Pack #1)

AUTO-LOCK must be set to 'Never' for alarm to function, and be sure to enable
AIRPLANE MODE to avoid interruptions.

NOTE: The iPhone/iPod speaker not capable of producing most of the entrainment effects listed - best to use earbuds/headphones or external 2.1 or higher speakers.

NOTE: Location services may be required to manage the Alarm feature with certain time zones.

Go to teslasoftware.com for a VIDEO tutorial. Type 'TESLA AUDIO' in search today. Interested in Lucid Dreaming, check out our 'Power Sleep and Nap' app. Enjoy.

Follow us at http://twitter.com/TeslaSoft
iPhone Screenshots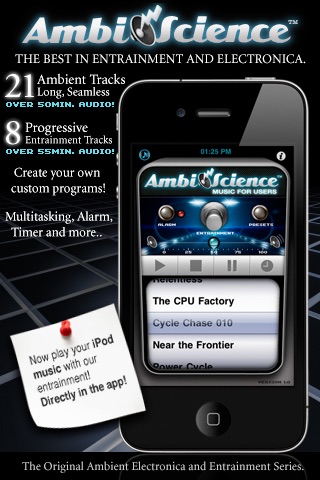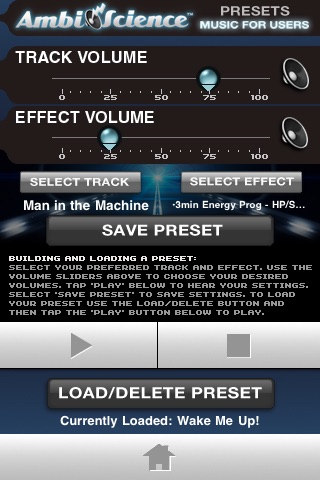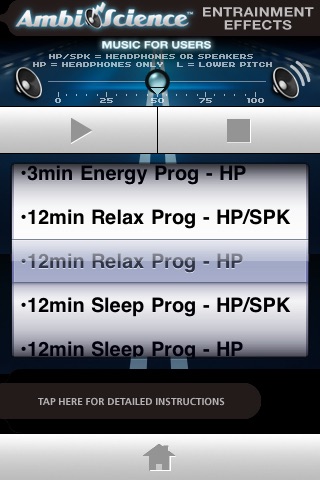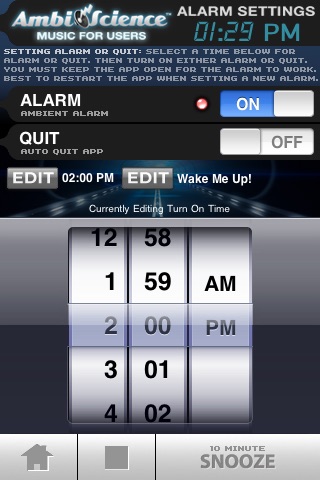 Customer Reviews
Works!
I got this app just for the Energy Boost program. I tried it yesterday (ran out of coffee) for the first time. I ran the energy boost at 50% with an upbeat song from my iTunes library at 100% (for this program I think using your own music will make a big difference).
I felt like super mom! I cleaned my entire kitchen and bathroom from top to bottom, got caught up on dishes and laundry (all of which got put away as well), made enough breakfast smoothies for a month, and made my nine month old enough food for a month! That was all in addition to keeping up with a walking nine month old.
If my energy started to lag throughout the day, I'd just repeat the same process I'd used in the morning, but with a different iTunes song.
Can someone explain..?
I have quite a few of their apps, but I'm trying to find the difference between some of them? I have this one (obviously),100 Binaural beats & Isochronic (non-Premium version), one of the Yoga apps, 3-in-1 #2, and one other I can't remember. Is it just different music in each? I guess what I'm asking is, is there 1 that includes everything? LOVE them all, though!
Brilliant
This developer continues to upstage the competition with yet another binaural beat app that includes isochronic tones in a highly configurable format. Be sure to read the instructions to get maximum benefit of all the options available. Don't know what the complaints are about. This app looks great on my iPad.
View in iTunes
$1.99

Category:

Music

Released:

Nov 01, 2010

Version:

1.0

Size:

207 MB

Language:

English

Seller:

Tesla Software, LLC
Compatibility: Requires iOS 3.0 or later. Compatible with iPhone, iPad, and iPod touch.