My Aquarium Guide
By Tayson Nguyen
This app is only available on the App Store for iOS devices.
Description
Will this fish be compatible with my tank? How do I know if my tank is overcrowded?

Avoid making common mistakes and take the guess work out of fish keeping!
My Aquarium Guide will help you create a beautiful and harmonious aquarium. My Aquarium Guide is perfect for anyone who owns an aquarium or are thinking of starting this hobby that will become a source of endless relaxation and joy.

Using My Aquarium Guide:
1. Select the size of your tank
2. Choose the types of fish and how many of each you would like to add to your tank
3. My Aquarium Guide will tell you if any of the fish are incompatible with each other
4. My Aquarium Guide will tell you if you have too many fish for your tank size
5. Print, email, or just bring the app with you when you visit your nearest pet store

Features:
+ No internet connection required
+ 100+ types of fish to choose from
+ Beautiful photos of each fish
+ Fish information such as temperament, care difficulty, size, and average cost
+ Warns you of any fish incompatibilities
+ Print or email your aquarium setup
+ Share your aquarium setup on Facebook and Twitter
What's New in Version 1.6.1
+ bug fixes
iPhone Screenshots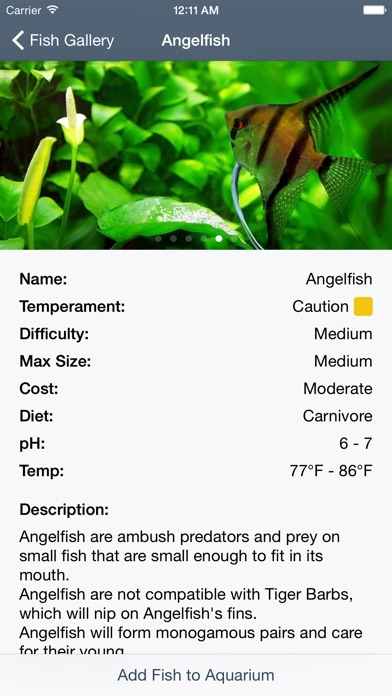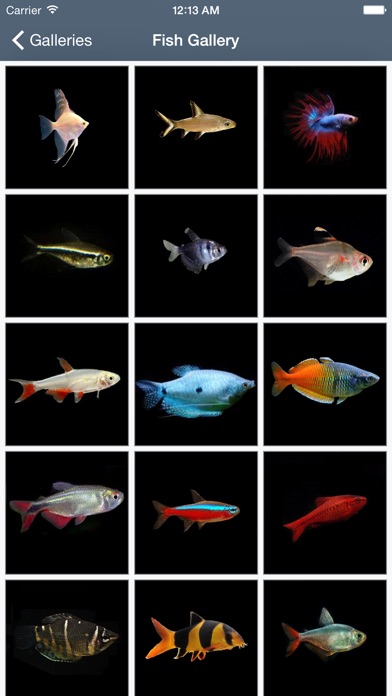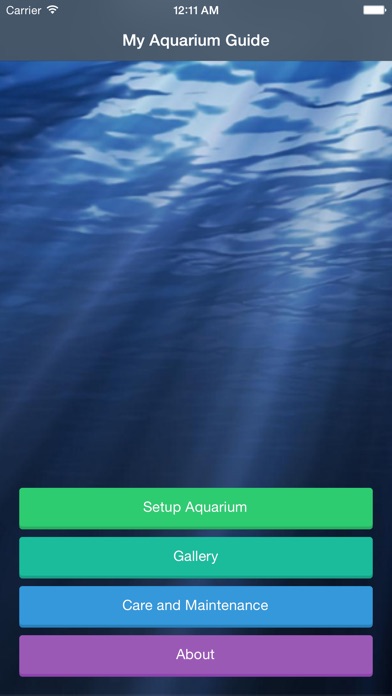 Customer Reviews
Needs work
It needs to take into account that some fish, even if they're small, don't do well in small tanks. In the app, I put a molly in a 10 gallon tank and it said it should take up 2 gallons. So at least one molly + other small fish + shrimp perhaps should do nicely in a 10g? Mmm, no. In my experience, that works horribly. I had a molly, 2 platies, and a shrimp in a 10 gallon and after the initial excitement of new fish wore off, I realized that I knew deep down they weren't happy in this setup. I returned the molly to the store and got two more platies to add in her place. The four now seem to be happy as clams, and healthy too. The whole tank used to be riddled with health problems while I had the molly in there. Imagine if I'd initially added mollies to my tank according to the app's suggested ratio of 1 fish:2 gallons...

The app really needs to look at the specific needs of each fish more in depth. Some produce more waste than others. I think the app would do good to change the minimum tank size for one fish of a species to the min. tank size for the least # of fish in a school required for them to be happy. (Mollies really shouldn't be kept on their own without others of their kind, and given they're livebearers... Yikes! You're definitely gonna need more than 10 gallons.)
Adequate but not perfect
This app works and helps a new aquarium hobbies to out by preventing you from choosing to put non compatible species in the same tank, hopefully newbies will know this means they aren't supposed to.
However, it could be improved a lot and have more functions (like a search bar), or have more animals such as a turtle/ crayfish/ frogs/ the kind of animals that go into tanks with fish.
It's because of this apps lack of breadth that I'm giving them only 3 stars. Hopefully they improve from being a "list" only about fish to the realization that aquarium hobbyists have many other things in their tank with the fish.
It would also be nice if it took into account filtration and water changes though because someone who doesn't plan to clean wouldn't want a full tank and someone who plans to do so excessively can have a higher bioload.
Other than this, the app is nice for planning a tank.
Small list of fish
Not many fish to choose from many common fish from store not on the list and gallons required seems off to me I added 8 snails and it used gallons required by 8 gallons seems silly since they scavenge and clean if anything it should lower gallons required there are no sucker fish to choose from at least not the common ones sold in stores and you have to buy an expansion to add plants send silly great idea just seems like there need to be more math involved. I added 10 tetras 3 angle fish and 8 snails said I needed 40 gallons min that's funny because I have all those plus two frogs not on list and two sucker fish not on list and one female sword tail if I could add those in guess it would say near 50 gallons needed but I have had all those in a 10 gallon tank for 6 months and everyone is thriving seems off to me great idea if you only plan on 3 or 4 fish it would b great it says angles and tetras shouldn't be together but the co exist great and many charts and people at the fish store say they play well together
View in iTunes
Free

Category:

Reference

Updated:

Jun 03, 2016

Version:

1.6.1

Size:

73.7 MB

Language:

English

Seller:

Tayson Nguyen
Compatibility: Requires iOS 7.0 or later. Compatible with iPhone, iPad, and iPod touch.
Top In-App Purchases
Plants Pack$2.99
Saltwater Fish Pack$2.99
African Cichlids Pack$2.99
Exotic Fish Pack$0.99