My Diet Diary Calorie Counter App
By MedHelp
This app is only available on the App Store for iOS devices.
Description
Get to your goal weight faster with My Diet Diary! Track your food, exercise, weight, nutrition and more to see whether you are on track to lose weight, gain weight, or maintain weight. Millions have achieved their health goals using My Diet Diary.


KEY FEATURES OF THIS FREE APP:
* Beautiful and simple
* Track your food, exercise, weight, and water intake (an important element of weight loss)
* Connect and see your steps progress from your Fitbit, Jawbone Up, Apple Health App (HealthKit), and several other apps and devices!
* Daily health tips. Practical tips to living a healthy lifestyle.
* Add your food easily with our database of 150,000+ foods and recipes.
* Beautiful charts to track your progress to see what is trending and if you are on track to meet your goal
* Have a question? Quickly get an answer. The most active diet & fitness forums to get support and motivation from millions of people just like you who are dieting.

PERSONALIZED FOR YOU:
* Customized goals and calorie counter
* Set reminders and notifications for meals and exercises

CONNECTS APPS & DEVICES:
* Easily connects and seamlessly integrates with several apps and devices including Fitbit, Jawbone, HealthKit (Apple Health App), and more!

FOOD TRACKING:
* Record what you eat throughout the day and automatically calculates the total number of calories you consume
* View info about everything you eat - from calories to vitamins and minerals and cholesterol

EXERCISE TRACKING
* Record your workouts to calculate the total number of calories burned
* Log over 65 exercises to see how many calories you've burned

FORUMS:
* Have a question? Quickly get an answer.
* Tap in to MedHelp's community as the largest health social network by asking questions in one of our many diet-related forums, fitness forums, and weight-loss related forums.
* Get support and motivation from millions of people just like you who are dieting

ONLINE FEATURES:
* Sync/backup your data online to MedHelp to access your info online
* Access to your information online from any computer
* Add information from any computer and have it automatically sync to your iPhone
* Print out all your data from medhelp.org — great for doctor appointments!

Note: This Software is intended for informational and educational use only. Please consult your healthcare provider for any health concerns.

When you download My Diet Diary, you agree to the My Diet Diary Terms of Service and privacy policy located within the app.
What's New in Version 5.9.0
Bug fixes!
iPhone Screenshots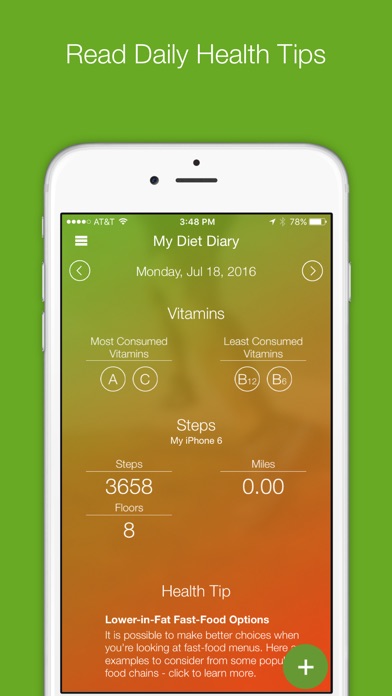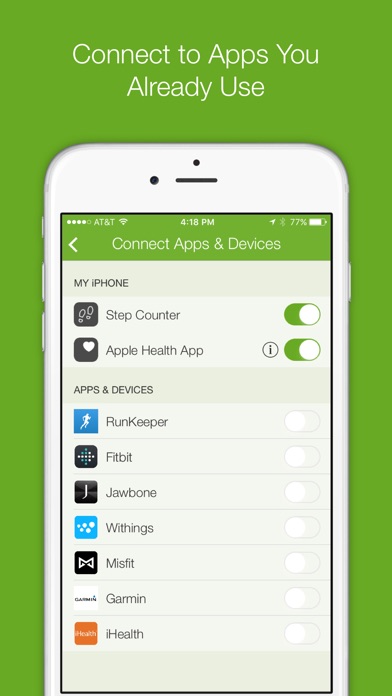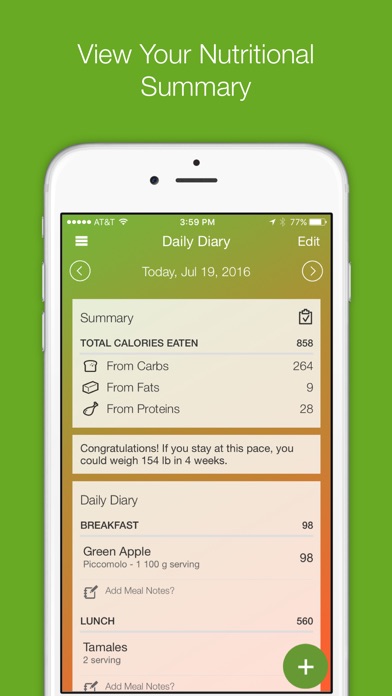 Customer Reviews
Not working properly
The current version is mega buggy for me on an iPhone 6s operating iOS 11.0.1.

Taps don't always respond and I found myself tapping and tapping and tapping until the app would add new data and that sort of thing. Nothing wrong with my iPhone as it works great with all other apps and the home screen. This is the reason I gave a single star rating as if i have to fight the app to be able to input data sets, it renders it, largely, useless.

Also, adding a way to go to a specific date without tapping arrows over and over would be great. Then, there should be a "Today" button to immediately return users to the current day rather than having to just arrow through it all again.

US Food and Nutrition Center doesn't go by the macronutrient plan that I want to utilize, so a way to customize those goals would be ideal. Maybe super carb heavy is good for some people, for example, but not for all. If there's a way to tweak those, I haven't found it.

The way the charts are arranged, it can be sort of difficult to get a good picture of progress. I think they need to be re-evaluated and new charts implemented.

The app only sometimes tracks my steps, and I don't know why that is. I don't know if it's a flaw in iOS or a flaw in the app. Also, building on my point with the charts, I would like to see an option to view steps as miles.
Great simple Diet app!
I've been using "My Diet Diary" for almost 2 years now. It's very simple and easy to up date your daily weigh ins and calories. The app is working perfectly and issue that I see is with iOS 11 it starts to freeze older phones. It's not the developers fault that your phone is buggy. I have an iPhone 6s with 10.3.2 with no issues. I work at a cellphone company and I started to notice a lot of phones lagging after this update. Please be nice to the developers and thank them for not having ads anywhere in their, "Free" application.
Easy
I didn't want an app about recipes and pumping iron (although I was an athlete). I have disabilities and enjoy the simple features that track calories, water intake and nutrition. As fine an organic cook I may be, sometimes I get out of balance.
I'm almost 70 and formerly a Systems Analyst.
View in iTunes
Free

Category:

Health & Fitness

Updated:

Sep 13, 2017

Version:

5.9.0

Size:

91.2 MB

Languages:

English, French

Seller:

Medhelp
Compatibility: Requires iOS 9.0 or later. Compatible with iPhone, iPad, and iPod touch.