My Pregnancy Today | BabyCenter
By BabyCenter
Open iTunes to buy and download apps.
Description
Expecting? Get the must-have pregnancy app for every parent-to-be. Brought to you by BabyCenter, the most trusted parenting resource, supporting more than 40 million moms worldwide.



Simply enter your baby's due date and My Pregnancy Today will turn your iPhone into an expert guide for your exact day of pregnancy.

Feel more prepared for your baby's birth and get the answers you need, whenever you need them. 



My Pregnancy Today features:
• Pregnancy day by day: Learn how your body's changing, what's ahead, and how to cope
• Fetal development images: See what your baby looks like each week

• Pregnancy checklist: Reminders to keep you on track with decisions, appointments, and more

• Award-winning videos: Watch babies grow in the womb and witness moms giving birth
• Bumpie photo tool: Snap a selfie every week and see your beautiful bump grow
• Contraction timer: Time your contractions and we'll calculate their length and time apart
• Baby registry: Find out what you need for your baby and personalize your registry checklist

• Kick tracker: Easily keep track of your baby's movements

• Birth clubs: Connect with other moms-to-be due at the same time
• Countdown: Anticipate your big day with weekly notifications

• Due date calculator: Quickly find your due date if you don't know it yet



• Search BabyCenter: Find the answers you need with our integrated search tool

All health information is approved by the BabyCenter Medical Advisory Board.



Download My Pregnancy Today – it's free!

¿Hablas español? Mi embarazo día a día es la versión en español de My Pregnancy Today de BabyCenter, adaptada por BabyCenter en Español. Selecciona Español (US) en el menú de opciones de la aplicación para bajártela.
What's New in Version 2.5.0
You asked and we delivered! This update gets you our newest tool – contraction timer, an upgrade to Bumpie as well as an overall smoother experience.
• Introducing Contraction timer - simply press a button and we'll keep track of the length and time between each contraction for you.
• Is your best side your left side? Wishing you could take a Bumpie from your left? Now you can!
• We also crushed some bugs for you while we were at it.

As always, feel free to write us at customerservice@babycenter.com or click on Feedback under the More tab if you have any comments or questions. We love hearing from you!
iPhone Screenshot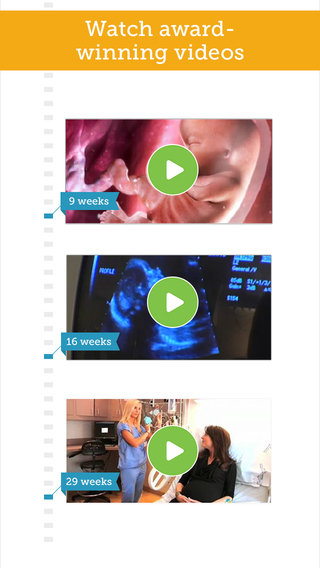 Customer Reviews
Awesome!
I added this app with my first pregnancy and loved the graphics and details it went into easch week as to what was going on with your baby and your body. It also has a great list of "things to do" before baby comes.

The people in the boards were always supportive and I found an amazing group of women to rally around after my MC. I never thought I would meet such supportive women online, especially after using some other apps where there wasn't a support system in sight. The birth club boards are awesome as well. You meet a great group of first time moms and repeat mothers who all bond together to answer one another's questions and share their joy with each other.

I downloaded this app again with my 2nd pregnancy and continue to love it. It is the first app I recommend to any expecting mother!
App is cool, birth board is hell
Just wanna give any moms a heads up on what you're getting yourself into by downloading this app and joining a birth board. The app itself has a lot of info, that's the great part. But there's also a hellish part of this app and it lies in the form of the birth board or "community" section of the app. The women on there will eat you alive if you ask questions that they don't feel are valid. First time moms I wouldn't join the community portion just because you'll have so many questions obviously, being a first time mom, and the ladies on there just won't have it. They're snarky, rude, and downright nasty. You'll see the drama unfold first hand for yourself. You might not be involved in it directly but you'll notice it and I'm positive it will make you want to delete the entire app. You're better off with "What to Expect" or "Ovia Pregnancy" that gives you just as much info without all the harassment. Good luck.
As a New Grandma
I have 4 children ranging from ages 36 to 25. All my births were so different. I've have had the gift of attending 4 other births also, other than my own. It has been 25 years since the last birth I was at. My oldest son adopted 2 boys. My youngest daughter is having her first baby. I am so excited you have this site for me to refresh my memory on what it was like to being pregnant. As if one could ever forget. My favorite is watching Baby grow! And I so love talking to my daughter about all of my pregnancy stories and birthing memories. This site has also helped me to learn all the new things going on today. Just love love love your site. Thanks!
View In iTunes
Free

Category:

Health & Fitness

Updated:

Nov 25, 2014

Version:

2.5.0

Size:

21.3 MB

Languages:

English, Chinese, French, German, Korean, Portuguese, Simplified Chinese, Spanish, Swedish, Traditional Chinese

Seller:

BabyCenter
Compatibility: Requires iOS 7.0 or later. Compatible with iPhone, iPad, and iPod touch. This app is optimized for iPhone 5.
More iPhone Apps by BabyCenter