myNoise
By myNoise BVBA
This app is only available on the App Store for iOS devices.
Description
As seen in the Wall Street Journal: myNoise is free, with White Noise, Rain Noise, Binaural Beats, Spring Walk, Temple Bells, and Warp Speed!

‣ "A better way to block distracting conversations when you work in an open-plan office or cubicle" - Wall Street Journal
‣ "Of all the ambient noise apps I've tried, myNoise is the best. It never repeats, it has top-notch sounds, and it is just plain fun to use." - Cult Of Mac.
‣ "We've covered many online noise generators in the past, but MyNoise is different: it calibrates background noise based on your hearing range and listening devices." - Lifehacker.

Welcome to the convergence of serious audio engineering, creative sound design, and the scientific understanding of human hearing. The App you are about to download is not just another of those soundscape App but a serious tool oriented toward the needs of hearing professionals, sound therapists, and people interested in noise machines in general.

Noise machines can be used in a variety of ways throughout your daily lives, and can be used by all audiences. They can not only help you focus while working in a noisy environment or help to settle your anxiety, but they are also useful in cases of insomnia or tinnitus. Fortunately, you don't need a specific reason to start listening to our noise generators!

myNoise offers a unique collection of noise generators shaped to your personal hearing thresholds. Through a simple but accurate calibration process, our calibrated noise generators are not only matched to your own hearing, but also compensate for your audio equipment and listening environment deficiencies, including the presence of background noise and its nature.

Noise machines are great for blocking out background noises whether you're trying to work, study, relax, or even sleep. Compared to conventional noise blocking machines, our noise generators can be shaped to the frequency characteristics of the environmental noise one needs to block, and therefore achieve a better camouflage, or - in other words - a greater masking efficiency at quieter levels.

Listening to our noise generators in a quiet environment makes sense too, and is even recommended to enjoy their optimal sound quality. Let our noise generators become your best friend when it comes to soothing babies at bedtime, or during your meditation and relaxation sessions.

myNoise generators cover the whole audible frequency range, from 20 Hz to 20 kHz, over 10 color-coded octaves. Thanks to our unique calibration procedure, each noise scape can be made spectrally flat to your ears. As we get older, we all suffer from age-related hearing loss involving the higher tones. During our calibration process, we are able to measure your personal hearing levels, and adapt our noises accordingly. You'll be surprised to hear frequencies you thought were lost forever!

Terms of use: these sound generators are provided for personal/private use only. myNoise audio stems are subject to copyright and shall not be used in any other context without permission.
What's New in Version 2.4.2
We have gone code-whisperer on the app and:
- Downloads should behave now.
- The favourites layout has been given a stern talking to.
- Multigens are a bit more Voice Over-friendly but their report cards are not looking as good as we hoped, so things are going to change soon on that front soon, or so help me!
iPhone Screenshots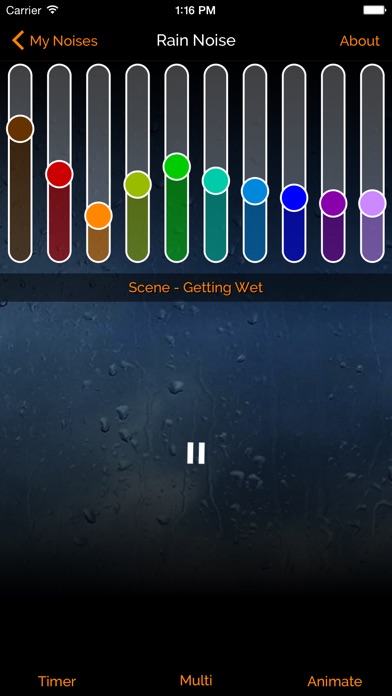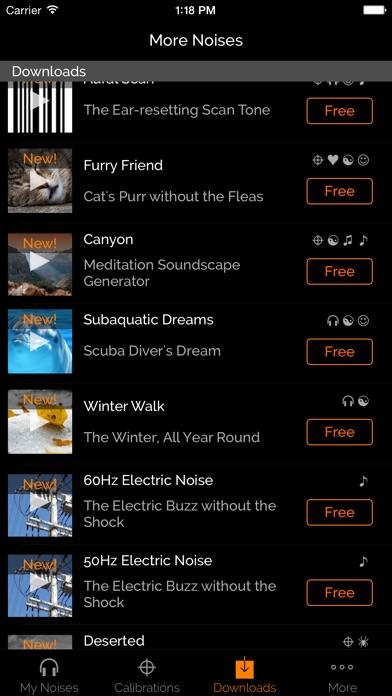 Customer Reviews
Amazing app, fixed the no-download bug!
Edit: You can disregard the below review. The bug is now fixed for me even though it took a while and the app is 5 stars again. Thank you to the creators of myNoise for making the app. Hands-down best sound app for readers, writers, sounds for sleep, meditation...I could go on. Just wonderful, honestly! Not much more to add.
If anyone else is having a similar issue, try refreshing the download page and letting the sound generators roll in one at a time until everything has loaded. (As said in the developer response to this review as well) It doesn't take very long at all and when they're loaded up you can download any of them without hassle.

Old review: I used to love this app. I recently switched from an iPhone 5s to a 6s. I had previously purchased the 10 dollar package unlocking everything but suddenly I'm unable to download any generators. I've tried restoring my purchases multiple times, reinstalling the app, it's all useless. When I go to the download tab, none of the soundscapes are even available to download - they just don't appear anymore. Instead I'm left with the Tip Jar and a blank endless loading page. I don't have any use for this app until this is fixed.
One of the best apps I've seen in a long time
I have a long history of insomnia that recently has reared its ugly head. A friend recommended the webpage and I fell in love instantly. I've already told everyone I know. From the calibration adjustment with hearing loss so you can hear the sound the way it is intended, to the authentic sounds recorded ON LOCATION, I just had to have this app. It is even better than I anticipated. It has a timer AND an alarm! Customizable calibration for each device you listen to it on! I listen to it all the time now. While I donate plasma, while I drive, through my Alexa on Bluetooth, while I sleep... $10 for a ton of customizable sounds is well worth the money. And certainly cheaper than a prescription for sleep medication. It's worked!
Used for years, love it
I don't usually leave reviews, especially for apps. I feel that this is mostly b/c of the fact that they don't usually feel personal. MyNoise started out being one of the few noise generators with tonal control and has only gotten better with every update. The creators have really made this a usable and specific to the user. It is extremely customizable to the user so that you can have a personal setting that makes sense for you, and the creators have made it to accommodate someone like me, which I love. It has helped a ton with my learning disabilities and mental stuff. If I could leave more that five stars I would.
View in iTunes
Free

Category:

Health & Fitness

Updated:

Jul 21, 2017

Version:

2.4.2

Size:

46.4 MB

Language:

English

Seller:

myNoise BVBA
Compatibility: Requires iOS 8.0 or later. Compatible with iPhone, iPad, and iPod touch.
Top In-App Purchases
All You Can Hear Generators Bundle$9.99
Bells BreathFree
Take It EasyFree
Yakutian VoicesFree
Neural SymphonyFree
Folk TraditionFree
Furry Friend$0.99
Distant Thunder$0.99
Unreal Ocean$0.99
Warp SpeedFree