myPoint Light S
By Code Race
Open the Mac App Store to buy and download apps.
Description
Modern computers with multiple high resolution displays present us with the "where is my mouse" problem. myPoint solves it using three different techniques - a momentary or permanent mouse locator, a permanent crosshair and a permanent mouse halo.
• Momentary mouse locator is a visual effect active up to few seconds. It can be an animated or static ring.
• Permanent mouse locator is a static ring only.
• Permanent crosshair displays two thin lines across the mouse position.
• Permanent mouse halo highlights the mouse cursor using an image shown around it. A free online halo gallery is available.
All tools are highly customizable: geometry, transparency, animation speed, hotkeys, mouse gesture, events.

Mouse Locator reveals the mouse cursor position with a gently animated or static ring.

• Activation:
- Hotkey combination.
- Single modifier key.
- Mouse gesture.
- Mouse movement between screens.
- Mouse movement after a period of inactivity.
- On mouse click.
- On mouse drag.
• Customization:
- Colors and opacity.
- Size and thickness.
- Animated or static.
- Animation speed and repetition.
- Momentary or permanent.
• The locator module can be disabled.

Crosshair displays two thin lines across the mouse position.

• Visible on all monitors or only on monitor with mouse pointer.
• Customizable performance, gauge, color, transparency, center and offset from mouse.
• Hotkey to toggle the tool.

Mouse Halo is an image permanently shown around the mouse cursor. The classic halo is a ring surrounding the cursor. However any image can be used as a halo source. Even more the image can be positioned aside of the cursor. A free online halo gallery is accessible from the preferences panel - an easy way to import new halos. The user can create its own halos too.

• Activation:
- Hotkey to toggle the halo visibility.
- Hotkey to show the next halo from the predefined halo set.
• Customization:
- Size and opacity.
- Rotation speed and direction.
- Offset from mouse position.
- Flip, shrink or cut the image.
- Select preferred halos in so called halo set.
• Preinstalled halo pack.
- Classic: daisy chain, ancient ornaments, fan, amber mosaic, ring shadow.
- Reading lines: thin, thick, stick shadow.
- Rulers: horizontal, vertical.
- Crosshair, big arrow.
- Diagonals: two stars, twin spark.
• Free online halo gallery.
- The gallery is accessible from preferences panel.
- Browse & click to import new halos.
- Never-ending update of new halos.
• Unlimited user created halos.
• The halo module can be disabled.

• General features:
- Tools are visible on all monitors and in full screen.
- Customizable hotkeys to handle tools.
- Hotkey to show or hide application menu in menu bar extras.
- Can start automatically at user login.
- Common Preferences panel for all settings.
- Support multiple users, screens and desktops.
- Built on Apple's security paradigm sandboxing - reducing the threat of rogue code and malicious software.

• Notes:
- When myPoint is running, no icon is shown in the Dock. The control is through a menu in menu bar extras.
- myPoint neither changes the shape of mouse pointer nor hides it.
- Read user experience tips on our web site.
- myPoint is designed for maximum control and features. If you prefer simplicity please consider Simple Mouse Locator.
- If you have an inquiry or need a help to tune up our app, or just want to share with us your feedback please drop us a line at support@coderace.net. We will do our best to answer you in 24 hours.
What's New in Version 2.23
Fixes in mouse tracking, app menu and preferences panel.
Screenshots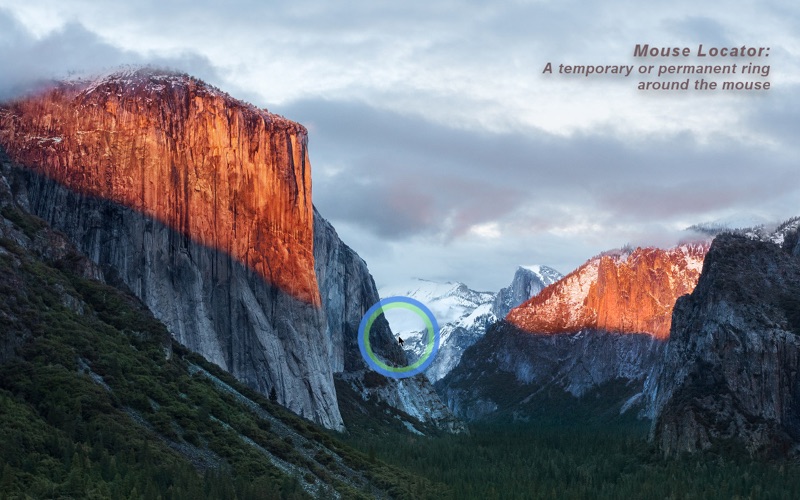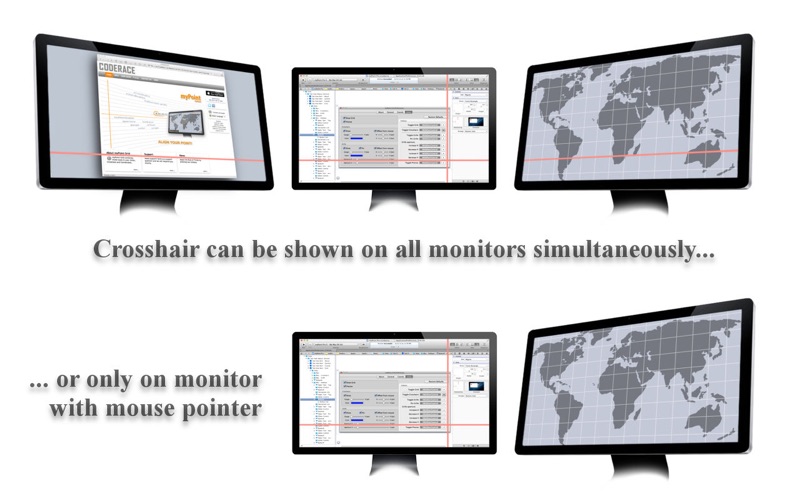 Customer Reviews
2.23. pointer graphic
It does what it is designed to do. Not much.
It does show the mouse position when you shake the mouse, and you can control much about that graphic. Yes Siera has a locater, pointer, and if that is all you need the built in one should suffice quite well.
If you are doing presentations, live or video, this is a very good app to have. you can turn your pointer into an attention getting device, change it with key commands on the fly. Sript reading and story reading, for your self or aloud, ther are moving lines. Well it can help in drawing - but not a lot.

and really that is all it is designed to do. Simple, inexpensive, and it is Not a subscription.

if you, like Dan Zaph, what to remove it, contact the developer, they will explain how.
Replaced UnSupported App...
Some time ago I purchased an app called Mouse Locator… it worked fine, but is now no longer supported (no updates for new version of OS X). I found this thing… and it's GREAT. Works just as well as the old app… with even more functions (crosshairs - though not entirely useful to me; I'm sure UI/Graphics Developers will find it extremely useful).

Love it!
Unremovable
When you want to remove this app there is no way or instructions. Just removing the app icon will not remove all pieces strewn through the system.

What one would expect for such an app is an uninstall option the the app or even instructions in the app on their web site. But there is none.
View in Mac App Store
$2.99

Category:

Utilities

Updated:

Oct 22, 2015

Version:

2.23

Size:

3.8 MB

Language:

English

Seller:

Code Race EOOD
Compatibility: OS X 10.7 or later, 64-bit processor