Myst
By Cyan Worlds
This app is only available on the App Store for iOS devices.
Description
Myst for iOS. The complete worlds of Myst, in all its original elegance, in the palm of your hand.

** RIVEN: The Sequel To Myst, is also available! **
** realMyst for iPad is also available! **

Appletell - "I can't put Myst down; I'm as hooked as I was when it first came out." (5 out of 5)

PocketGamer - "Myst is huge in every way and if you're prepared to put in the work, you'll be generously rewarded with this revitalized adventure"

IGN - "The classic has never looked -- or played -- better." (8.5 out of 10)

Wired (GeekDad) - "Myst... as an iPhone App - I have spent an hour on the game and am happy I spent the [$]."

"Amazing" - Jbveezer
"So Close to Perfection; it will Blow Your Mind" - JSA
"Perfect" - EllChan
"The best game for the iPhone!!!" - AudiManJosh
"Simply Amazing!" - Hillstones
"Incredible" - spikermn
"Best App Ever!!" - zeldaw
"Absolutely amazing!" - Earthsiege
"A perfect adaptation of the original" - TedBater
"Brilliant" - Director_X
"Must have app!" - Shadowguy
"As amazing as I remember" - dalurker
"Perfect for the Platform!" - TomTomAppReviews
"Fantastic!!!" - jpratt1968
"Wonderful!" - ndoubleday
"Greatest Game for iPod touch yet!" - Slugzzz
"The iPhone and Myst... a perfect balance" - Vynom

----------------------------------------

Welcome to Myst. Wherever you are.

Remember how the surrealistic island became your world? The note, the garden, the books, the pages, the brothers, the choices? Now Myst can become your world no matter where in the world you are.

The original Myst sights and sounds have been meticulously re-assembled for a remarkable experience on the iPhone and iPod touch. Everything that you remember from the original Myst in a format where a simple touch or swipe moves you through the world.

Welcome back to Myst... wherever you are!

----

Features

- All the original Ages & gameplay
- High quality images (better than original Myst)
- Full music & sound effects
- Original movies & animations
- Auto-save (when quitting or phone call)
- "Bookmark" system to save & restore progress
- Swipe to turn
- Auto-zoom in certain close-up areas
- Integrated Hint Guide
- For iPhone, iPod touch (and iPad in compatibility mode)

(Don't forget realMyst for iPad 2 and newer.)
What's New in Version 1.5.0
iOS 8 compatibility
iPhone Screenshots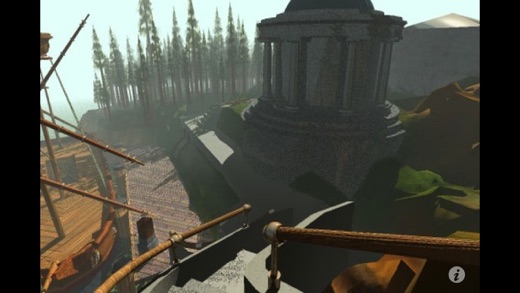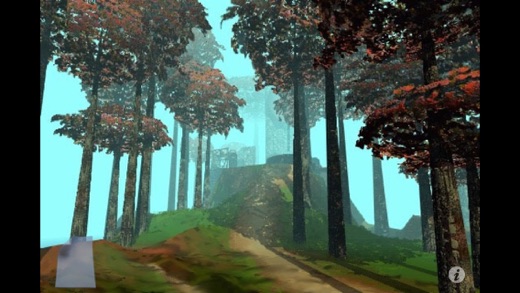 Customer Reviews
I played this years ago. Going to buy RealMyst
It's Myst. There are decades of reviews that will let you know if it's the type of game you'll like. I loved it! 😍

If your phone can run RealMyst you should get that version. The improved graphics will be worth the extra $2. I own this app and remember that the world with the tree houses was impossible to navigate in this version without cheating and using the walkthrough. I am going to buy that one to replay it.

‼️💾SAVE💾‼️the game before you make any choices. There are a few endings and only one is correct. It's funny to try all of the wrong endings but only after you've finished the game correctly. Iirc the strategy guide will warn you not to get too clever too soon. I stumbled upon the clue to the final task on my first attempt about two hours into the game without realizing there was no way back. Bad idea 😉. Very glad I checked the strategy guide and it explicitly warns players not to complete that task. If you do that, you have to start the game over. Even if you don't plan on using the walkthrough, do glance at it to get an idea of where you shouldn't be fiddling around.
Hasn't aged well, but doesn't matter
Myst was an amazing game back in the day when I first got a mac and played it on launch day. The game is still a great game for me (as well as it's four other installments), but it seems that many will not get into it because they expect a GAME out of it. It's not really a game, it's an EXPERIENCE! You need to explore, put together the nonverbal narrative, figure out where you are and what's happened, simply immerse yourself in the worlds you find.
Riven, Exile and End Of The Ages are also good, but I should warn you that those are REALLY hard compared to Myst. I beat Myst in roughly 10 hours without the hints (except when I needed to read colors, since I'm %100 colorblind), but in Riven, Exile and End Of The Ages I needed a partial walkthrough to get anywhere at all. Overall, a good introduction to a fantastic series, but know that you'll be doing some aimless wandering, and taking notes is essential...
Exactly as I remembered, just on iphone.
I have played every version of Myst since its inception. The app store version is what I expected: Myst on iPhone. Point and click (tap and go) to some pretty neat locations. The game itself isn't too long but the puzzles still remain fun. Knowing the game will for some kill the replay ability, but overall I still to this day enjoy the world cyan created. You might too.
View in iTunes
$4.99

Category:

Games

Updated:

Aug 10, 2015

Version:

1.5.0

Size:

593 MB

Language:

English

Seller:

Cyan Worlds, Inc
Compatibility: Requires iOS 5.1.1 or later. Compatible with iPhone, iPad, and iPod touch.
More iPhone Apps by Cyan Worlds