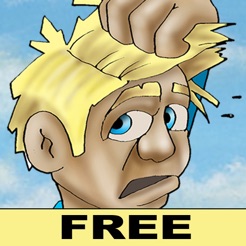 Description
Nag-O-Meter Lite is here and it's FREE. This App includes all of the same hilarious nags from our popular Nag-O-Meter Deluxe.

Use Nag-O-Meter Deluxe to nag friends, loved ones and yourself, point out nagging behavior, but mostly to joke around and have a good time.

** This is not simply a list of Nags. Nag-O-Meter Lite is a feature rich program that includes over 600 high quality custom Nags recorded by real people such as dads, moms, kids, girlfriends, teachers, bosses, etc. We even have hilarious foreign language Nags!

** All Nags are recorded in THREE distinct versions (they get more and more excitable as you move through them). Use the Nag-O-Meter slider bar located just above the scrolling list of Nags to choose among versions.

"Every once in a while an App comes by that the kid in me (and nut I am) cannot pass up. The Nag-O-Meter is this App!"
- CrazyMikesApps.com

"A fun way to get on your own nerves or to frustrate other people!"
- The App Podcast

"The most fun I have had with an iPhone App! It's hysterical and so spot-on. These guys must have a window into my life and an understanding of all the nagging that makes me crazy! Nice going."
- iPhoneVenue.com

NAG-O-METER LITE FEATURES

- Over 600 high quality custom Nags. All Nags are recorded and sound great on both the iPhone and iPod touch.
- 11 current categories including Mom, Dad, Kids, Girlfriend, Wife, Husband, Teacher, Boss, Self, World English and World Languages. Did you ever wish to nag your friends in Japanese? No problem. We have you covered! New categories will be added in future updates.
- Nag-O-Meter Lite offers three variations of each Nag. Choose from 'passive aggressive' version or more excitable 'if-looks-could-kill' option.

All of our Nags are recording in a high quality format and are not only realistic, but are great fun. All of our actors have taken great pains to sound incredibly nagging, annoying and most-of-all, authentic. As our engineers say, "They're not acting, they're just extremely annoying naggy people."

WORKING TO MAKE NAG-O-METER LITE EVEN BETTER

The current version of Nag-O-Meter LITE includes over 600 high quality custom Nags in 11 categories, but we are not resting. We are constantly recording new Nags -- new Nags from different actors, new Nags in new languages and new English Nags with various accents. We even have a few surprises up our sleeves that we're sure you'll enjoy.

SAMPLE OF NAG-O-METER LITE NAGS

Nag-O-Meter Lite Nags range from classics such as:

- When are we going to get there?
- Pick up the phone when I call?
- Are you listening to me?
- Don't talk back!
- Take out the trash!
- You need to make more money!
- Stop biting your nails!

To the more cutting:

- Your friends are such losers!
- I can't believe you farted!
- Did you just fart?
- You're leaking all over the toilet!
- Don't look at other women!
- Are you going to eat that!
- Why didn't you text me?
- What am I paying you for?

We even include a SELF Nagging category with Nags like:

- I am such an idiot!
- I am not good enough!
- I can't believe I said that!
- What was I thinking!
Ratings and Reviews
Fun
So fun to mess with people also very good for pranks 
Hahahaha
Omg the Scottish ones are hilarious, "you are so @$&! Lazy like your fether!"
Information
Seller

The App Company

Size

7.7 MB

Category

Compatibility

Requires iOS 2.2.1 or later. Compatible with iPhone, iPad, and iPod touch.

Age Rating

Rated 4+

Copyright

© The APP Company, LLC

Price

Free
Supports
Family Sharing

With Family Sharing set up, up to six family members can use this app.