Namerick - Remember Names
By Zest LLC
This app is only available on the App Store for iOS devices.
Description
#1 Name Utility - Featured in WIRED Magazine, Huffington Post, Lifehacker, Business Insider, 148Apps, Tweeted by Pogue of NYTimes

"One of the best apps I've seen,
clever and functional" - LD Nursey

"Love the app, it has solidly taken its
place in my bottom icon tray." - GG

_________________________________


Ever forget names?
Namerick improves your memory of people's names using repetition and mnemonics modeled from memory 'athletes' and studies of the human memory.

Namerick is for...
✓ BUSINESS 
✓ DATING 
✓ SCHOOL 
✓ PARENTS 
✓ MANAGERS 
✓ FRIENDS 
✓ 中國商人
✓ ビジネスマン
_________________________________ 

★★★★★ - "Dale Carnegie would have used this app." —Tim Readon 

• 83% admit they're bad with names
  (you're not alone!)
• 3 of 4 said names more important 
  than a good handshake
• 90% feel more motivated when you 
  remember their name

A TRUE WIN-WIN 
#1 - When you remember their name,
     you can more confidently engage
     with people, making you more
     trustworthy and likable.
#2 - The people whose names you
     remember feel more appreciated
     and respected. 

_________________________________ 


✪ Memory experts refer to the three R's of Long-term Memory. Recording, Retaining, and Retrieving. Namerick does all three. 

RECORD
• Enter names quickly with rapid
  autocomplete based on US Census Data 
• Large 'Notes' field to jot down notes
  (hair color, job/company, spouses name) 
• Keep organized. Groups help you
  search and sort more quickly later 
• Avoid dropping the ball. Record plans to
  followup with that person (email, coffee etc) 
• Automatically generates mnemonic
  'namericks' to help your memory
• Records where and when you met 

RETAIN
• Backs up data safely in iTunes 

RETRIEVE 
• Names chronological for faster retrieval 
• Search by any word you typed in
  the notes field 
• Filter results by icons (ex. find all
  your Crushes at once) 
• Filter by Plans (to do all your Facebook
  friending at once) 
• Displays when and where you met 

_________________________________ 


NOT CONVINCED? 
Watch our acclaimed video at Namerick.com

_________________________________ 


This app is dedicated to my Dad, whose great memory highlighted to me the power of remembering names

✪ Thanks for your support and positive feedback!
✪ Share success stories! feedback@namerick.com
What's New in Version 1.0.2
"It might be one of the most powerful networking tools to bring to a mixer."  - 148 Apps

The spirited growth and success of Namerick in its first two months highlight a near universal desire to be better with names. Thanks to all that have been part of it.
..oh and your friends and followers called - they'd love an introduction to Namerick as well!

THANK YOU!
We are truly honored to have you as one of our first users. We're building Namerick for all of us who forget names, so please share your feedback with us - it will help us make the app even better for you in the months to come.
- What parts of the app are most important to you?
- What parts could you live without?
- What would you like us to add in future updates?
(Email to feedback@namerick.com)

THIS UPDATE
Fixes a bug that affected older devices running iOS 4.0 and 4.1. We now support iPod, iPad, and iPhone running operating systems 4.0 and greater.

★ BONUS TIPS ★

*Sub-Categories*
While some exciting new functionality is to come, to go beyond the 4 main categories (Work, Friend, Family, Crush) many of our users have been using the 'Notes' field to create Sub-categories. Here's how:
1. When adding a new name, type a keyword (sub-category) in the Notes field ex. 'School' or 'Gym' or 'Church'
2. On the list screen, search for that word to see all names of that Sub-category!

*Swipe to Delete*
Want to delete a name? In the list view simply swipe from left to right and a little red delete button will appear!

*Add while its fresh*
While the details of a conversation are fresh in your mind, add all you learned about them and what you talked about in the Notes field. This will give you more words to search for later and the ability to brief yourself before you see them next!
iPhone Screenshots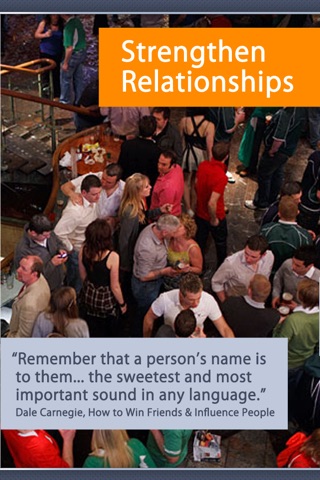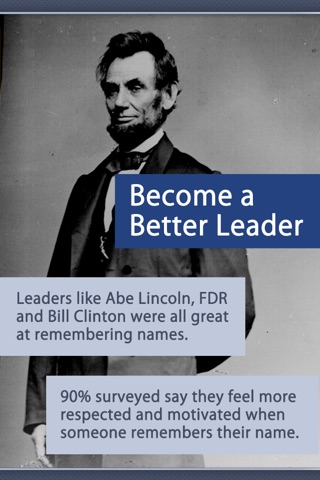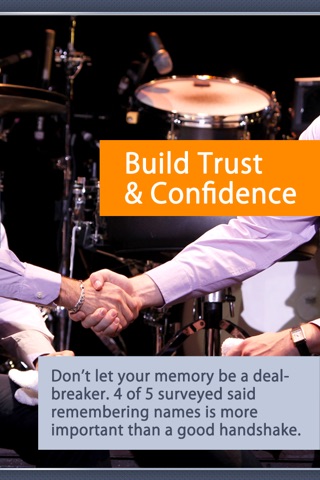 Customer Reviews
I love this app!
I really love having this app around. I am always forgetting names so this has become a near every day tool for me.

I like how you can determine intervals when it reminds you. There could be a little more customization on that front though; I frequently add names when I remember them not as I am introduced to a new person. It's less rude that way too. I end up getting reminders saying "met an hour ago" just because I entered the name an hour ago. So some customization would be nice.

Anyways, I have already been in contact with the developers about some minor bugs and improvement suggestions and they seemed very responsive so that is a plus. I look forward to future updates.
I Love, Love, Love this app!!!!!!!!
Absolutely fantastic ! In my business I meet a lot of people. I am constantly looking for ways to remember names. This is it! Now I remember everyone's name. The reminder feature is great. It drills the name into your memory. Not only that, but I remember when to follow up with people. This app lives on the front page of my iPhone and has become absolutely essential to the way I do business. I take my hat off to these guys. I can't wait to see what they come up with in next.
Wow WOW wowwwww!
thank you *absolutely* to the dynamic edge of the Universe!

Excelsior!

Namrick has advanced my personal paucity in the social art practiced for centuries by those Aides of Powerful and Famous people, who, whispering in the ears, made the Duchess as graces the soireé with an entrance.

SUPER plus: it installs the Said namericked INTO YOUR BRAIN, with a backup database on phone/iPad.

No Weefee, no blueeetooth! Just silly rhythm right on the spot to capture (add an imagined name tag to forehead if ya want).

Owner iPhone 1 since 4 weeks after intro; from IRC toolchain to launch of iPad from Apple ][c Foreevvvah....Have 70 gigs of apps on iPad and this one really rang my bell.

Such wonder in generosity and kindness for truly improving something that has privately shamed me for much of my adult life. It really helps erasing that dread feeling.

I salute and lift my water bottle to the living memory from your Father and his and his Saluteee!

WOW GUYS AND GALS NOT JUST STUNNED AMAZED...

Jim "Foob" R Brookline, MA
View in iTunes
$0.99

Category:

Utilities

Updated:

Nov 22, 2011

Version:

1.0.2

Size:

5.9 MB

Languages:

English, German

Seller:

Jeremy Van Fleet
Compatibility: Requires iOS 4.0 or later. Compatible with iPhone, iPad, and iPod touch.
More iPhone Apps by Zest LLC