NBA JAM by EA SPORTS™
By Electronic Arts
This app is only available on the App Store for iOS devices.
Description
Read on for important info below!

BOOMSHAKALAKA!!! Jam with a friend in Local Multiplayer and rock your iPhone or iPod touch with all the over-the-top, high-flying, 2-on-2 arcade basketball action just like you remember it – and like you've never seen before! Go to the hole. Go strong. Go for the monster jam. KABOOM!

This app offers in-app purchases. You may disable in-app purchasing using your device settings. See http://support.apple.com/kb/HT4213 for more info

FANS & CRITICS ARE ALL ON FIRE!

"NBA JAM brings arcade hoops directly to your pocket — no quarters required." (App Store "iPhone GAME OF THE WEEK")


"…overwhelmingly satisfies in every way if you were ever a fan of the original NBA Jam series." (Jared Nelson, Touch Arcade)

"4/4 MUST HAVE…a sports game that action or arcade gamers will love…" (Andrew Podolsky, Slide to Play)

"…solid controls, great graphics, and fun on-the-court action" (Tracy Erickson, PocketGamer)

"It performs flawlessly in every way." (IntoMobile)

HEAT UP ON iPHONE & iPOD TOUCH
Jam with all 30 NBA teams and your favorite NBA stars! Unlock legends from the classic arcade era like Scottie Pippen, Dennis Rodman, Dr. J, Scott Skiles, Karl Malone, Detlef Schrempf, and Danny Manning – plus some secret players you can only get on iOS. Open up outrageous cheats, too. And if you can't wait to go big, all the unlocks are available for instant purchase and download in the JAM store!

PLAY NOW! PLAY CLASSIC! PLAY HEAD-TO-HEAD AGAINST A FRIEND!
3 modes of play let you ball the way you want:
• Play Now – Select a team and jump right into the ballgame
• Classic Campaign – Defeat all other teams to win the championship, and unlock legends, hidden players and cheats
• Local Multiplayer – Go big head 2 big head against a friend on iPhone/iPod touch or iPad via local WiFi and Bluetooth
Also select from two different control schemes (D-Pad and gesture-based) and take advantage of the outstanding versatility of your iPhone/iPod touch. Is it the shoes?

YOU'RE ON FIRE!
If you're from the Old School, you'll feel the '90s nostalgia while you play the hottest new arcade sports game on the App Store. Featuring the voice of Tim Kitzrow (the original NBA JAM play-by-play announcer), you'll hear all the classic catchphrases plus a few new ones recorded just for this game. This JAM is all about "boomshakalaka"¬– and beyond!
_______________________________________

Be the first to know! Get inside EA info on great deals, plus the latest game updates, tips & more…
VISIT US: ea.com/iphone
FOLLOW US: twitter.com/eamobile
LIKE US: facebook.com/eamobile
WATCH US: youtube.com/eamobilegames


User Agreement: terms.ea.com
Visit https://help.ea.com/ for assistance or inquiries.

EA may retire online features and services after 30 days' notice posted on www.ea.com/1/service-updates.

Important Consumer Information. Requires acceptance of EA's Privacy & Cookie Policy and User Agreement. This app: Contains direct links to the Internet; Collects data though third party ad serving and analytics technology (See Privacy & Cookie Policy for details).

By installing this game, you consent to its installation and the installation of any game updates or upgrades released through your platform. You can turn off automatic updates through your device settings, but if you do not update your app, you may experience reduced functionality.

Some updates and upgrades may change the way we record usage data and metrics, or change data stored on your device. Any changes will always be consistent with EA's Privacy and Cookie Policy, available at privacy.ea.com. You can withdraw your consent at any time by removing or disabling this app, visiting help.ea.com for assistance, or by contacting us at ATTN: Privacy / Mobile Consent Withdrawal, Electronic Arts Inc., 209 Redwood Shores Pkwy, Redwood City, CA, USA.
What's New in Version 1.1.35
We've made some off-court improvements to keep your game fresher than ever. Thanks for playing NBA Jam!
iPhone Screenshots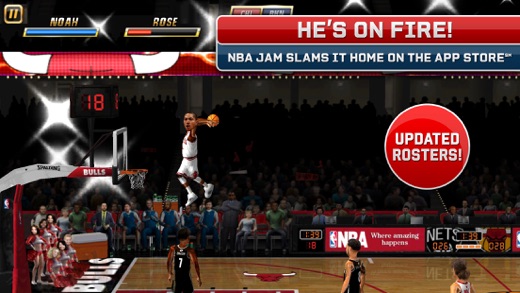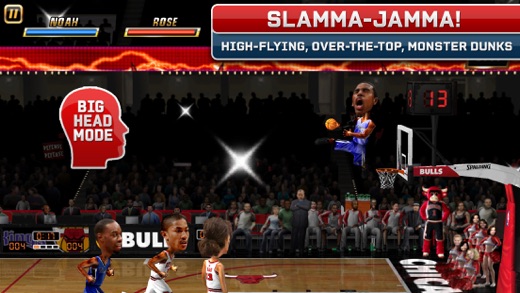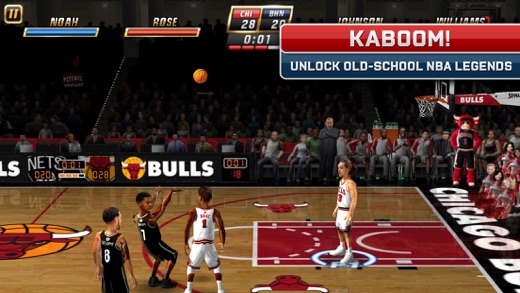 Customer Reviews
Nostalgia
This game reminds me of playing with my dad, on the court or in the game. A lot of people are complaining about the game right now for no justified reasons. The big complaint is the rosters. While the rosters are not accurate the question is do they need to be. I'm coming to this game because of how great the franchise is, not because how much I love watching a Lakers game. The game isn't about idolizing our favorite players it's about letting us become a player. Secondly people are saying the controls are bad. I wish I could respond to this one, but my controls, as well as those of everyone I asked, are great. That's not the game, that's your lack of skill. Thirdly people say that the physics are bad. But the answer to that is that it's because it's a staple in NBA Jam games. Ever since the Sega Genesis (you whining kids probably don't know what it is, it's an old phone, that was hooked up to a tv and you could only play games on it, and only one at a time) the games have always had bad physics and I know that's a lot of people's favorite part. My only complaint is that Trump isn't on the Republican Team.
I love what y'all do, keep up the awesome work. -Brent
Deleted! Don't Buy!
DO NOT BUY UNTIL EA STARTS RESPECTING ITS CUSTOMERS 1st

I love how every time you "update" the game, it's ALWAYS worse than before! Congratulations on NEVER listening to the people that actually spend their money expecting a playable game. And who does EA have doing Player Ratings? A chimp? It's funny that the ratings are actually WORSE than before. How is it that Curry is ranked 8 for 3 point shooting? And 7 or 8 for dribbling? Are you kidding me? Yet there are tons of guys that have 9's and 10's in each of those categories that aren't even starters in the NBA lol. How is Klay Thompson not even on the Warriors squad, but Jason Richardson is? Yippee. I totally want to play as an average player instead of a champ. I can go on and on, but I'll just leave it with that 1 example. Right now, this unplayable. LISTEN TO THE FANS EA!!! Worst company there is when it comes to listening to customer complaints. It's like they go out of their way NOT to create the game everyone wants.
Do not listen to 5 star reviews! Only reasons I can think of that someone would rate it higher than 1 or 2 stars is either A)Works for EA, or 2)Have never seen a real NBA game in their life, and have no idea what player stats should be. Again... Curry, best 3pt shooter of all time who can hit from half court with ease, is rated as an 8!!! MVP and he doesn't have a meaningful stat above 8. Unbelievable
Game logic is almost non-existent.
Game is RIGGED. I was "On Fire" and missed 7 in a row and on 8th attempt I faked out defender and knocked him down. He recovered and jumped across several feet to block my shot before I could release the ball. If I make an attempt to steal, I can't get off the ground to block a shot.

Too many inconsistencies and stupid bugs. You're under the basket and jump to block and your player automatically jumps away from the ball. Play on rookie level and the other team plays like expert. CPU players can steal from you several players away from in front of you or behind. Game does not have integrity... a POS!

No stars. Correction negative five stars. Seen your updates and the game went from poor to a waste of space. Calmly put, the game under performs. Turbo seems useless. Controlled & CPU players on my team randomly move away from the ball. My CPU player rarely attempts a block and fails the vast majority of times when he does. Almost impossible to block short range jumpers around the hoop when my player jumps away from the ball.
View in iTunes
$4.99

Category:

Games

Updated:

Jul 26, 2016

Version:

1.1.35

Size:

410 MB

Languages:

English, French, German, Italian, Japanese, Korean, Simplified Chinese, Spanish

Seller:

Electronic Arts Inc.
Compatibility: Requires iOS 8.0 or later. Compatible with iPhone, iPad, and iPod touch.
Top In-App Purchases
Big Man Package$7.99
Privileges Pack$1.99
Northwest Division Pack$1.99
Atlantic Division Pack$1.99
Eastern Conference Players Pack$3.99
Southeast Division Pack$1.99
Western Conference Players Pack$3.99
Pacific Division Pack$1.99
Central Division Pack$1.99
Southwest Division Pack$1.99