Near Lock - Lock & Unlock your Mac automatically
By Filip Duvnjak
This app is only available on the App Store for iOS devices.
Description
Use your iPhone to lock and unlock your Mac automatically. When you walk away from your Mac, it will be automatically locked. Once you approach your workplace, Near Lock will unlock your Mac.
-----------------
Unlock your Mac with your fingerprint (Touch ID), double knock, Apple Watch, notification widget or use the iPhone 3D touch.

Try it out for FREE

DOWNLOAD:
To use Near Lock download the Mac application: www.nearlock.me

FEATURES:
• locking and unlocking your Mac automatically - depends on the distance between your iPhone and your Mac
• easily set the distance on which your Mac should be locked or unlocked
• for additional security use your fingerprint (Touch ID), double knock or Apple Watch for each Mac login authorization
• manually lock and unlock your Mac with your iPhone
• knock twice on your iPhone for a faster Mac login.
• take a picture and receive a notification when anyone tries to login into your Mac.
• track and see all recent Mac login and logout times.
• WiFi Unlock - keep your Mac unlocked while connected to your selected WiFi network (e.g. Home network)
• Clipboard - copy and paste text to and from your Mac
• choose between sleep (hibernate) and screensaver when locking your Mac
• receive notification when your Mac is locked or unlocked
• unlock your Mac directly with the iPhone's interactive notifications - swipe left on received notifications
• control your Mac through the iPhone Notification Center Widget - quickly lock and unlock your Mac from anywhere on your iOS device
• control your audio: pause music when you log out, play when you login - works with Spotify, QuickTime, VLC, iTunes
• to save your battery Near Lock uses Low Energy Bluetooth 4.0 for the communication between your devices
• control Near Lock from your iOS device or your Mac's menu bar
• make locking and unlocking your Mac faster with 3D Touch - only iPhone 6S or newer
• use your iPhone to control multiple Macs
• find my iPhone feature - in case your iPhone is lost you can now ping it from your Mac
• authorize Mac tasks (such as installing new software) with Touch ID or by knocking on your iPhone

SECURITY:
Your credentials and data are secured and never leave your devices - AES encryption. For additional protection, the bluetooth communication channel is internally encrypted.

REQUIREMENTS:
Near Lock requires a Mac that is running Mavericks or later. Your Mac also needs to support the latest Bluetooth LE technology.
The following Macs support Bluetooth LE:
• iMac late 2012 or newer
• MacBook Air 2011 or newer
• MacBook Pro 2012 or newer
• Mac mini 2011 or newer
• Mac Pro late 2013 or newer

FEEDBACK:
Thanks to all the Near Lock users for the great feedback and suggestions!

REWARDS:
Near Lock won second place at the "Show Your App Award" in Munich

If you enjoy using Near Lock, please take a moment and leave an honest review: it really helps.

Near Lock - SECURITY MADE SIMPLE
What's New in Version 4.0
Please update Near Lock on your Mac to use the latest features from: www.nearlock.me

V4.0

MacOS Sierra update
- near Lock should now work reliably on macOS Sierra.
iOS 10 update:
- near Lock should now work reliably on ios10.
WiFi unlock:
- you can now keep your Mac unlocked while connected to your selected WiFi (eg. home network)
Mac Login photos
- you can now set up Near Lock to take a photo after each Mac login
Near Lock Tutorials
- some features will show step-by-step tutorials to better explain how they work
- mac Wake Unlock tutorial
- near Lock automatic unlock tutorial
- clipboard (copy paste) tutorial
- mac Control info with explanations
- mac advanced notification settings explanations
Clipboard
- you can now use Near Lock to copy and paste from and to your Mac (also using keyboard shortcuts or the notification widget on your iPhone)
Notification widget
- the iPhone widget got a new look and a new copy/paste functionality
Mac notification settings explanation
- improvement of the Near Lock layout and notification settings that can be found in the advanced settings of the Near Lock Mac app
Authentication options (password prompt dialog such as when installing new software)
- you can choose how you wish insert password with Near Lock once a password dialog shows on the Mac screen:
- do not insert automatically
- yes or no
- touch ID or passcode
- double knock
- insert automatically (don't ask)
Additional options in the Mac menu bar settings
- style the menu bar
- show and hide some sections from the menu bar in the advanced settings
Mac Control settings
- set up Near Lock to track how and when you use your Mac
- take photos on failed login attempts
- take photos after each login
Settings simplifications
- removing some advanced settings to the iPhone settings

V3.6

Detect failed login attempts into your Mac
- receive an iPhone notification every time a wrong password in inserted into your Mac
- take a photo on your Mac when a false password is inserted
- generate and share a Near Lock Mugshot picture

Unlock Mac with Knock (Double knock)
- login into your Mac by double knocking on your iPhone:
- unlock with double knock when you approach your Mac
- unlock with double knock when password field appears on sleep screen
- use knock to authorize Mac request: such as installing new software

Track login times
- you can now see all the login logout information
- track how users login into your Mac: manually, with password, using Near Lock, Apple watch
- a nice user interface of the Mac login tracking information

Authorization requests settings
- choose how you want to authorize the Mac authorization request: TouchID, knock, yes - no, none

Near Lock today widget settings
- set up today widget restrictions in the iPhone settings

Added a new on-boarding Near Lock tutorial
- a short, fun and simple tutorial about what Near Lock is about
- a list of the most interesting features
- this tutorial can be found on the Welcome screen

V3.0

Multiple Macs
- simulations control of all your Macs at the same time

Ping your iPhone
- in case you can not find your iPhone you can use the new ping feature from your Macs

Login Logout tracking
- you can now track when your Mac has been locked or unlocked
- you will also get the login session time

Apple watch
- using the swipe menu you can lock and unlock your Mac by swiping

3D Touch
- you can now lock and unlock you Mac with 3D Touch
- you can lock and unlock all of your Mac's at the same time using 3Dtouch

Touch ID
- authorize user login with your fingerprint
- user your fingerprint for more security

Near Lock languages:
- English
- German
- Portuguese (Portugal and Brazil)
- Chinese (Simplified and Traditional)
- Arabic
- Spanish
- French
- Italian
- Dutch
- Japanese
- Korean
- Russian

Near Lock - SECURITY MADE SIMPLE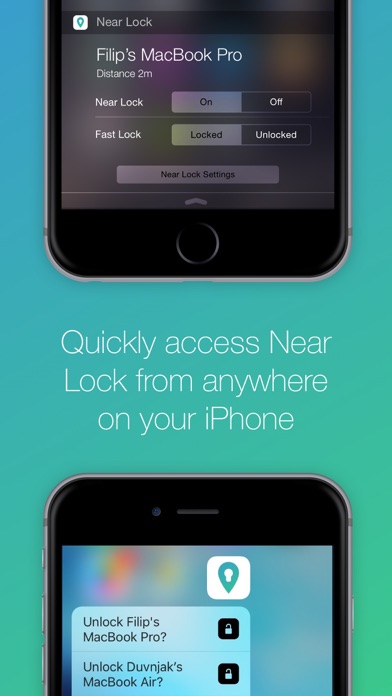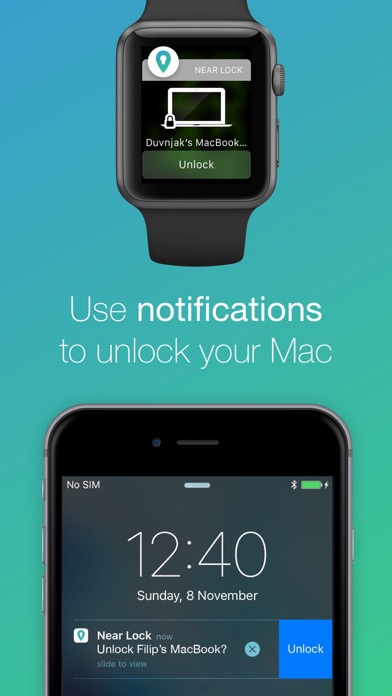 Customer Reviews
When it works, it's great. WHEN.
Very neat little app. I definitly recommend getting the free version and trying it out. I, however, payed for the full version and it does not work as advertised. With the free version you have to have the app open to unlock, not a big deal, it actually brings you a sort of authentication. With the PRO version it says it will work with it running in the background, but very few times have i NOT had to have it open to read. Additionally, the bluetooth distance reader is way off. I would hold my phone further away to test it locking my Mac and the further away i got the closer it said i was (distance meter in the app) i had to walk totally away for it to actually lock the mac. Again, neat little app for a free version but definitely not worth the 4 bucks. save your money.
I want to love it....
I've been using Nearlock for quite a while now. When it first came out it worked flawlessly. Then apple changes some things with their iPhone Bluetooth stack and broke it. (They broke a lot of things with that update!) While it was "fixed", it has never been the same since. Now, even with the latest update, every morning when I open the lid on my MBP, the icon is clear (not connected). I then have to open the app on my phone and click scan to get the MBP and phone to sync up. Sometimes I have to restart Bluetooth on both first. I have to do this several times a day in fact. And as another reviewer mentioned, it's becoming not worth the effort anymore. Is there a fix in sight?
Near is too far
So conceptually this is a great idea. You can set the distance from which your Mac will unlock as you approach. It's a free app, but it only works free if you open the app on your Apple Watch or iPhone which is no easier than just unlocking your Mac manually. But for $3.99 it will unlock your Mac without having to open the app. Convenient, so I fell for it.
I keep my iPhone in my pants pocket. Which means that my iPhone is pretty much under my desk when I'm sitting at the Mac.
As I approach the Mac from a distance it's cool to see it come to life automatically. But when I sit down at my desk the app tells me that my iPhone is 9 feet from the Mac and it turns the Mac off. That's sort of defeats the entire purpose of the app. so I have to either log on manually, or take out my iPhone and leave it on the desk. Just wasted $3.99.
View in iTunes
Offers Apple Watch App for iPhone
Free

Category:

Utilities

Updated:

Mar 15, 2017

Version:

4.0

Size:

24.0 MB

Apple Watch:

Yes

Languages:

English, Arabic, Dutch, French, German, Italian, Japanese, Korean, Portuguese, Russian, Simplified Chinese, Spanish, Traditional Chinese

Seller:

Filip Duvnjak
Compatibility: Requires iOS 9.0 or later. Compatible with iPhone, iPad, and iPod touch.
Top In-App Purchases
Pro Mode$3.99
More iPhone Apps by Filip Duvnjak