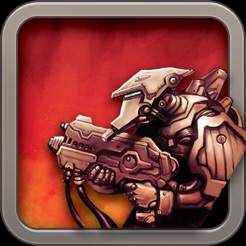 Neuroshima Hex Puzzle
12+
Description
Still not tired of scraping evil machines, shooting raging mutans, facing bloodthirsty gangers and anihilating human kind – or what's left of it? So come on and continue your journey in the world of Neuroshima Hex. This postapocaliptic world is still full of struggle and troubles. Lead your troops and try to solve the worst case scenarios found on the wastelands' battlefields.

And remember: In Neuroshima Hex Puzzle no one cares to hear you scream.

Neuroshima Hex Puzzle is a single player campaign set in the world of Neuroshima Hex. Use your strategic skills to lead your troops to victory and find your way out from 100 hopeless battle situations. No AI. No randomness. No luck factor. Only you, your enemies and a lot of tactical planning.

FEATURES

- 100 (yes, one hundred!) scenarios to solve
- Official Neuroshima Hex armies & artwork
- In-game tutorial & manual
- Long hours of exciting gameplay
- Universal application (iPhone, iPod Touch, Retina, iPad)
- Game Center support
Fixed bug:
- compatibility with iOS 5
Ratings and Reviews
Made me appreciate the full game
Never played or even heard of this game before the iOS version. Bought the full (non-puzzle) game and didn't really like it at first. I didn't appreciate its subtleties until I bought this puzzle version--which trains you how to best use all the different units and to look at the big picture. Now I'm strangely addicted. It's not in your face, blow you away awesome, but I keep coming back to it for "one more game". The paper to ios adaption is about as good as you can get. The interface gets the job done without getting in your way. If you come from-and love the printed version, this game is a no brainer. If you like games that make you think, I'd highly recommend it. If you have no patience and only play twitchy shooters you might want look elsewhere --this game probably isn't for you. But if you're like me and find yourself somewhere in the middle, give this and the full game a chance; it may not hook you at first, but you may find yourself getting addicted before you know it.
Engaging puzzle & NS Hex trainer
This set has 10 tutorial puzzles and 90 more difficult ones, without a clear distinction between the two in the menu. You have to finish the tutorial before starting the real puzzles - a minus for experienced NS Hex players, but not much time spent so no big deal. Perversely, the app prompts you to rate it about the time you've finished the tutorial and before you've had a chance to realize that most of the puzzles are much more sophisticated than those you've done so far, thus the reviews labeling it too easy. The puzzles do a good job of demonstrating the tactics of the four initial armies, and a few of them left me scratching my head for the better part of an hour until I found the right combination of tiles. For the enjoyment it was well worth the money. I would buy an expansion that covers the NY and NeoJungle armies, if one is ever written.
Great puzzle game, awesome trainer
I'm a fanatical board gamer, but I haven't had a chance to try NS Hex yet. This is partly because I suspected my wife wouldn't enjoy it much, pushing it down the priority list. I picked up the puzzles to learn the game and some of the more intriguing strategies on my own time. Holy cow, has it delivered. First off, they're a fantastic set of puzzles in their own right. Each is a single-turn win/lose scenario that forces you to think more and more creatively. Even if there wasn't an actual game using the rules these puzzles would rate among the most intriguing on the App Store all by themselves. Second, the fundamental puzzle aspect may actually help me interest my wife in the game. And third, the puzzles are giving me a great foundation in the game that will help me be up-to-speed faster when I finally get a chance to play the full rule set.
Information
Seller

Portal Games sp zoo

Size

59.7 MB

Category

Compatibility

Requires iOS 3.1 or later. Compatible with iPhone, iPad, and iPod touch.

Age Rating

Rated 12+ for the following:

Infrequent/Mild Horror/Fear Themes

Infrequent/Mild Alcohol, Tobacco, or Drug Use or References

Infrequent/Mild Profanity or Crude Humor

Infrequent/Mild Mature/Suggestive Themes

Infrequent/Mild Cartoon or Fantasy Violence

Copyright

© 2011 Big Daddy's Creations

Price

$2.99
Supports
Game Center

Challenge friends and check leaderboards and achievements.

Family Sharing

With Family Sharing set up, up to six family members can use this app.