Nike+ Fuel
By Nike, Inc.
Open iTunes to buy and download apps.
Description
NOTE:
To use this app you'll need iOS 7.1 or later.
This app works for both FuelBand 1.0 and FuelBand SE.
For the FuelBand SE, an iPhone 4S or higher is required.
For the FuelBand 1.0, an iPhone 4 or higher is required.

Nike+ FuelBand is the smart, simple and fun way to get more active by measuring your everyday activity and turning it into NikeFuel. Your Nike+ FuelBand wirelessly connects to your app, allowing you to see your progress on your mobile device and get the motivation you need to get moving. For those using an iPhone 5s or newer, you can use the app to earn NikeFuel as we now support Apple's iPhone motion sensors.

· View your progress against your goal broken down by week, month or year.
· Save all your information directly to your Nike+ profile online.
· Customize your device display, change the time and update your Daily Goal - straight from the app.
· Track NikeFuel and intensity for specific activities with Nike+ Sessions.*
· Your friends, family, trainer or coworkers help keep you motivated with the Sport Feed
· Stay active by enabling Move Reminders in your Device Settings that encourage you to Win the Hour.
· Compete for the top slot on your Friend leaderboard.
· Share sessions, photos and personal bests with your friends in the Sport Feed or on Instagram, Facebook and Twitter.

Need help? Get support at nikeplus.com/support.

*Nike+ Sessions are only available with Nike+ FuelBand SE or iPhone 5s and newer. Bluetooth 4.0 is only compatible with Nike+ FuelBand SE and iPhone 4s or newer.
What's New in Version 2.4.2
Thank you to our users for all your comments and for using the Nike+ Fuel App. We continually strive to make our products and services better so please keep the feedback coming!

Based on your feedback we have addressed the following issues:

· Streaks, Community Comparisons and Daily Stats are back. You can now tap the Today screen to see the insights that keep you motivated.
· Bug fixes and other improvements.
iPhone Screenshot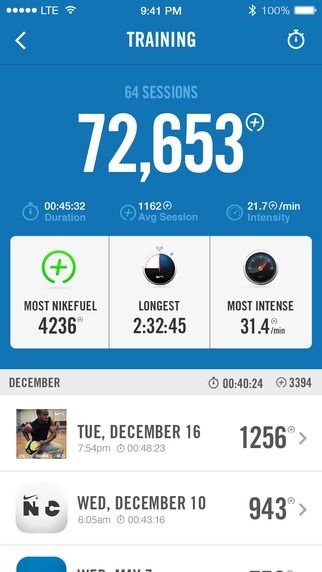 Customer Reviews
This app USED to be amazing
Latest update: Nike made up for the last update. However, there are still some major issues! I'll earn 5k fuel points and the next day, it'll cut what I earned in half. My streaks get jacked up because of this, and it's not calculating my total points for the week! Please, go back to the process that worked perfectly last year when the FuelBand SE was released and just fix the bugs from that release. I understand that Nike is moving away from the FuelBand, and I get that, but please for the love of Pete, let those who love this device to continue on loving this device. I'm not sure, if I want to get an apple watch to track my fitness levels when my FuelBand is perfect for what I do, especially since myself and many others are involved in workouts like Crossfit.

Like everyone else who has been an avid FuelBand user, I've been very disappointed with the last couple of updates. It's very slow to sync, it's very slow to update your sessions, and it's also not registering your sessions into your total fuel won for the day. I love my FuelBand but the app hasn't been able to carry the love further. Very disappointed with Nike! :(
THEY LISTENED!!!
Latest Release:
I can't believe it!! Nike listened. They restored most of the functions that disappeared in the last release. If you tap the center of the main screen, it shows the metrics for the day and how long your streak is.
I love the fuel band with this app. It's more motivating than anything else I've seen on the market. And I, for one, am not enthusiastic about having to wear a watch to get the fitness functions I want.
I'd give it five stars, except that I still think the Sports Feed is a waste of space.
Thank you, Nike!!

UPDATE:
I've been trying to hard to adjust to the update. Can't do it. Turns out that one of the few motivating features left—the dots showing hours won—vanish unpredictably and then update so slowly that they're almost useless now as well. I agree with other reviewers that this is a chance for Nike to show that it listens to its committed customers. They really need to restore the old features!!
Original review:
I've been using this app daily since July of last year. It's been incredibly motivating. But the latest update destroys some of the best features of the app and make this no different from any of the other fitness trackers out there.
The app has completely lost it's motivational impact.
It's bad enough that the features were removed. But that they were removed without warning, so that we could choose whether or not to update, is inexcusable.
Never been so disappointed in Nike.
Great App for Tracking Fitness
The 4 stars was easy to earn thanks to the newest updates allowing me to easily synch my runs from Nike+ running app and it uses my iPhone to track movements - even though I have a FuelBand SE I don't need this but it's still a cool feature when I'm charging my FuelBand. The main thing that I give this a 4 star rating is Nike support that I use on Twitter when I have a problem synching my FuelBand or my workouts. Since the latest update though that hasn't been a problem. The reason why this isn't a 5 star is because of how bad it is at tracking fuel for my bike and my exercise bike - just because I don't move my arms while riding my bike shouldn't mean I can't earn fuel. When I ride for 30 minutes on my exercise bike it records like 19 fuel but walking across the street to the store and back gives me more fuel. I hope Nike can fix this or make a bike app that can help me use my bike rides and exercise bike workouts for fuel.
View In iTunes
Free

Category:

Health & Fitness

Updated:

Mar 19, 2015

Version:

2.4.2

Size:

51.9 MB

Languages:

English, French, German, Japanese

Seller:

Nike, Inc. (iDP) 1
Compatibility: Requires iOS 7.1 or later. Compatible with iPhone, iPad, and iPod touch. This app is optimized for iPhone 5, iPhone 6, and iPhone 6 Plus.