Nike+ Run Club
By Nike, Inc
This app is only available on the App Store for iOS devices.
Description
Your Perfect Running Partner – Nike Run Club
Nike Run Club gives you everything you need to run better and more often—including GPS tracking details of your run, audio guided running workouts, customized coaching plans that fit your goals and adapt to your progress, and nonstop motivation from your friends. In short: We'll help you reach your goals and have more fun getting there.

- FULL APPLE WATCH SERIES 3 SUPPORT
- TRACKS AND STORES ALL YOUR RUNS AND RECORDS
- AUDIO GUIDED RUNNING WORKOUTS WITH NIKE COACHES AND ATHLETES
- PERSONALIZED COACHING PLANS FOR YOUR GOALS
- TROPHIES AND BADGES TO CELEBRATE YOUR ACHIEVEMENTS
- COMPETE ON LEADERBOARDS
- IN-RUN CHEERS FROM FRIENDS
- EASILY SHARE YOUR RUNS WITH YOUR FRIENDS

SUPPORTS APPLE WATCH and APPLE WATCH NIKE+
Get your perfect running partner—on your wrist. The Nike Run Club app supports all generations of Apple Watches, with a simple experience designed for the runner in motion.
Scroll down on the main screen to select a goal or start an Audio Guided Run with one of Nike's coaches and athletes. Swipe left to Settings to customize your run and turn on Cheers to receive cheers from friends while you run. And don't forget to check out the detail of your last few runs in Activity History. GPS support is only available on Series 2 and 3 Apple Watches.

TRACKS AND STORES ALL YOUR RUNS AND RECORDS
Get all the detail you need—pace, distance, GPS route, elevation, heart rate, and mile splits. Real-time audio feedback will keep you on track during your run.

AUDIO GUIDED RUNNING WORKOUTS WITH NIKE COACHES AND ATHLETES
Get guidance, motivation and inspiration directly through in-ear audio from Nike's coaches as well as elite athletes like Mo Farah and entertainers such as Kevin Hart. The workouts are designed to help runners improve strength, speed and endurance and have fun doing it. Additionally, intervals are automatically marked along the way so all you need to do is press start and go.  Each Audio Guided Run is paired with a specific playlist, so be sure to connect to Apple Music or Spotify to get the best experience.

PERSONALIZED COACHING PLANS ADAPT TO YOU
Whether you want to get started, get fitter, or get race-ready, Nike Coach has a plan for you. One that starts with your goals and fitness level, and adapts as you progress.

TROPHIES AND BADGES TO CELEBRATE YOUR ACHIEVEMENTS
Get motivated and earn trophies when you smash Personal Records like your fastest 5K or longest run. Challenge yourself to earn monthly milestone badges or see how long you can keep your running streak alive.

LEADERBOARDS LET YOU COMPARE AND COMPETE
Easily compare and compete with friends and fellow runners on the distance leaderboard

IN-RUN CHEERS FROM FRIENDS
A little support can go a long way. You can receive motivating in-run audio cheers from friends during your run to keep you going strong. And if you want to cheer your friends back, that's cool, too.

CUSTOMIZABLE POST-RUN SHARING WITH FRIENDS
Personalize your activity posts by adding photos, stats and stickers, then customize who sees it—your other social networks, or just your Nike friends.


This app includes Nike stickers you can use in the app and on iMessage to share with friends. You can find the iMessage stickers in the iMessage app store by searching for NRC. By downloading the app, you agree that Nike provides these stickers for you to use only for that purpose. Nike may revoke this permission at any time.

Nike Run Club integrates with the Apple Health app to sync your workouts and record heart-rate data.

Please note that continued use of GPS running in the background can dramatically decrease battery life.
What's New in Version 5.9.0
We are super excited about this update. We hope you like it.
 
PHONE
- Introducing Audio Guided Runs. Run with Nike's coaches and athletes in a series of audio guided workouts. Mix up your routine with speed runs with Mo Farah and Kevin Hart. Each run is paired with a playlist so be sure to connect your streaming music account to get the best experience.
- Cheers! Running is more fun when your friends Cheer you on. Notify friends when you go for a run and get Cheers to keep you going. TIP: Turn on this feature in Run Settings>Audio Feedback>Audio Cheers
- Additional bug fixes and enhancements.
 
APPLE WATCH
- Audio Guided Runs are also available on your Watch. Scroll down under the Start button to find them. Please be sure to download the runs to your watch before you head out.
- Cheers! Receive Cheers from your friends on your watch. Swipe left to Settings and turn on Cheers.
- Activity History. You can now see the details of your last 5 runs on your Apple Watch.
- Elevation data will now be available on standalone watch runs (Apple Watch Series 3 only)
- General bug fixes and enhancements.
 
PRO-TIP: To see your heart rate during your run, swipe left on your Watch and turn on 'All Metrics'.
IMPORTANT: You need to authorize NRC to access Motion and Fitness Activity in order to track a run.
 
For the best results on Apple Watch, we recommend using watchOS 4.0 or above.
 
For more updates and pro-tips, please visit nrc.nike.com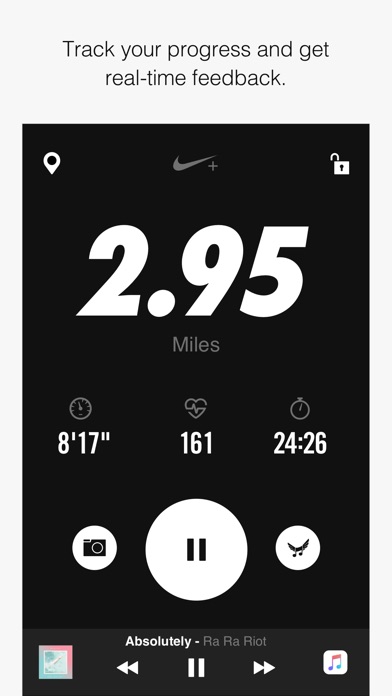 Customer Reviews
Great for what I need
I've only been using this app for a couple of weeks, but it has been working wonders for me. I am not a vivid runner by any means. I started using this app to track my progress in my weight loss journey. My runs are only a mile and a half each day, for the time being, so I haven't experienced any issues that the other reviews have pointed out concerning crashes. I love the achievement section and how you are able to log miles on the sneakers you are running in. There are only two things that keep me from giving this a 5 star rating. First has to do with the music. I have plenty of music on my iTunes, but I prefer to listen to Pandora. Maybe I haven't fidgeted with the app enough, but I haven't found any way to set Pandora as my music preference. It would be nice to be able to do that. Secondly, I use the timer on my phone to track my time because I time myself running run way. Once that time is up, I turn around and run back. The problem is when my timer goes off, my workout pauses. Again, I haven't fidgeted with the app too much, so I don't know if a workout like that is available. I just don't like that my workout pauses just because my timer that isn't even part of the app goes off. Both of those are small issues that I have adjusted to, but the app would have five stars from me if those issues were not there.
Long Distance Runners Beware: Watch App On S2 Is Useless
I suppose if you're a casual runner of shorter distances this app is serviceable. If you're even slightly more serious, read on.

I have an Apple Watch Nike+ S2 and the Watch app is absolutely horrible. Laggy all around. Every swipe takes a second to register, every tap happens a second later. Tapping to start a run takes seconds to actually begin. If you have a run countdown and the countdown does not complete before you drop your wrist the workout will not actually begin. Double tapping the screen during a run is supposed to pause your workout but you have to raise your wrist to wake the screen and then give it a few seconds to update the display before you can do so. Even then it can take a couple of attempts. And last but certainly not least if you finish a long workout (double digit miles) and attempt to save the workout the app crashes. If you restart the app it resumes the workout forcing you to pause the workout (adding time to your workout in the process) and try again. Sometimes it works, sometimes it terminates and saves nothing. Yesterday I lost a 19 mile run. Gone. It's far from the first time and I'm not going to go through it anymore.

I have given this app too many chances over years of it getting worse. I'm embarrassed to have pre-ordered the Apple Watch Nike+ S3. Even when it comes I will absolutely not be giving this app another chance. If you've read this far, consider yourself warned.
Great app for rec runner, needs better HR support
I think this is a great app for the average runner but if you are serious about your running you want an app that is going to at least give you the option to focus on your heart rate with regards to what zone you are in and using the audio coaching cues to tell the runner what zone they should be in on recovery runs or tempo runs or whatever. I like how on the "first run" and "next run" the coach keeps telling the runner to slow down and take it easy but doesn't explain the why behind it. The why is to keep you in zone 2 because most runners are in zone 3 or 4 even as an "easy run" and they don't even know it.

I love this app and would use it exclusively but because it doesn't have an option to focus on heart rate for training I would rather use the Pear app.

Also, when using the wrist monitoring on my watch it shows my bpm but at the end of the run doesn't give a graph of my heart rate. When I use my chest strap paired to my Apple Watch the nike app shows "—" in the bpm section but when the run is finished does show a graph for my run. If this was fixed, especially the chest strap issue I would be more likely to use the app as my main because I know where I need to keep my heart rate to stay in zone.. but if it isn't showing me it does no good.
View in iTunes
Offers Apple Watch App for iPhone
Free

Category:

Health & Fitness

Updated:

Oct 02, 2017

Version:

5.9.0

Size:

198 MB

Apple Watch:

Yes

Languages:

English, Dutch, French, German, Indonesian, Italian, Japanese, Korean, Portuguese, Russian, Simplified Chinese, Spanish, Swedish, Thai, Traditional Chinese, Turkish

Seller:

Nike, Inc
Compatibility: Requires iOS 10.0 or later. Compatible with iPhone, iPad, and iPod touch.