Nike+ Run Club
By Nike, Inc
This app is only available on the App Store for iOS devices.
Description
Your Perfect Running Partner – Nike Run Club
Nike Run Club gives you everything you need to run better and more often—including GPS tracking details of your run, audio guided running workouts, customized coaching plans that fit your goals and adapt to your progress, and nonstop motivation from your friends. In short: We'll help you reach your goals and have more fun getting there.

- FULL APPLE WATCH SERIES 3 SUPPORT
- TRACKS AND STORES ALL YOUR RUNS AND RECORDS
- AUDIO GUIDED RUNNING WORKOUTS WITH NIKE COACHES AND ATHLETES
- PERSONALIZED COACHING PLANS FOR YOUR GOALS
- TROPHIES AND BADGES TO CELEBRATE YOUR ACHIEVEMENTS
- COMPETE ON LEADERBOARDS
- IN-RUN CHEERS FROM FRIENDS
- EASILY SHARE YOUR RUNS WITH YOUR FRIENDS

SUPPORTS APPLE WATCH and APPLE WATCH NIKE+
Get your perfect running partner—on your wrist. The Nike Run Club app supports all generations of Apple Watches, with a simple experience designed for the runner in motion.
Scroll down on the main screen to select a goal or start an Audio Guided Run with one of Nike's coaches and athletes. Swipe left to Settings to customize your run and turn on Cheers to receive cheers from friends while you run. And don't forget to check out the detail of your last few runs in Activity History. GPS support is only available on Series 2 and 3 Apple Watches.

TRACKS AND STORES ALL YOUR RUNS AND RECORDS
Get all the detail you need—pace, distance, GPS route, elevation, heart rate, and mile splits. Real-time audio feedback will keep you on track during your run.

AUDIO GUIDED RUNNING WORKOUTS WITH NIKE COACHES AND ATHLETES
Get guidance, motivation and inspiration directly through in-ear audio from Nike's coaches as well as elite athletes like Mo Farah and entertainers such as Kevin Hart. The workouts are designed to help runners improve strength, speed and endurance and have fun doing it. Additionally, intervals are automatically marked along the way so all you need to do is press start and go.  Each Audio Guided Run is paired with a specific playlist, so be sure to connect to Apple Music or Spotify to get the best experience.

PERSONALIZED COACHING PLANS ADAPT TO YOU
Whether you want to get started, get fitter, or get race-ready, Nike Coach has a plan for you. One that starts with your goals and fitness level, and adapts as you progress.

TROPHIES AND BADGES TO CELEBRATE YOUR ACHIEVEMENTS
Get motivated and earn trophies when you smash Personal Records like your fastest 5K or longest run. Challenge yourself to earn monthly milestone badges or see how long you can keep your running streak alive.

LEADERBOARDS LET YOU COMPARE AND COMPETE
Easily compare and compete with friends and fellow runners on the distance leaderboard

IN-RUN CHEERS FROM FRIENDS
A little support can go a long way. You can receive motivating in-run audio cheers from friends during your run to keep you going strong. And if you want to cheer your friends back, that's cool, too.

CUSTOMIZABLE POST-RUN SHARING WITH FRIENDS
Personalize your activity posts by adding photos, stats and stickers, then customize who sees it—your other social networks, or just your Nike friends.


This app includes Nike stickers you can use in the app and on iMessage to share with friends. You can find the iMessage stickers in the iMessage app store by searching for NRC. By downloading the app, you agree that Nike provides these stickers for you to use only for that purpose. Nike may revoke this permission at any time.

Nike Run Club integrates with the Apple Health app to sync your workouts and record heart-rate data.

Please note that continued use of GPS running in the background can dramatically decrease battery life.
What's New in Version 5.10.0
Here's what's new with this update:
 
PHONE
- Support for iPhone X
- Additional bug fixes and enhancements
 
PRO-TIP: Check out our new Audio Guided Runs feature and experience a new and exciting way to run with NRC. Train with Nike's coaches and athletes in a series of audio-based running workouts.
 
APPLE WATCH
- General bug fixes and enhancements.
 
PRO-TIPS:
- To see your heart rate during your run, swipe left on your Watch and turn on 'All Metrics'.
- Audio Guided Runs is also available on your Apple Watch. Scroll down below the START button to access them and experience a game-changing way to run.
 
IMPORTANT: You need to authorize NRC to access Motion and Fitness Activity in order to track a run.
 
For the best results on Apple Watch, we recommend using watchOS 4.0.1 or above.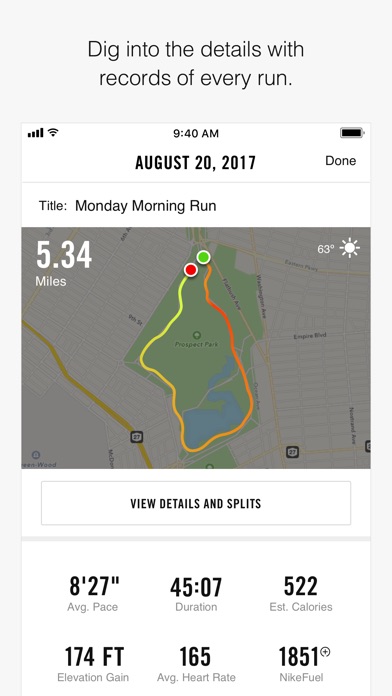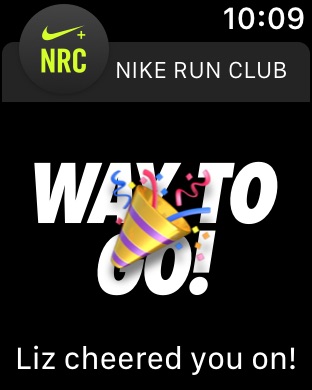 Customer Reviews
Used to be better
This app is great for tracking runs, but what I don't like is that they took away some things that were great about the app.
1. Show friends level and/or miles. One of the most driving things is to not be outdone by your friends. People work hard to get to a certain level. What's the point if nobody can see it but you?
Bring back challenges. I'm not sure if they're gone completely or just hidden, but challenges were fun! It gets people moving who may not be moving.
I'm not with all of the social stuff with strangers. I think the app is going in a direction of social media, but taking away from the social part of friends interacting with friends. I don't see a need to share pictures of my run with strangers who could care less, just as I could care less about theirs.
I also miss the part where we could get cheers from Facebook. That was motivation on your run. I used it all of the time. Then it was messed up where it posted a picture on my Facebook and and didn't shut down the post when I was done running so people could comment on it all day....instead of just fixing that, I guess they just took that feature away completely.
The deeper into the app, the better your workout
I've been using the Nike Run Club app for years to track my runs outside and in the gym. It was great to track distance, mile splits, and see my progress overtime. However, I never really used it for anything else. Today was the first day I used a guided run. I completed the Run Strong Repeat 30 minute speed workout and my god, have I been missing out. The voice of Coach Cox is absolutely amazing. It's obviously convenient to have a coach tell you when to run for ninety seconds and when to start the 45 second recovery as opposed to looking at a watch or phone. The most unexpected joy of this guided run was Coach Cox's encouraging and motivating words. I haven't had a running coach since high school and I forgot how motivating it is to have one. I found myself smiling as Cox rooted me on and pushing myself harder when she told me to use my strength. It was awesome. I look forward to the coming NRC workouts that I will now use to improve my running!
Great app for casual runs, problematic for long-time use
I have been using NRC for four years, since Nike Plus days. I love the design, the feedback and achievements, the community features, integration with music. And unlike most other apps, it never bugs you about upgrading to premium version.
But after 500 runs, it reached a point of being unusable. The startup takes several minutes on an iPhone SE. Countdown to run stops at "1" and stays there for up to a minute before tracking starts. Many updates bring bugs like music muting when the run starts, forcing restart of the Music app, etc. The web site version was always very slow, but now the community features like heat maps seem to be disappearing.
I have moved my runs to Strava (exporting runs from Nike is a challenge in itself!), which is extremely responsive in comparison. Going back through run history is a snap, and tracking starts instantly. Yes, the feedback is missing, unless you pay an annual fee. But at least I start each run in a better mood.
View in iTunes
Offers Apple Watch App for iPhone
Free

Category:

Health & Fitness

Updated:

Nov 02, 2017

Version:

5.10.0

Size:

199 MB

Apple Watch:

Yes

Languages:

English, Dutch, French, German, Indonesian, Italian, Japanese, Korean, Portuguese, Russian, Simplified Chinese, Spanish, Swedish, Thai, Traditional Chinese, Turkish

Seller:

Nike, Inc
Compatibility: Requires iOS 10.0 or later. Compatible with iPhone, iPad, and iPod touch.