NOAA Weather Alerts - Severe Weather Push Notifications & Warnings
By WeatherSphere
This app is only available on the App Store for iOS devices.
Description
Simple, no-nonsense app for quickly notifying you of severe weather alerts in a chosen radius from your current location (and/or upto 20 saved locations!), including Tornadoes, Hurricanes, Flood/Fire Warnings, Snow Storms, Frost Advisories, and hundreds more. Alerts you with sound even when the phone is lying unused with screen off!

User reviews:
"Greatest weather app I've ever used. Also this thing will wake the dead if a tornado warning is issued. It's incredible." - DE Hallman

"This app has saved my wife's garden more than once from hail." - rudy_z1

"I love that I get weather alerts before my weather radio goes off and I get alerts even when I'm out running around." - loopfish

Important: When you install and launch for the first time, the app will ask to turn on push-notifications and location services. Please choose YES to avoid the hassle of having to manually enable them later. Alerts will not work without either of these.

- Browse current advisories on a map
- Get a push-notification whenever an alert is issued within a distance you have specified. You can choose anywhere upto 3 miles only or all the way upto 100 miles.
- Choose type/severity of events you want to receive, including Tornado warnings
- Check the current weather + forecast for any spot on the map
- Your phone will make a siren sound when there is a Tornado Warning nearby!
- Will automatically transition to your new location as you travel, no need to reconfigure anything.
- National UV Alert map and Radar map.
- We have worked very hard to make the system as accurate as possible. The system will not miss an alert issued by the NWS, will not deliver a false alert, and will not deliver duplicate alerts.
- Alerts marked as "Severe" or "Urgent" by the NWS are prioritized by the system for faster delivery to end-users.
- Even though defaults have been tested to be appropriate, you can configure maximum alert frequency to your taste, or turn them off altogether.

Once you setup and put the app in the background, most likely you will never have to open the app again.

Note that if you have *any* question whatsoever while using the app, you can send a quick message to support from within the app, and we *will* respond very fast.

Notes:
- This app is useful for users in the US only.
What's New in Version 4.2
This version nixes most of the annoying usability issues, all the minor things that irritate new and existing users alike.
iPhone Screenshots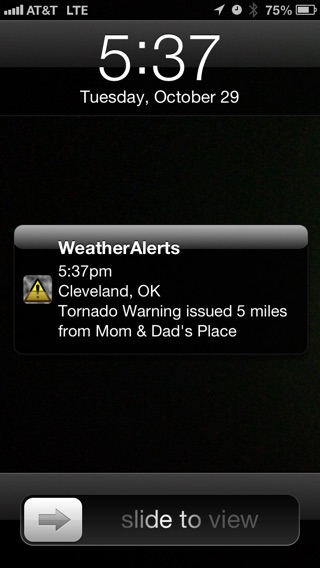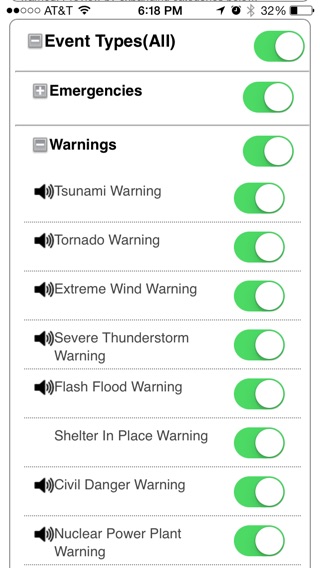 Customer Reviews
I depend on this app...
I am recently widowed, live alone now in a storm-prone area of the country and am a very hard sleeper. Even though there is a tornado siren 1/4 mile away, I never hear it unless I am already awake. I used to have the phone call service from the Weather Channel and was concerned when they discontinued it for email and push notifications. Again, I don't hear the dings when I'm asleep!
Enter your Weather app. I searched for an app that would push notifications with a loud, piercing sound that my SLEEPING BRAIN would recognize and respond to. Well, I have found it!
You can set only the alerts you want as well as how far away you want to be alerted..I don't care if it is storming someplace 50 miles away if I'm asleep. I do care if that same storm is 10 miles from the place where I am sleeping.
The alert sounds are geared to the kind of sound effects you associate with each storm...a crack of thunder for a severe thunderstorm warning, a rushing, swirling wind for tornado watch, a storm siren for a tornado warning. And it is LOUD!!
Because it is so selective, my pastor asks me to have it on during services on very stormy days so we can go on with our service and yet know if we need to move to a safe place. In other words, this app is a literal life-saver! Way to go!
Consistently first to alert
I live in Alabama. I used to live in Tuscaloosa, which had a deadly tornado in 2011. I have seven weather apps on my phone - all with alerts turned on. I compiled an "Extreme Weather" list on Twitter featuring top meteorologists and storm chases. Tonight, I was caught by surprise. I was awakened by this app at 11:32 p.m., immediately after NWS issued a tornado warning. I was directly in the path. Two other apps issued warnings a few minutes later. Four apps issued no warning at all. This isn't the flashiest weather app, and it lacks a lot, but I keep it on my phone and the phones of my loved ones, because when seconds count, the first to alert is critical. That being said, if you live in a tornado-prone area, you need multiple alert systems. Leave nothing to chance.
Dangerous if this doesn't get fixed
I have had this app for several years now. I got this app when we moved to Oklahoma, where having constant access to weather alerts can literally save your life. For the first several years, this app worked very well. However, now it has simply stopped pushing notifications at this point (despite following all of the instructions provided by the app for troubleshooting this problem) — alerts just pile up in your inbox, but, never get pushed out to actually alert you. This has also occurred on my wife's phone and on the phone of a colleague of mine to whom I had recommended this app (this is not a "stupid user" problem …). This is not simply a "small tech problem," but, in the context of a place where somebody can have very severe weather seasons (like Oklahoma), this failure can literally endanger the person relying on this app. Yes, I get my weather alerts in many ways (NOAA weather radio, texts, Twitter, Facebook, and from my computer), but, when this app worked, NOTHING beat since, sometimes, you are away from your computer/home. Now that it seems to have failed, I strongly recommend people considering purchasing this to look elsewhere.
View in iTunes
$3.99

Category:

Weather

Updated:

Jun 10, 2014

Version:

4.2

Size:

10.5 MB

Language:

English

Seller:

WeatherSphere
Compatibility: Requires iOS 6.1 or later. Compatible with iPhone, iPad, and iPod touch.
More iPhone Apps by WeatherSphere