Notes Plus
By Viet Tran
Open iTunes to buy and download apps.
Description
- Selected as Top 100 World's Greatest Apps 2014 - Business Insider's App 100 (http://bit.ly/np1001)
- Notes Plus is a terrific note taker for iPad - TUAW, 10/2014 (http://bit.ly/np1000)

Notes Plus is a powerful note-taking tool that has enabled many people to go completely paperless. Be one of them!

Notes Plus stands apart from other apps in this crowded note-taking space because:
- It was one of the few feature-rich iPad apps released right after the first iPad's debut.
- Since 2010, it has gone through 30 version upgrades and 3 complete overhauls, resulting in 8 million update downloads by almost one million users.

Get Notes Plus to benefit from:
• Outstanding handwriting experience with razor-sharp ink effects, palm rejection, and close-up writing mode for fine writing. Experience all this for yourself: get our other app for FREE at http://INKredibleApp.com.
• Converting handwriting to text. 52 languages are supported.
• Typed text.
• Background audio recording.
• Automatic shape detection.
• Inserting images from Photos or directly from the camera.
• Importing PDF and DOC files to annotate.
• Exporting notes as PDF or images to Dropbox, Google Drive, Evernote, email, and other apps.
• A built-in browser for quick reference.
• Automatic backup to Dropbox.
• Multi-level folder management.
• Support for left-handed users.
• Support for Wacom, Adonit, and Pencil styli.
• Support for VGA-out presentation.

And above all, you'll get personal replies from our responsive support team within 24 hours (usually within 4 hours). Please email us at support@notesplusapp.com or visit our support site: http://notesplusapp.com.
What's New in Version 4.7.2
- Fixed offset issue with Wacom Bamboo Fineline Bluetooth stylus.
- Fixed zero-length recording error.
- Enabled extended keyboard on all text fields.
- Remembered last used date/time format on extended keyboard.
iPad Screenshots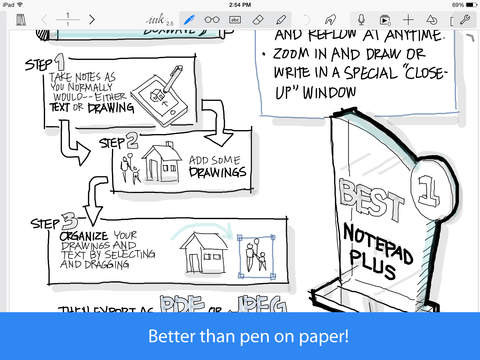 Customer Reviews
Intuitive and feature rich!!
Notes Plus and Note Taker HD are hands-down the best two note taking aps for IOS. Notes Plus has the edge for usability and features though. Menu placement and availability of options combined with natural use of the stylus to access features are the main difference-makers for Notes Plus. Most options you need are in a close-proximity menus or available through the writing surface. Options such as auto-advance when writing in zoom mode, scribbling through an item to delete it, circling an item for selection and modification, automatic backup and restore, automatic wrist guard, easy saves and exports, easy integration with cloud accounts, the ability to fully customize page attributes, smooth scrolling between pages, simple menus, and more, really set this AP apart. The one thing I don't find that helpful is the smoothing of the writing stroke. It doesn't clarify my hand-writing over Note Take HD. It may even obscure it a little at times. But the zoom mode is much better because it doesn't enlarge the pen line, allowing more natural formation letters. I'd like to see context-sensitive help. Wading through the user guide to look up options is a little cumbersome. The AP has also frozen some features a couple of times, but you don't have to restart the iPad to clear that up. Still, that can be a little nnoying when you are in a fast-paced note-taking mode. In the end it is easily a 5-Star AP and well worth the price.
Loving This App
I'm loving this app so far. Though I am currently on summer break I am starting up classes again in the fall. I have been looking for an app that I could use to help me take my notes. Playing around with it I found a few thinks I like and dislike. I personally love writing out my notes and love being able to color them as much as I want. One think that I found is once you changed the words in there text form you can not turn it back into your hand writing. Though I hoped that wouldn't happen it did. I understand that I can be hard to do something like that in the programming I still hoped it would have been possible. Also I loved that I told me in the settings what styluses I could used. I have been looking for one with palm rejection but haven't found one that I can afford. Being a college student dose not leave on with much money after all. Anyways I'm getting off topic. I liked being able to use this app for my math notes and hope there's some kind of "equation" option that I can use. If not or if not I hope to see one soon. Anyways other then that I'm loving this app and hope you guys will bring more ways to make this user friendly and get some more math stuff in. I know there not a lot of note apps that can put in equations so maybe you can use that to draw more people in. Anyways tanks for the app! I plan on using it often!
Wish I had this application when I was in college
I bought this application specifically for taking notes in work training's and meetings. It is one of the best applications I have found for note taking; I have tried a multitude of applications before I found Notes Plus. My favorite feature is the ability to record while taking notes, and the ability to link that recording specifically to that note, it has been amazing. Notes Plus has enhanced my note taking abilities because sometime I am not be able to keep up with the presenter and if I forgot a certain thing they said I just have to rewind and listen and then add notes I missed. I used to do this when I was in college, I would record the lecture on my phone and then take notes on my iPad, though because of lack of memory and the recordings just floating in my phone not assigned to anything I would always end up delete the recordings. However, I did not find out about Notes Plus till recently and I wish I had it when I was in college. I also enjoy the wide range of colors offered to write with in Notes Plus, it has the best selection I have ever seen available in any other notebook application.
View In iTunes
$9.99

Category:

Productivity

Updated:

Jun 01, 2015

Version:

4.7.2

Size:

49.3 MB

Languages:

English, French, German, Italian, Japanese, Korean, Portuguese, Russian, Simplified Chinese, Spanish, Vietnamese

Seller:

Viet Tran
Compatibility: Requires iOS 7.0 or later. Compatible with iPad.
More iPad Apps by Viet Tran