Numbl: Number jumble fun.™ for iPad
By Andy Wise
This app is only available on the App Store for iOS devices.
Description
*** Macworld — 4/5 mice ***
*** Appsafari Featured App — Rating: 5/5 stars ***
*** Gamezebo — 4/5 stars ***
*** AppStruck — 4.5/5 stars ***
*** Appletell — 4/5 ***

----------

REVIEWS

"Numbl is, honestly, pretty addictive. It's sure to give you and your math-minded friends plenty of entertainment ... [the interface] is simple, elegant, and gorgeous." — macworld.com (http://j.mp/hFYu8F)

"Numbl is definitely my choice in math games… The game is shockingly good-looking... Easy to pick up and easy to learn." —appstruck.com (http://j.mp/numblast)

"It's really hard to find fault with Numbl… one quick run at totting up those digits is rarely enough." —gamezebo.com (http://j.mp/numblgz)

"I really like Numbl thanks to a solid design, its burst-like gameplay, and a surprisingly engaging multiplayer mode... This should be a hit with the sudoku crowd... Numbl is well worth the $1.99." —appletell.com (http://j.mp/numblat)

"Sudoku and speed enthusiasts, rejoice: now you can have both in one game! ... The fantastically designed layout is just a cherry on top of a delicious cake... Numbl fast becomes an addiction…" —appsafari.com (http://j.mp/numblas)

"I love that the two player mode lets you actually play at the same time... Numbl has great graphics and runs very smoothly. I had a lot of fun playing it and I think it's a great way to let your older children practice their addition facts." —theiphonemom.com (http://j.mp/numblmom)

"Numbl is one of those special applications that provides both heart-pounding game play and learning fun... the production quality is top-notch with sophisticated graphics and captivating sounds... Primary school-aged kids+ will certainly have a ball with this addictive, brain-bending game." —GiggleApps.com (http://j.mp/numblga)

"I have to honestly tell you that it is an amazing game! The graphics are gorgeous and the gameplay is quick and addictive."—Photosynthesis (http://j.mp/numblps)

----------

VIDEO: http://youtube.com/watch?v=gtxDge9CkyU

----------

Who knew addition could be so addictive? Numbl is an entertaining math workout for your brain. It's perfect for a quick game, or an endless two-player battle against a friend!

Numbl tests your simple, speedy addition skills. To play, touch numbered tiles as fast as you can to reach a target sum, which is displayed at the top of the screen. Once each tile is used, it disappears. See how quickly you can clear the screen. You'll be surprised at how soon your skills improve!

See how your time compares to other players around the world in the top-100 high score leaderboard. Then, show off your addition wizardry via Facebook and Twitter.

----------

FEATURES

* Beautiful graphics
* 2-player mode (on a single device)
* Brain training like Sudoku, but with the added dimension of speed
* Facebook and Twitter integration
* E-mail your scores to a friend
* Worldwide high scores: all-time, monthly, weekly, and daily
* Detailed statistics for every game you play

----------

Your math mastery will manifest miracles.

----------

http://numbl.com
http://facebook.com/numbl
http://twitter.com/numbl
http://flickr.com/numbl

Yappler-Tags: game, puzzle, kids, number, math, multiplayer, addition, addictive, educational, brain

03523
iPad Screenshots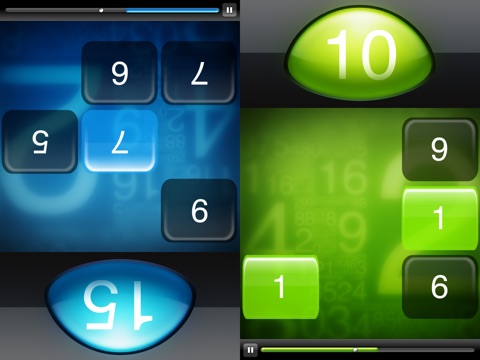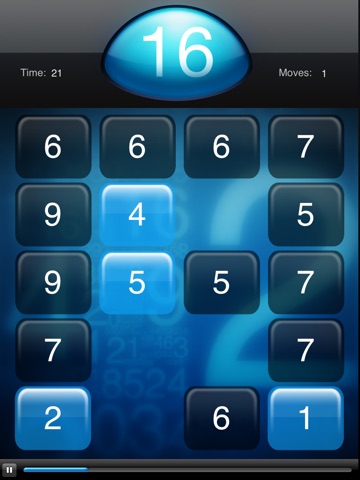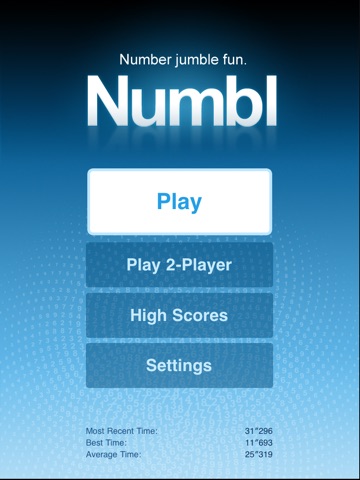 Customer Reviews
yep, very nice
simple, quick, attractive, addictive

-

Just noticed (2015 Oct 18) that there's a problem with iOS 9.02. Plays one game in single-player mode and hangs.
View in iTunes
$0.99

Category:

Games

Released:

Apr 01, 2010

Version:

1.0

Size:

7.5 MB

Language:

English

Seller:

Andy Wise
Compatibility: Requires iOS 3.2 or later. Compatible with iPad.