Nutrition Menu - Calorie, Exercise, Weight & Water Tracking
By Shroomies
This app is only available on the App Store for iOS devices.
Description
★ Supports PointsPlus and other diets!
★ Recommended in Fitness magazine, Women's Health magazine, and The Doctors on CBS
★ Selected as an Apple Staff Favorite twice!
★ No Internet connection required
★ 50% Off Sale

Advance your diet by having nutritional information for over 100,000 food items right at your fingertips! Whether you go out to eat or cook at home, Nutrition Menu takes the guesswork out of choosing healthy meals and even includes a calculator to compute your Food Score. Have the peace of mind knowing that your meal fits within your dietary allowance. You can then track from meal to meal insuring a higher weight loss by keeping a journal of what you have consumed. Whether you are counting carbs, watching calories, or have diabetes, Nutrition Menu makes it easy for anyone who needs to track what they eat.

"The mother of all iPhone calorie counters" - Fitness Magazine

FOOD FEATURES:
✓ Over 49,000 restaurant menu items of 360 USA and some Canadian restaurants (see website for list)
✓ Over 51,000 entries for common foods like apples, meat, frozen meals, etc
✓ Shows Points Plus and Points Classic numbers
✓ No Internet communication means fast access to information
✓ Nutrition info includes calories, fat, carbs, fiber, serving size, protein, cholesterol, sodium, and sugars
✓ Add your own custom foods
✓ Put your popular foods in the Favorites
✓ Search feature
✓ Updates nutritional values when you change quantity

EXERCISE FEATURES:
✓ 149 built-in exercises
✓ Add your own custom exercises
✓ Activity Score Caculator
✓ Put your custom exercises in the Favorites
✓ Calculate calories burned by exercising based on your weight

JOURNAL FEATURES:
✓ Shows daily summary with progress bars
✓ Breaks down calories in a pie chart
✓ Shows all foods and exercises for a day
✓ Supports extra Food Scores for the week
✓ Write daily notes
✓ Email the Journal and import into a spreadsheet
✓ App icon on the Home Screen shows today's total Food Score

WEIGHT TRACKING FEATURES:
✓ Weight tracking with graph
✓ Use pounds or kg
✓ Change time range of weight graph

WATER FEATURES:
✓ Use cups, oz, or mL
✓ Set your personal goal

OTHER FEATURES:
✓ Food Score settings adjustable to fit any diet
✓ Passcode to protect your privacy
✓ No monthly subscription fee
✓ Free & frequent updates

---------------------------------

► 37 updates so far
Version 1.18 - Added extra Food Scores for the week
Version 1.19 - Added calorie pie chart
Version 1.20 - Added 11,000 new items
Version 1.21 - Added water tracking
Version 1.22 - Added passcode protection
Version 1.23 - Added Activity Score Calculator
Version 1.24 - Added restaurant icons
Version 1.25 - Added backup/restore
Version 1.26 - Added Points Plus
Version 1.27 - Updated 63 restaurants

What's New in Version 1.27.1
★★★★★ Your 5-star iTunes ratings with each version keep the updates coming! Thanks!!!

Version 1.27.1 Changes
- Fixed Food Scores for Favorite food items with a quantity different than 1

Version 1.27.0 Changes
- Fixed bug with fruit/vegetable Favorites on Points diet
- Updated/Added 63 restaurants (16000+ items): A&W Restaurants, Applebee's, Arby's, Au Bon Pain, Auntie Anne's Pretzels, Baja Fresh, Baskin-Robbins, Blimpie, Bob Evans, Bojangles, Boston Market, Buffalo Wild Wings, Burger King, California Pizza Kitchen, Captain D's, Carrabba's, Checkers, Chili's, Chipotle, Cracker Barrel, Denny's, Domino's, Firehouse Subs, Five Guys Burgers and Fries, Friday's, Friendly's, Golden Corral, Hardee's, IHOP, In-N-Out Burger, Jack in the Box, Jimmy John's, Johnny Rockets, KFC, Krispy Kreme Doughnuts, Krystal, Long John Silvers, LongHorn Steakhouse, Macaroni Grill, McCafe, McDonald's, Olive Garden, Orange Julius, Panera Bread, Papa John's Pizza, Pei Wei, Piccadilly, Pinkberry, Pizza Hut, Rally's, Red Burrito, Red Lobster, Romano's Macaroni Grill, Souplantation, Starbucks, Subway, Sweet Tomatoes, Taco Bell, TGI Friday's, Wendy's, Whataburger, White Castle

iPhone Screenshots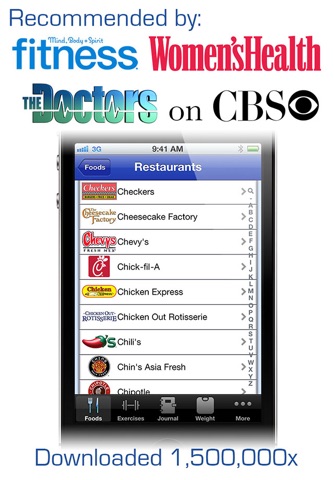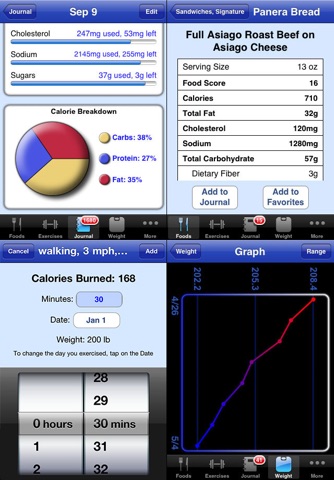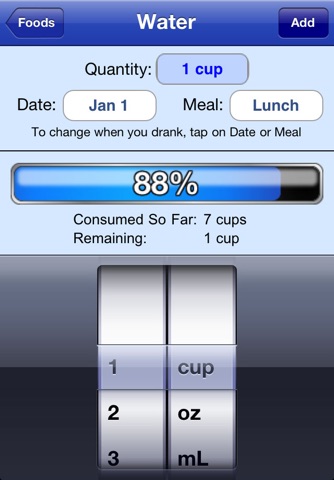 Customer Reviews
Best
I have been using this program on my iPhone for several months. I like the fact that you can add your own items with all the nutrition lable. I use the Weightwatchers system and it works great. I have lost 75 pounds using this program and like the fact that you do not have to go online to use it unlike the Weightwatchers system. I tracked both for two weeks and found that they both had about the same food points. I also like the settings that allow you to set fiber, sodium, fat etc. Unlike Weightwatchers which do not allow these settings. I would like a simple points counter that would allow you to put in products found in the market without having to add them. There is a points counter for the iPhone that I use, cost: .99 cents. I got a quick responce from their tech. dept. on how to change the value of food points. I found that they do have a web site that explains all the features of this program. It is well worth the price and they are always upgrading it. My advice is to buy this program if you really want to track nutrition of package foods or menu items found in restaurants, many are listed. One thing that I do not like is weight watchers points plus. It still calculates fruit with points.
Best I've Found
I can't comment on the accuracy of certain nutritional content nor the diet plans that can use this app as a daily tracker. What I can comment on is using this as a daily tracker for nutritional information that I manually add. I enter the info of almost everything I eat, myself. Most of us eat a lot of the same things over and over so once it's entered and placed into categories of our making then saved in favorites it's very easy to add to my daily journal. Items that I don't have the info of including restaurants, dining at a friends, etc. I'll either estimate using listed foods or use the restaurant listings provided. I love having the option of recording exercises, choosing what you want the journal to keep track of and the ability to email your journal to yourself. A little difficult to determine the best way of categorizing your favorites but once you develop your own system it's quite easy. One pointer is to make everything you add to your journal a favorite if you believe you'll ever eat it again so that it's easy to find and add the next time.
Great app for Weight Watchers!
I am a college student that is currently a senior with a Biomedical science major. I recently restarted my Weight Watchers diet because its the only thing that really worked for me as a guy with a busy college schedule. I decided this time not to pay for a membership because there are ways to calculate your points without it and this app was a huge help! You can enter your dietary info ( weight, points allowed, etc.) and it logs all the points and calories for you! Plenty of Restaurants and brand name foods to choose from. The only real problem with this app is that the amount of groceries foods does not have many healthy items but this is fixed with the create custom food section. I can enter in serving size, calorie, fat, fiber, etc. and it can be save to my favorites. It even calculates the points for you in custom food! (Better than using a food calculator online since it saves the value).
View in iTunes
$1.99

Category:

Health & Fitness

Updated:

Jan 10, 2013

Version:

1.27.1

Size:

12.4 MB

Language:

English

Seller:

Tu Lam
Compatibility: Requires iOS 3.0 or later. Compatible with iPhone, iPad, and iPod touch.