Obituaries
By 40 Foot Robot
Open iTunes to buy and download apps.
Description
Obituaries - Death notices of local residents to famous people delivered to your iPhone and iPod Touch daily.
***The (London) Times listed Obituaries as a TOP 500 APP of all time***
Features include:
- Complete UK and USA coverage
- Special obituaries section containing famous people to the somewhat obscure
- Hundreds of cities across the United States to the United Kingdom
- Landscape and portrait modes
- Quick load times
- Headline with summary preview panes

Here is a list of the currently supported cites:
Alameda, CA
Albertville, AL
Atlantic City, NJ
Attleboro, MA
Austin, TX
Baltimore, MD
Bay Area, CA
Baytown, TX
Bernardsville, NJ
Boston, MA
Brownsville, TX
Butte, MT
Caldwell, NJ
Carson City, NV
Cedar Grove, NJ
Chatham, NJ
Corpus Christi, TX
Corte Madera, CA
Cresco, IA
Dallas, TX
Dayton, OH
Death Blog
Decatur, IL
Denver, CO
Florham Park, NJ
Fort Worth, TX
Fresno, CA
Frisco, CO
Georgetown, SC
Georgetown, SC
Ghana, Africa
Grand Island, NE
Greenbrae, CA
Guadalupe, TX
Hanover, NJ
Harlingen, TX
Harlingen, TX
Hawley, PA
Hornell, NY
Hunterdon, NJ
LaFayette, GA
Lake Tahoe, NV
Larkspur, CA
Leamington Spa, UK
Little Rock, AR
Los Angeles, CA
Lubbock, TX
Madison, NJ
Malibu, CA
Marco Island, FL
McAllen, TX
Mendham, NJ
Miami, FL
Midland, MI
Mill Valley, CA
Montgomery County, IN
Morris County, NJ
Morris, NJ
Moscow, ID
Mt. Olive, NJ
New York
Norfolk, NE
North East, PA
Northern, CO
Novato, CA
Oakland, CA
Orange County, CA
Oxford, UK
Paragould, AR
Philadelphia, PA
Pittsburgh, PA
Raleigh, NC
Randolph, NJ
Redlands, CA
Reno, NV
Rhode Island, RI
Ross Valley, CA
Roxbury, NJ
Sacremento, CA
San Jose, CA
San Rafael, CA
Sand Mountain, AL
Santa Cruz, CA
Sausalito, CA
Seguin, TX
Silicon Valley, CA
Sioux City, Iowa
Sleaford, UK
Snowmass, CO
Sonoma, CA
Southern Utah
Terra Linda, CA
United States
Walnut Creek, CA
Washington, D.C.
Watchung Hills, NJ
Western, NV

And Scotland, the United Kingdom, and more...


Check out our iPhone Savior Review:
http://www.iphonesavior.com/2010/05/iphone-obituaries-app-is-dead-serious-fun.html
iPhone Screenshot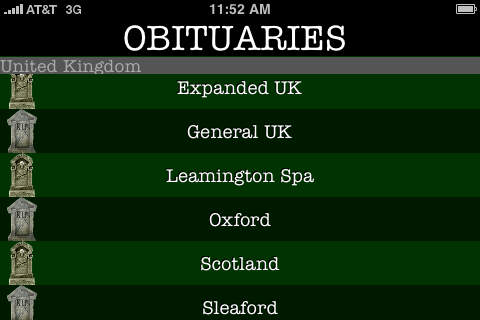 Customer Reviews
Great idea, not so great product...
I've been a life-long obituary reader so I thought this app would be great. Alas, at least for Raleigh, NC, the obits are often out of date (by many months) plus there are a bunch of articles included in the list that aren't obits at all. Very disappointing. Two stars for some of the interesting "extras". Hope the developer can fix this. If I had known I wouldn't have bought it.
OK, now I downgrade this to one star. Even fewer local obits and none current. A complete waste of money.
Nice For What It Does But No Obituaries In My Area
I think this is a nice app for anyone that would like to see who died etc... however I can not believe that this dev would release this app without listing all of the cities? This app does not do me any good if I can't see who died in my area.

This dev needs to update this app and add a lot more areas. For one Bay City, Michigan! Update and will give it five stars for my area.

Also the colors within the app are ugly. Could have been much better. For right now waist of money.
Obituary Readers this app is for you
I read the obituaries every day and this app makes it so easy. No need for black newspaper print on my fingers anymore! Super user friendly and exactly the info I want. Great app.
View In iTunes
$1.99

Category:

News

Released:

May 27, 2010

Version:

1.0

Size:

0.6 MB

Language:

English

Seller:

40 Foot Robot
Compatibility: Requires iOS 3.1.3 or later. Compatible with iPhone, iPad, and iPod touch.
More iPhone Apps by 40 Foot Robot