Ocarina
By Smule
This app is only available on the App Store for iOS devices.
Description
One of Apple's All-Time Top 20 Apps, Smule's Ocarina turns your iPhone into an ancient flute. With no musical training required, you'll blow away your friends and family with your new talent.

"If everyone had the Ocarina app there would be no more wars" - David Pogue
"One of the most original entertainment programs to emerge from the App Store" - Wall Street Journal
"Ocarina is one of the most magical programs I've ever seen" - NY Times
___________________________

Sensitive to your breath, touch and movements, Ocarina is more versatile than an actual flute:
• Blow air into your mic to create music
• Touch combinations of holes to play notes
• Tilt to change vibrato rate and depth
• Advanced users can change keys and modes, including C-Major and Zeldarian mode

With Ocarina, you can also hear people learning to play around the world:
• Listen in on Ocarina players all over the world just by tapping the globe icon
• Rate your favorite performances
• Name your Ocarina so others can listen to you play
• Share your favorite performances with family and friends via e-mail
• Record and archive your favorite performances on your own "My Ocarina" web page
___________________________

Ocarina fans from all over the world have posted hundreds of free easy–to-read scores for popular songs. Just go to http://ocarina.smule.com and click on 'Songbook'.

Top Songs:
Theme from Zelda
Amazing Grace
Theme from Harry Potter
My Heart Will Go On
Mario Brothers Theme
Zelda's Lullaby
Poker Face
___________________________

Watch some great (and not so great) Ocarina performances on YouTube: www.youtube.com/smuleage

Follow us on Facebook: www.facebook.com/smule
Follow us on Twitter: www.twitter.com/smule

Try other Smule apps:
iPad: Magic Fiddle, Magic Piano & Glee Karaoke
iPhone/iPod: I Am T-Pain, Glee Karaoke, Leaf Trombone, Sonic Lighter & Zephyr
What's New in Version 1.4.7
Regular Updates
Lots of minor adjustments to improve the experience
iPhone Screenshots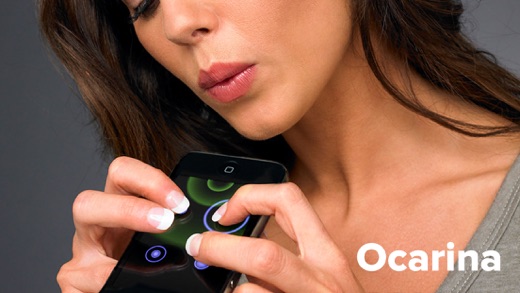 Customer Reviews
Please Read the Following
I am very fond of this app, but there are a few requests which may take a while but I still insist you do.

•More Kinds of Ocarinas
Some ocarinas have more than 4 holes. I know this seems kind of strange but I insist that there are.
•Songs
I know it must take a while for this, but I request you make songs for us to play, like on Smule Piano (something like that I forget) so we can play with more joy, hearing a delightful tune from our very creation/s.
•Titles
I was wondering if we could make a title for the song we make up, if whenever you make the song update you keep the freestyle!
•Names
Can you please let us have more characters to insert our names? I was also wondering if we could also have spaces. I am a Legend of Zelda fan, and I was trying to name myself Ocarina of Time, but there was not enough characters or spaces. I was very disappointed, and I still am.
•Sound
Possibly you could try and update how the ocarina sounds once you upload it. I was listening to mine and it was constantly stopping. The stops were very short but continuous.

Thank you for reading this. Please consider trying the things I've listed above. Thank you.

There should be a songbook in game! Legend of zelda music free please? Thanks

Try that for language arts!
Great app, yet...
This is by far one of the most fun apps I played on with it's listening to other players around the world and playing good pieces of music, but when I found the account settings and figured I'd sign up to change my location, I couldn't sign up in the app. Furthermore, when I tried signing up at the main website, I was blocked by an "object object" excuse. Am I doing something wrong?
Thank you!!
Thank you for making it free!! I've been using Ocarina 2 for the past 3-4 years and without any updates, I was very limited on what I was able to do. Now that Ocarina is free I won't have to use the Ocarina 2 that was discontinued anymore!
View in iTunes
Free

Category:

Music

Updated:

May 11, 2017

Version:

1.4.7

Size:

6.6 MB

Languages:

English, Simplified Chinese

Seller:

Smule
Compatibility: Requires iOS 8.0 or later. Compatible with iPhone, iPad, and iPod touch.