OCRKit
By ExactCODE
Open the Mac App Store to buy and download apps.
Description
Convert any PDF or graphic file into searchable PDF, RTF, HTML and TXT with the fastest OCR for Mac! OCRKit is a simple and streamlined Mac application, that features advanced Optical Character Recognition technology, allowing you to convert scanned or printed documents into searchable and editable text.

You need to extract information from a scanned document in an email or created by DTP applications? It can be a great help for everyone: home users, corporate users at work, translators and educational institutions.

Simply run OCRKit on the document, and copy and paste the result where you need it. Stop retyping everything manually and save time and money by increasing the efficiency and effectiveness of your workflow.

OCRKit is fast and accurate, ensuring the document's content remains intact while saving time as well.

Key Features:
• Fastest OCR made for Mac
• High text recognition accuracy
• Instant content searchable thru Spotlight
• Highly compressed PDF
• Automatic rotation and de-skew
• Color detection
• Multi page processing without page limits
• Drag and drop functionality
• AppleScript support
• Many supported recognition languages

File formats that can be imported:
PDF, TIFF, JPEG, JPEG2000, PNG, PNM, BMP, PCX, GIF as well as OpenEXR.

File formats that can be saved:
PDF (Portable Document Format), HTML (HyperText Markup Language), RTF (Rich Text Format) and TXT (UTF-8 encoded plain text).

The OCR engine recognizes the following languages:
Bulgarian, Croatian, Czech, Danish, Dutch, English, Estonian, Finnish, French, German, Hungarian, Italian, Latvian, Lithuanian, Polish, Portuguese, Rumanian, Russian, Serbian, Slovenian, Spanish, Swedish, Turkish, Ukrainian, and Norwegian.
What's New in Version 16.2
• improved PDF compatibility
• improved recognition accuracy and performance
Screenshots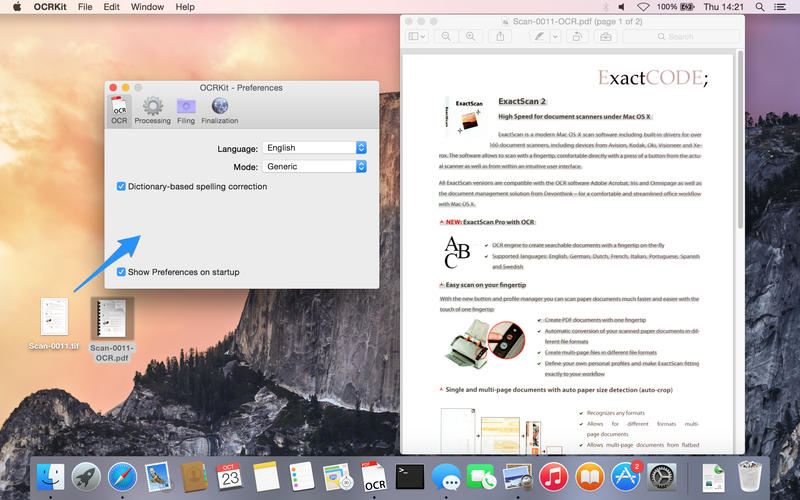 Customer Reviews
OCRKit upgrade
I am a doctoral student and part of my diet are pdfʻs that arenʻt searchable making research difficult. Last year I purchased OCRkit and my life was transformed because I could do searches in seconds instead of wasting time doing it manually. The week prior to this new release, my OCR pdfʻs were coming out rather strange. The first page was smaller then the rest of the document, which meant i had to zoom in on the first page and zoom back out for the rest of the pages. I thought the problem was the source of the files but after converting 15-20 pdfʻs, 90% of the files were looking the same way and from different sources.
I sent an email to OCRKit with a sample and Frank replied within hours. He commented that it was a very interesting problem and told me the problem was in the PDF library that had been recently optimized. Frank gave me a work around, temporary bug fix, until I was able to update it today on the AppStore. Itʻs working but in fact its faster than before. I do bulk conversions of 20-30 pdfʻs at a time and sometimes more and it doensʻt slow down my Mac. I loved the quick response and very knowledgable person who knew their software inside and out. In fact, Frank went above and beyond to help me solve my problems while waiting for Apple to approve the update.
Lightweight and fast
I really like my portable Brother scanner, but the OCR software that came bundled with it was very disappointing. I wanted something simple and fast, and OCRKit fits the bill. I'm amazed that multi-page documents are processed in just seconds, and the OCR'd text is fairly accurate. The speed had me worried that there might be some type of cloud processing going on, but I found that OCRKit worked even when I disconnected my Mac from the internet. I adjusted the settings to increase the quality to 400 DPI and the quality of the processed files are comparable to the originals (and the file sizes are slightly smaller as a bonus). I also like that this program comes in under 40MB, while ABBY FineReader was well over 500MB. OCR accuracy of OCRKit does not quite match ABBY, but for receipt scanning, OCRKit at least gets the store name correct which greatly helps when I need to use Finder to locate a receipt.
Incompatible with El Capitan?
I've been a frequent user and big fan of OCR Kit for several years, and have recommended it to numerous colleagues and friends. But the other day I installed the El Capitan OS and since then OCR Kit doesn't really work anymore. I should specify that I'm talking about sources in Russian — I haven't tried running other languages yet. I OCR-ed a 118-page book in Russian today (at least that's what I thought I was doing). It took forever — probably about 10-20 times what I'm used to for a book of that modest length. And when it was done I did the usual spot check for basic, short words — conjunctions and prepositions and things. I searched for "dlia" (for) and found just two were identified in all those pages. I looked for "chto" (what or that) and found just one that could be identified (I used both Preview and Adobe Reader). It's pretty odd because El Capitan hasn't affected any of my other software adversely. I guess I'll start looking around for a substitute but I hope the developer will fix this pronto. Until then, you really should put a warning (prominently displayed) on the description of the app.
View in Mac App Store
$39.99

Category:

Productivity

Updated:

Feb 26, 2016

Version:

16.2

Size:

16.4 MB

Languages:

English, Arabic, Bulgarian, Croatian, Czech, Danish, Dutch, Finnish, French, German, Greek, Hebrew, Hindi, Italian, Korean, Norwegian, Polish, Portuguese, Romanian, Russian, Simplified Chinese, Spanish, Swedish, Traditional Chinese, Turkish

Seller:

ExactCODE GmbH
Compatibility: OS X 10.6.6 or later