OmniFocus 2
By The Omni Group
Essentials
Open the Mac App Store to buy and download apps.
Description
Live a productive, contextual life with OmniFocus 2 for Mac. Keep work and play separated with contexts, perspectives, and Focus. Ignore the irrelevant, focus on what you can do now, and accomplish more. And do it all much faster than before.

OmniFocus' interface was designed and organized around your data—your stuff—to make it easier and more natural for you to quickly get ideas into and out of the app, whether you're using Getting Things Done™ (GTD™) or any other productivity system. It's powerful enough to use on its own, and syncs through the cloud with your other devices running OmniFocus (also available for iOS and Apple Watch).

OmniFocus 2 features everything you need to seriously get stuff done:

FEATURES

• Reliable sync with NEW push triggering using our free service or your own server. Keep your entire database at your fingertips by syncing with OmniFocus for iOS and Apple Watch (available from the App Store as a separate purchase).
• A flexible hierarchy: keep all your to-dos in one list or use as many levels of Folders, Projects, Groups, and Actions as you need to stay organized
• Customizable Layout: Choose a fluid view that automatically shows and hides fields as needed, or use Custom Columns for scannable, tabular lists.
• Assign contexts based on location, people, energy level—whatever you need to get the task accomplished
• NEW Customize OmniFocus' look with the colors and fonts of your choosing.
• Sharing Extension captures content from any app that has a Share button
• Today Extension shows you OmniFocus items due today right in Notification Center
• Collect from anything that can send email—Omni Sync Server's Mail Drop adds items directly to your OmniFocus Inbox
• Attach (or link to) important reference material.
• Open the Forecast perspective to see your due items for each day alongside events from your OS X Calendar.
• The Review perspective (NEW IN 2) makes sure nothing falls through the cracks.

Starting from a solid, simple user experience, we added Pro features for customizing OmniFocus and making it even more powerful. Pro is available via In-App Purchase and free to customers who purchased OmniFocus 1 from the Mac App Store:

• Custom Perspectives: save and revisit custom views for specific tasks or situations: "Show me the chores I can do in five minutes" or "What do I need to follow up on with the people from the planning meeting?"
• Customize the OmniFocus sidebar and home screen just like you customize your iOS Device's home screen.
• AppleScript support enables all kinds of cool workflows.
• Focus feature lets you block out stuff that isn't immediately actionable.
• Display any perspective in Notification Center with the Today Extension

For more information, please watch the video on our website!

SUPPORT

If you have any feedback or questions, we'd love to hear from you! The Omni Group offers free support: you can reach us by email at omnifocus@omnigroup.com, by phone at 1-800-315-6664 or +1-206-523-4152, or on Twitter at @omnifocus.

If OmniFocus empowers you, we would appreciate an App Store review. Your review will help other people find OmniFocus and get more done.

Thank you!
What's New in Version 2.10
OmniFocus 2.10 for Mac adds the ability to show Inbox in the Projects perspective and adopts the URL scheme of OmniFocus for iOS so you can use the same URLs for navigation and automation on all of your devices.

• Inbox in Projects — Added a preference to the Organization preferences pane that shows the Inbox in the Projects sidebar and its contents in the outline.
• URL Scheme — OmniFocus for Mac now supports the same /add and /paste URLs as the iOS version, and navigation links like /inbox, /projects, and /forecast. You can read more about URLs at https://inside.omnifocus.com.
• Clipping — Made a change to the built-in clipping handler for Google Chrome that should fix it for customers who have multiple applications named "Google Chrome". One case we know about is via Parallels Desktop.
• Crash — Fixed a crash when closing a secondary OmniFocus document while actively editing an item in the outline.
• Encryption Passphrase — Fixed a problem where OmniFocus could use a keychain item created by Finder to set your encryption passphrase to an empty string.
• Logging — Fixed a problem where if you entered the wrong sync password or encryption passphrase, that incorrect value was included in the error that OmniFocus wrote to the console.
• Outdent — Made the behavior consistent when outdenting an inbox item or a top-level task in a project: the newly-created project is now always selected in the sidebar.
• Outline — When the option to show folders in the outline is enabled, we now group projects at the top level under "No Folder" instead of "Top Level".

If you have any feedback or questions, we'd love to hear from you! The Omni Group offers free tech support; you can email omnifocus@omnigroup.com, call 1–800–315–6664 or 1–206–523–4152, or tweet @OmniFocus.

If OmniFocus empowers you, we would appreciate an App Store review. Your review will help other people find OmniFocus and make them more productive too.
Screenshots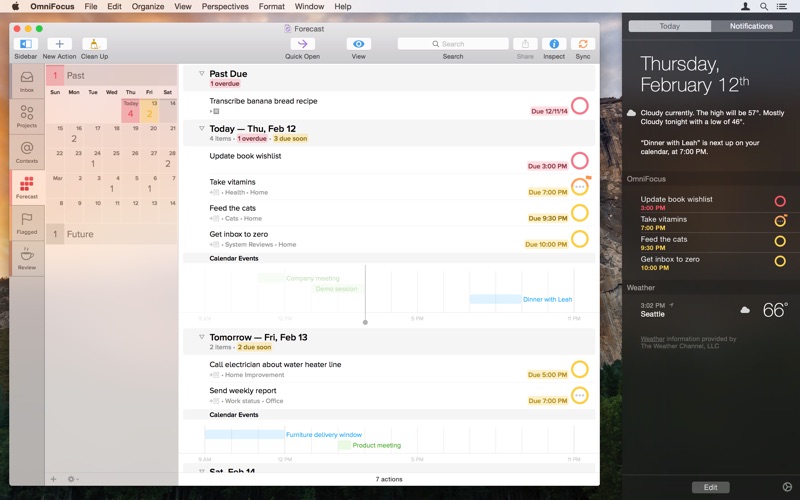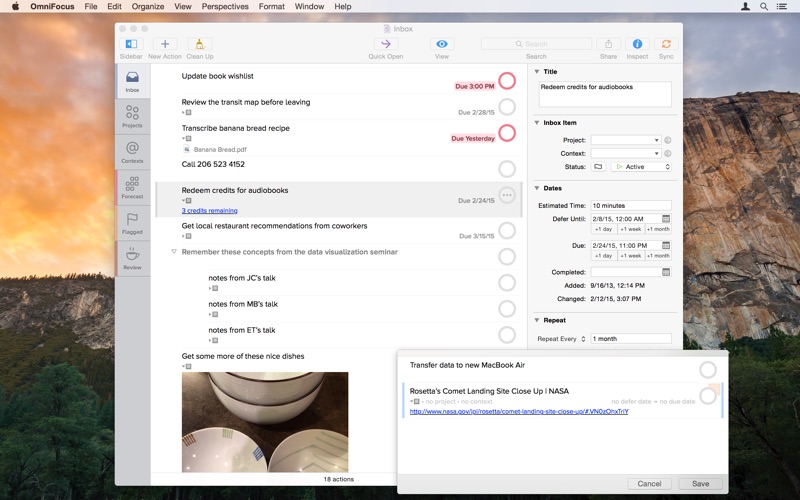 Customer Reviews
NO MULTIUSER SUPPORT BEWARE
Hi all,

I've never written a review of anything in the app store. I'm a film composer and electronic music artist and used this program to collaborate with my managers and agents for many years, several albums and numerous film scores and other projects. It used to work great…until cloud support. The new application is buggy, not well supported and finally they've REMOVED colaboration across multiple accounts. It's a beautiful application, it's a shame the developers have not accomidated their number one request.

Respectfully,
_BT
I've tried others and just keep coming back.
When it comes to task management, OmniFocus is the BEST. I've tried many of the others out there and many of them have unique features that set them all apart, BUT, I always keep coming back to OmniFocus.
Yes it is more expensive than the others
Yes it is a little harder to learn, BUT once you do, it is so simple.
Yes it is customizable
Yes it is GREAT!

I was skeptical at first, I mean the cost alone is enough to scare people away, and it almost did me too. Especially when you figure in the iPad and iPhone apps are all sold separately. But the investment was well worth it. All versions have been updated several times and with each upgrade the prodect makes task management even easier. I've tried ToDo, Reminders, Toodledo, 2Do, Things, and several others, but as I said earlier, I always stick with or come back to OmniFocus. Never had issues syncing, even though some have said it was a little sluggish, I never experienced that.

Allows me to set up projects, subtasks, locations, works with the Notification Center on the iOS devices and Mac. For task management theis IS the GOLD STANDARD. With the recent updates syncing is a lot quicker, almost instant. My only issue, and it's only minor, is that when you have a task with a start date (deferred date as termed in OmniFocus, it shows up on the start date, but then disappears until the due date. I would like to see the item showing up everyday starting at the start date. Aside from that, OmniFocus is as close to perfect that you can get.

I recently tried Things 3 and although it is well done and quite beautiful to work with there are just certain things that I liked better in OmniFocus and I therefore am coming back to it. If I finish a task early I don't see in Things 3 where I can check it off until it comes available whereas in OmniFocus I can check it off even it occures on a future day just by going to that date in teh forecast and doing so, Things lets me see the task on a future day, but I can't chek it off inless it was due today or previous.

Combined with the iOS apps and the OmniSync Server you have one powerful task solution and it is well worth the money.
HORRIBLE CUSTOMER SERVICE!
I am positive that the measley 6 reviews of this app were made by the company itself! I purchased the app and then purchased the in-app purchase for the upgrade to Pro. My app never upgraded to Pro and I contacted Apple. They refunded my money but said to contact the company for upgrading my Mac app of Omnifocus to Pro. I emailed customer service OVER AND OVER AND OVER and it was completely pointless and a complete waste of my time! I emailed explaining that my app never upgraded. They emailed me back asking for images of the receipts. I sent them. They emailed me back saying they needed a larger copy of the images. I sent larger copies. Then, I got an email replying back saying that if I want to upgrade my iOS omnifocus that I need to do the in-app purchase. I clearly stated in every email saying that I paid to upgrade my Mac app of Omnifocus to Pro and it never upgraded. So, I replied repeating myself yet AGAIN! I received an email back requesting a copy of the receipt showing that Apple refunded me. I replied with the receipt even though it had nothing to do with me asking how to upgrade the in-app Mac app of Omnifocus to the pro version! I received another useless response from the company saying that in order to upgrade my Mac Omnifocus to Pro, I would need to purchase the in-app upgrade. AAAAAAHHHHHH!!!!!! IDIOTS! I DID PURCHASE THE IN APP UPGRADE AND THE APP NEVER UPGRADES!!!! I just wanted to know how I can get my app to upgrade! I replied saying that they have THE worst customer service and no longer had any desire to upgrade their stupid app because they are incable of answering the simplest of questions! DO NOT BUY! You can spend WAAAAAYYYY less money on an app that lets you enter your tasks and sends you reminders!
View in Mac App Store
$39.99

Category:

Productivity

Updated:

Jun 12, 2017

Version:

2.10

Size:

29.8 MB

Languages:

English, Dutch, French, German, Italian, Japanese, Korean, Portuguese, Russian, Simplified Chinese, Spanish

Seller:

The Omni Group
Compatibility: OS X 10.11 or later, 64-bit processor
Top In-App Purchases
Pro Upgrade$39.99
Pro Upgrade (for OmniFocus 1 for Mac Customers)Free