OmniFocus 2
By The Omni Group
Essentials
Open iTunes to buy and download apps.
Description
### If you've been using OmniFocus 2 for iPhone, you can use Complete My Bundle with the OmniFocus Legacy Support Bundle to get access on your iPad and Apple Watch and get full credit for your investment. ###

Now a Universal iOS App with Apple Watch Support! OmniFocus for iOS brings the in-depth task management features of a desktop app to your fingertips. With flexible viewing options, location awareness, and on-the-fly task entry from just about anywhere, OmniFocus is the trusted system you need for managing everything in your busy life. Keep track of tasks by project, place, person, or date—with OmniFocus you'll always have your important information at hand. Whether it's a shopping list, agenda items to discuss at work, or chores to do at home, whatever you need to do is right there on your iPhone or iPad.

OmniFocus' interface was designed from scratch for iOS and organized around your data—your stuff—to make it easier and more natural for you to quickly get ideas into and out of the app, whether you're using Getting Things Done™ (GTD™) or any other productivity system. It's powerful enough to use on its own, and syncs through the cloud with your other devices running OmniFocus (also available for Mac). Syncs even happen when you're not actively using OmniFocus, so that your information is ready when you are.

FEATURES

• Reliable sync with NEW push triggering using our free service or your own server
• A flexible hierarchy: keep all your to-dos in one list or use as many levels of Folders, Projects, Groups, and Actions as you need to stay organized
• Assign contexts based on location, people, energy level—whatever you need to get the task accomplished
• Plan your day's errands by listing nearby location-based contexts or viewing them on a map
• Sharing Extension captures content from any app that has a Share button
• Today Extension shows you OmniFocus items due today right in Notification Center
• Reminders Capture and OmniFocus Mail Drop for entering OmniFocus actions via Siri or email
• Interactive notifications for nearby and due items let you mark complete (or snooze) without even opening the app
• Search shows results from the current view or your entire OmniFocus database
• Add Photo and Audio attachments right on your device and view file attachments synced from other devices
• Forecast row shows you how much is due in the next few days on your homescreen or sidebar; open the Forecast perspective to see your due items alongside events from your iOS Calendar
• NEW on iPhone, a dedicated Review perspective makes sure nothing falls through the cracks (Review has been on iPad since the beginning)
• NEW Keep your most important work on you with OmniFocus for Apple Watch — as quick as a glance at what's due today or as powerful as seamlessly sending any list from your iPhone.
• NEW Choose between light and dark color palettes, or have OmniFocus automatically adjust as background lighting shifts.

Starting from a solid, simple user experience, we added Pro features for customizing OmniFocus and making it even more powerful. Pro is available via In-App Purchase and free to customers who purchased OmniFocus 1 for iPhone or iPad:

• NEW Customize the OmniFocus sidebar and home screen just like you customize your iOS Device's home screen.
• NEW Custom Perspectives: Now on iPhone as well as iPad, save and revisit custom views for specific tasks or situations: "Show me the chores I can do in five minutes" or "What do I need to follow up on with the people from the planning meeting?"
• NEW Display any perspective in Notification Center with the Today Extension

For more information, please watch the video on our website, or try OmniFocus on an iPhone or iPad at an Apple Store near you!

SUPPORT

If you have any feedback or questions, we'd love to hear from you! The Omni Group offers free support: you can reach us by email at omnifocus@omnigroup.com, by phone at 1-800-315-6664 or +1-206-523-4152, or on Twitter at @omnifocus.
What's New in Version 2.19.1
OmniFocus 2.19 introduces a new attachment storage and sync system. To migrate to the new system you'll need to be running OmniFocus 2.19 or later on all of your iOS devices and OmniFocus 2.9 or later on all of your Macs. Once all of your syncing devices are running a version that supports the new system, you'll be prompted to migrate your database.

OmniFocus 2.19.1 is a minor update focused on bug fixes.

• Attachments — When viewing from Settings and sorting by Added, the added date is now displayed correctly.
• Sync — Fixed a problem where OmniFocus didn't recognize that an error returned by NGINX (that OmniFocus' data/ directory hadn't been created yet) was recoverable. OmniFocus should once again be able to sync to NGINX WebDAV servers without a workaround.
• Crash — Fixed a crash with attachment preview generation that was the eventual result of a transient bug during our 2.19 test period.
• Crash — Fixed our most common crash in OmniFocus 2.x.
• Sync Errors — Updated the error message that appears when OmniFocus is unable to overwrite one of its own files on the server. This is a problem currently affecting customers syncing using Jianguoyun (坚果云).
• Sync Settings — OmniFocus now warns you about possible data loss when disabling sync.
• Localizations — Updated Localizations.
If you have any feedback or questions, we'd love to hear from you! The Omni Group offers free tech support; you can email omnifocus@omnigroup.com, call 1–800–315–6664 or 1–206–523–4152, or tweet @OmniFocus.

If OmniFocus empowers you, we would appreciate an App Store review. Your review will help other people find OmniFocus and make them more productive too.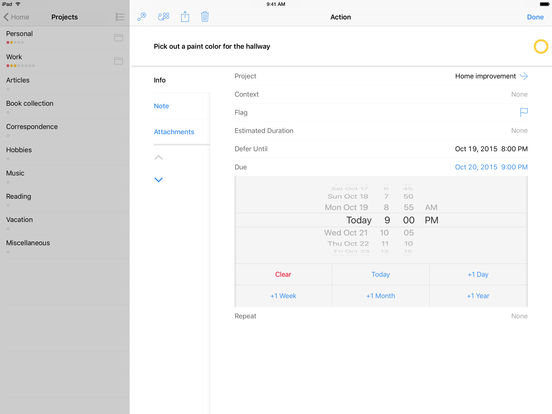 Customer Reviews
Keeps me on track
My life is busy with professional, civic and family responsibilities and I have spent years looking for a tool that would multiply my efficiency. I have a complicated relationship with to do apps... I have used almost all of them including 2do, the new Things 3, Todoist, Wunderlist, Trello, Asana and more. It turns out that no magic solutions exist, but OmniFocus is tied with Things 3 as the best system to help manage my busy life.

It's a powerful system with a design that reveals itself over time as you use it. Each element of OmniFocus provides useful information or a useful way to approach task management. From the task circles to file attachments to nested projects to perspectives to the review process, it's obvious that the developers have carefully thought about how people manage in the real world. It's also rock solid... no bugs or usability issues at all.

All this power does have a learning curve... But it is worth the effort. The developers should take a good look at Things 3, however. While it's not as powerful as OmniFocus it's a joy to use... still deciding which best meets my needs.
I really gave it a fair shot
Ok, so there are many worthwhile things to note about this app. That said, it's always best to start with 'does it do what it sets out to do'. It is supposed to help you get things done (GTD), but it is extremely complicated. I tried to implement this into my routine, and spent much more time tinkering with the interface than actually getting things done. Other reviews are more severe regarding the memory space (a lot), and stability. Those are ok, imo, but is it effective and especially for the very high price? No. It's like Franklin covey in the sense that you have to learn the entire system in order for it to be useful. I will throw a few compliments though: it is a nice looking app and like Omni groups other apps, well constructed. That being said, the best thing to managing tasks (unless you use this in a corporate space, where I could see it being really useful) is often very simple. This is not. I would however recommend omniplan 3 and omnigraffle. They perform functions that not many apps do nearly as well. Unfortunately this one doesn't do much better than the native reminders app
best todo app out
I have been using Omnifocus on and off for about 3 years now and whenever I switch, I always come back because really there's no competition. In all honesty, no app (even generally speaking rather than just GTD) combines beautiful UI, functionality, and a unified experience for Mac + iPhone + iPad than perhaps the Apple ecosystem itself.

It would not be an understatement to say the one reason why I sacrifice my user freedom in the form of Linux/Android while being a power user is in large part due to the delightful experience afforded by tight system integration and brand loyalty that characterizes Apple users.

Really, this is probably one of the most expensive apps I own, but I still give it the best value per dollar rating out of all other things I own.
View in iTunes
This app is designed for both iPhone and iPad
Offers Apple Watch App for iPhone
$39.99

Category:

Productivity

Updated:

May 01, 2017

Version:

2.19.1

Size:

67.7 MB

Apple Watch:

Yes

Languages:

English, Dutch, French, German, Italian, Japanese, Korean, Portuguese, Russian, Simplified Chinese, Spanish

Seller:

The Omni Group
Compatibility: Requires iOS 10.0 or later. Compatible with iPhone, iPad, and iPod touch.
Top In-App Purchases
Pro Upgrade$19.99
Pro Upgrade (for OmniFocus 1 for iPhone or iPad Customers)Free