OOTP Baseball 17
By Out of the Park Developments
Open the Mac App Store to buy and download apps.
Description
*** Offseason Special Offer: OOTP 17 is Just $19.99 (50% Off!) ***

PC Game of the Year 2016 (metacritic.com)

Out of the Park Baseball 17 - now officially licensed by MLB.com and the MLBPA - is the best baseball strategy game ever created!

"OOTP is an astonishing accomplishment!" - Boston Red Sox Principal Owner John W. Henry

Out of the Park Baseball 17 is a baseball fan's dream. Step into the shoes of a GM and/or field manager to own the future or rewrite the past of your favorite real-world franchise. Build the team the way you want to. Start a new career with your favorite 2016 MLB team or span through almost 150 years of baseball history and run any team from the past! You can even set up your own fictional baseball universe or compete in online leagues against other OOTP players. The possibilities in OOTP 17 are endless.

The brand new 2016 MLB roster set will include all projected Opening Day MLB rosters as well as the complete minor league system down to the rookie leagues and even future draft classes. Can Jake Arrieta, David Price, and Johnny Cueto give their teams the pitching boosts they need? Will Albert Pujols, Chris Davis, and Bryce Harper once again help power their clubs to victory? Can the Kansas City Royals repeat or will the Chicago Cubs finally win the World Series again? Find out and guide your favorite MLB franchise to glory!

Dive into the more hands-on management and set your team's lineups, pitching staffs, and in-game strategy. You can oversee your league at a high level, or play out each game, managing play by play or even pitch by pitch. OOTP players progress realistically over time. Build a team through the draft, or sign big free agents to put you over the top!

New Features in OOTP 17 include:

- The all-new MLBPA license lets players come alive. For the first time ever, Out of the Park Baseball features authentic FaceGen images of real players. With player aging, real-time emotion, and automatic uniform adjustment based on trades and free agency for most major leaguers, you're more in touch with your club than ever.
- New 3D animation with moving player symbols making plays and greatly improved authentic 3D major league ballparks deliver the most powerful in-game experience yet.
- All-new Historical Exhibition mode allows you to pit any two major league teams from 1901 to 2015 against each other in a single game or series of multiple lengths. Or set up any past World Series matchup with authentic rosters automatically imported. What if...?
- Authentic historical minor league systems from 1919 through 2015 with a database of more than 150,000 real players let you navigate farm systems to unprecedented levels.
- New support for multi-core processors means that Out of the Park Baseball 17 cranks through simulations and other tasks at up to 60% better speeds than last season.
- Automatically generated game recap headlines and stories report on key events throughout the games and your overall experience.
- GMs will face smarter, more cunning AI GMs and managers that have individualized, personal approaches to roster-building, scouting, and finances.
- A beautiful, redesigned game interface makes it easy for armchair GMs and managers to build their baseball empire.

And much more, like recoded scouting, better AI, more realistic player development, definable trade needs etc. Dozens of new features await you!

Own the future - rewrite the past!

Major League Baseball trademarks and copyrights are used with permission of MLB Advanced Media, L.P. All rights reserved.

OFFICIALLY LICENSED PRODUCT OF MAJOR LEAGUE BASEBALL PLAYERS ASSOCIATION - MLBPA trademarks and copyrighted works, including the MLBPA logo, and other intellectual property rights are owned and/or held by MLBPA and may not be used without MLBPA's written consent. Visit www.MLBPLAYERS.com, the Players Choice on the web.
What's New in Version 17.12.75
- Fixed case where scouting reports would show negative reviews for players with ratings above the max
- Fixed case where teams would fail to sign any international FA despite having budget room available
- Fixed issues where international FA or draftees would only show as RP
- Fixed issues where international FA demands would change based on their selected position
- Fixed a problem with retired pitchers showing up as 1B
- Fixed several issues with historical minor leagues
- Fixed database errors with historical transactions and real lineups
- Fixed issue where clicking on association tab could cause a crash if there are faulty team IDs.
Screenshots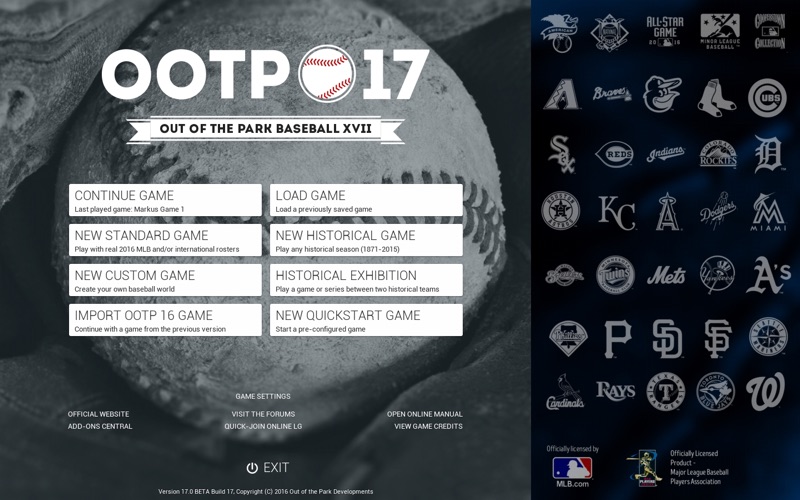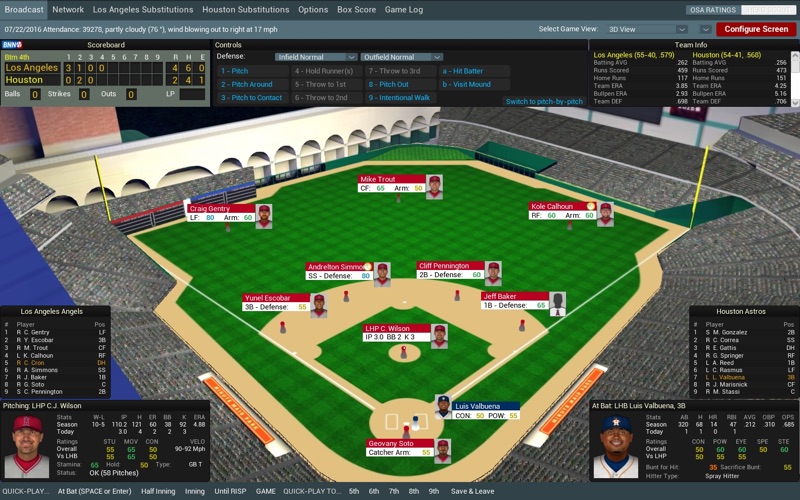 Customer Reviews
GREAT GAME!
I have loved playing the iOS version for some time now, but the OS X version is even better. There are so many options for setting up and running the organization. You can start on a more basic level if you choose and then incorporate more complexity when you want to enhance the challenge. It's amazing how you can play any year using actual MLB teams and players; from the Big League club all the way down to Class A. You can play with the rosters as they actually were or tweak the rosters with yor GM skills through trades. The only reason I did not give the game 5 stars is the trading aspect of the game is not always equitable. It is not uncommon for the AI GM to request adding more into a trade without ever coming to an agreement. It should not be necessary to trade five players for one when the player you are trading for is only a 2-star player. That aside, its a great game! PS: You can work around that trading issue by playing in Commissioner mode. You can tell by the AI GM's response when you have struck an equitable deal.
Phenominal, In-Depth GM type simulation
Out of the Park Baseball '17 is the closest thing available to being a GM of a Major League Baseball team. The details are so great it's almost scary. This game truly makes me feel like I am the GM of an MLB team, with precise player scouting and information, realistic trades and contracts, and even accurate player information down to the minor leagues. One of the things that impressed me the most was that it had information from a local independent minor league team, and the player information and ratings were perfect. To the developer of this game, thank you for providing true baseball fans a wonderful way to experience the life as a MLB GM. Rate: 10/10
Awful, awful, awful
Never before have I played a game where the computer is so blatant in finding ways to win. They can have the worse team in baseball. Yet somehow they pull off miraculous victory after another. Does your team have 4-5 future Hall of Famers on it? That's irrelevant in this game. What? Your pitcher won 20 games and was a Cy Young Award winner? Trust me the computer finds a way for their anemic offense to light him up like a Christmas tree!

Avoid purchasing this game. It does not measure your baseball I.Q. What it does really well at is cheating….
View in Mac App Store
$19.99

Category:

Games

Updated:

Nov 17, 2016

Version:

17.12.75

Size:

888 MB

Language:

English

Seller:

Out of the Park Developments GmbH & Co KG
Compatibility: OS X 10.6.6 or later
More by Out of the Park Developments