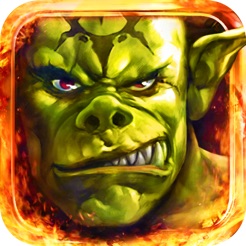 Order & Chaos© Online
12+
$6.99
Offers In-App Purchases
Description
Finally a true real-time, full-3D MMORPG comes to the MAC App Store: Explore a vast heroic fantasy world and join thousands of players in this massively multiplayer online experience that pushes the boundaries of epic!

** FREE 3-MONTH SUBSCRIPTION GRANTED at your first log in! Then you can renew your allegiance for only $0.99/month, $1.99 for 3 months or $2.99 for 6 months! **
Don't forget to check out the in-game shop where you can purchase special items.

WHO YOU WILL BE? Use the advanced character creation system to customize your hero:
• 4 races available: Elves and Humans fight for Order, Orcs and Undead for Chaos.
• Choose your gender, appearance, class and talent. With over 1000 skills and 2000 pieces of equipment to discover, your adventure will not be over soon.
• Create up to 4 different characters to play.

INTERACT WITH THE COMMUNITY
• Make friends or enemies, trade, challenge, communicate and more: a wide range of interactions makes each player a living part of this universe.
• Join a party or guild to become stronger and coordinate with your teammates, or you can choose to adventure solo, interacting with other players peacefully or otherwise…

THE WORLD IS YOURS
• Travel through the most majestic settings - from dark forests to deserts, jungles, mountains and more - on foot or by magical means.
• Talk and interact with hundreds of characters to find over 500 quests to perform.

Enter the legend now!

Minimum configuration required:
OS : Lion (mandatory)
CPU: 1.8 GHz Intel core 2 Duo
2 Gb memory
GPU: Nvidia Gefore 320M 256Mb

The following GPUs are not supported:
- Intel GMA X3100
- Ati Radeon X1600
- Intel GMA 950

*********
Visit our homepage at www.gameloft.com.
Follow us on Twitter at http://twitter.com/gameloft or like us on Facebook at http://facebook.com/gameloft to get more info about all our upcoming titles.
Check out our videos and game trailers on www.youtube.com/gameloft.
Discover our blog at http://blog.gameloft.com/ for the inside scoop on everything Gameloft.
Ratings and Reviews
Really??? Come on. No one smart enought to think of this?
*EDITED* ****DO NOT BUY!!! BE WARNED!!! This scheme does the same thing as wow where it changes the resolution from 60 progressive to 60 interlaced making it look horrible. Worst thing though is it crashed the computer 3 times, and the 3rd time it did something to the Mac to where I had to unplug everything and put everything back in because nothing worked or responded. Something definitely wrong here.****

I have been so excited waiting for this to release on my mac. Now that it has I have to wonder, Is there anyone smart enough to think that we would want to play as our characters on our ipads and iphones? I mean, why would I want to create a new account, and start new players? Man, this could have been perfect to be able to bring a MMO and play anywhere, anytime. Pick up from where you left off. It makes me wonder if there is someone at Gameloft who is purposely trying to sabotage this game? Do you have a Blizzard employee there in disguise? Game is useless to me now.. I wont even play it till I can use my account I am paying for already and play with those characters. One star till fixed, and you know that everyone was wanting this, your only fooling yourself or being greedy by trying to make people pay for two accounts.
PLEASE READ THIS
People who are complaining about the characters not merging, well its not possible because the mac version is a little behind the ipod version with updates. The graphics are definitely better, so it takes more work to program for the mac version. Also earning exp isnt the same as it is on the iPod version, you take longer to level in the computer version. Honestly the 1 star reviews are crap guys, especially for you iOS not transferring. It's not compatible game play.

Overall, the game is 5 stars easy, I havent seen a single successful game thats comparable to this game. If you like RPG games, adventure games, anything with upgrades, leveling up, this game is for you. You wont find any game like this on the mac currently besides world of warcraft or diablo. Cheap game and definitely worth it. Just read the system requirements if your having problems because most of those black screens are probably because you didnt bother reading. I play low graphics setting and I really dont mind, it still looks fresh.
Good game
One thing people have to remember is this game IS NOT WOW so the comparisons need to stop. WoW is 15 times the price each month so it better blow this game out of the water performance wise…..

The main complaint about this game is characters not transferring from their handheld devices and I can see why that would take a star maybe two off for people wanting to play their characters on the Mac. By no means does that mean the game should get a 1 star rating.

The game itself is fun and and runs smoothly on my bottom end 13" macbook pro 2011. Sure it gets a little laggy from time to time but nothing for me to complain about yet. I don't honestly know why people are judging this $7 dollar game $1 dollar a month game harder than anything else. For the price if you ask me its more than worth it if you want a fun little RPG to play on the Mac. Coming from a person that used to play WoW I would say buy the game and enjoy it, its pretty fun :)
Information
Seller

Gameloft

Size

762.7 MB

Category

Languages

English, French, German, Italian, Japanese, Korean, Simplified Chinese, Spanish, Traditional Chinese

Age Rating

Rated 12+ for the following:

Frequent/Intense Cartoon or Fantasy Violence

Copyright

© 2012 Gameloft. All Rights Reserved. Gameloft and the Gameloft logo are trademarks of Gameloft in the US and/or other countries.

Price

$6.99
Supports
Family Sharing

With Family Sharing set up, up to six family members can use this app.