OS X Server
By Apple
Open the Mac App Store to buy and download apps.
Description
Designed for OS X and iOS devices, OS X Server makes it easy to share files, schedule meetings, synchronize contacts, develop software, host your own website, publish wikis, configure Mac, iPhone, and iPad devices, remotely access your network, and more.

OS X Server is an application you can add to OS X Yosemite right from the Mac App Store. Anyone can quickly and easily turn a Mac running OS X Yosemite into a server that's perfect for home offices, businesses, schools, developers, and hobbyists alike.

Here's what you'll get with OS X Server:

File Sharing
• File sharing for Mac, PC, and iPad
• Standards-based SMB3, SMB2, AFP, and WebDAV file services
• Flexible file permissions
• Spotlight searching

Profile Manager
• Mobile device management for Mac and iOS devices
• Simplified management and deployment of iOS 8 and OS X Yosemite
• Distribution of institution licensed apps and books purchased from the Volume Purchase Program
• Device Enrollment Program integration
• Web-based administration console
• Self-service user portal for clearing passcodes, remote lock, and remote wipe

Caching Server
• Speed up the download of software distributed by Apple
• Locally cache apps, books, iTunes U, software updates, and OS X Recovery images
• Fault-tolerant design with multiserver cache replication and load balancing
• No client configuration required

Xcode Server
• Use Xcode 6 to create continuous integration bots that build, analyze, and test on any Mac running OS X Server
• Configure bots to integrate at a specific time, or continually as code is committed to the repository
• Automate testing of OS X and iOS apps, executing on multiple connected iOS devices
• Host your own Git repositories on OS X Server or connect to remote Git or Subversion hosts
• Remotely access detailed integration summaries and nightly builds using the Web interface

Time Machine
• Provide a backup destination for Mac computers on your network
• Monitor which computers have backed up, when they last backed up, and size of backup
• Set limits on the amount of Time Machine storage a user can use

Calendar Server
• Share calendars, schedule meetings and events, and book conference rooms
• Standards-based CalDAV server for access from Mac, iPad, iPhone, and PC
• View availability with free/busy lookups
• Email invitations and push notifications

Contacts Server
• Synchronize contacts with Mac, iPad, and iPhone
• Allow multiple users to access and update contacts
• Standards-based CardDAV server

Wiki Server
• Point-and-click page edit to change formatting and insert images, movies, and attachments
• Access controls
• Tags and comments
• Revision history
• Document sharing
• Quick Look previews

Mail Server
• Standards-based SMTP, IMAP, and POP server
• Push notifications
• SSL encryption
• Adaptive junk mail filtering
• Virus detection and quarantine

Virtual Private Network
• Remote access for your network services
• Encrypted VPN connections for Mac, iPad, iPhone, and PC

Xsan 4
• Block-level SAN file sharing with concurrent read/write access
• Xsan volume hosting and configuration
• Volume management, storage pooling, stripping, and volume mapping
• Real-time monitoring, graphs, and event notifications
• Metadata controller failover and file system journaling

Server App
• Local and remote management
• Users and group settings
• View real-time graphs of server usage
• Receive alerts on network changes, certificate expiration, storage usage, and more

Other OS X Server features
• NetInstall to automate OS X installations and upgrades across your network
• Web server for hosting multiple websites
• Messages server to encrypt instant messaging within your organization

Some features require an Apple ID and/or compatible Internet access; additional fees and terms apply. Some features require program enrollment. Some features are not available in all countries.
What's New in Version 4.0.3
• Updated for OS X Yosemite and iOS 8.
• SMB3 is the new default protocol for sharing files in OS X Yosemite. SMB3 helps protect against tampering and eavesdropping by encrypting and signing data "in-flight."
• Caching Server supports IP address range registration for caching content in non-NAT'ed networks.
• Profile Manager support for new features in iOS 8 and OS X Yosemite, including Handoff and push install of OS X enterprise apps and iOS media assets including PDF, ePub, and iBooks Author files.
• Redesigned Mail Server interface for setting up email for multiple domains.
• Meeting room addresses can be stored in Calendar Server, allowing clients to associate map locations and travel times.
• Simplified setup of Xsan volumes and clients using the Server application and Configuration Profiles.
• Server now performs network diagnostic tests to verify that your server is accessible from the Internet. Network diagnostic tests verify reachability by checking your server's host name, service ports, and DNS MX records.
• Firewall and user/group-based service access controls can now be defined in the Access tab of Server pane. Access restrictions can be applied in multiple levels — for all networks, local networks, this Mac, custom networks, and specific users and groups.
• Xcode Server compatibility with Xcode 6.
• Improved graphs and visual stats.

For information on the security content of this update, please visit: support.apple.com/kb/HT1222
Screenshots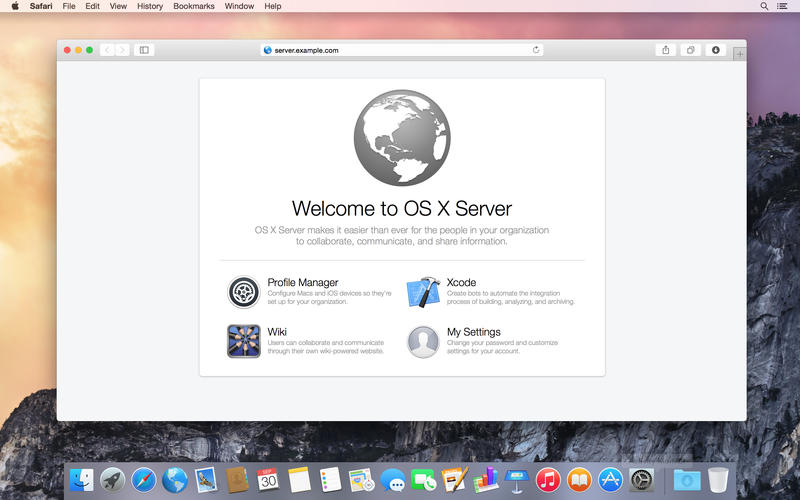 Customer Reviews
4.0.3 fixed VPN authentication
I purchased this at version 4.0.2 with the hopes of setting my home Mac running Yosemite as a VPN server but ran into countless issues, from the convoluted setup instructions using Open Directory to create user accounts to 100% authentication failure rate for unknown reasons. After a week I gave up. Today when 4.0.3 was released I deleted and re-created the open directory master and set up new VPN users and they all work now with the same settings as before. I'm glad it's working now, but would not highly recommend this application.
Easy breezy no command lines for me
I realize that most if not all of this stuff I could have done myself. But that sounds like work I'd be doing for free. Perfectly competent software engineers got paid to put control of all these services in a nice bundle with a lovely GUI. I'm using it and I think it's worth at least eighteen dollars. Hey, somebody at Apple owes me two bucks!
Updating to 4.0.3 breaks L2TP VPN behind NAT
Ever since the update to 4.0.3 none of my VPN users could connect. I was only able to fix this by listing my mac server's IP as the DMZ host in our firewall, which is HORRIBLE for security. Please Apple, fix this bug in the next version so that it once again works with standard port forwarding on a NAT like it used to in 4.0.2 and earlier
View in Mac App Store
$19.99

Category:

Utilities

Updated:

Jan 06, 2015

Version:

4.0.3

Size:

197 MB

Languages:

English, Chinese, Dutch, French, German, Italian, Japanese, Korean, Spanish

Seller:

Apple Inc.
Compatibility: OS X 10.10.1 or later