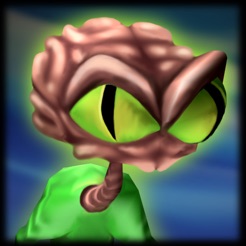 Description
• HAS AN OPTION TO PLAY IN STEREO 3D WITH 3D GLASSES!!!

The year is 1957 and a fleet of flying saucers from Planet X have come to Earth. These saucers are under the control of the evil Brain Aliens who are abducting helpless human beings and taking them away to strange alien worlds to become slaves of The Giant Brain. Luckily for the human race there exist the Otto Matics, robots who police the galaxy in name of all that is good and decent.

You are Otto Matic, the robot who is given the job of saving Earth from the clutches of The Giant Brain from Planet X. You must rescue as many humans as you can while defeating the Brain Aliens and all of their evil followers. Your mission will take you to strange and fantastic alien worlds which are often treacherous and will require Otto to perform amazing feats.

Your rocket ship will take you to each of the planets, starting with Earth. While on each planet you must save as many humans as you can, but be careful because the Brain Aliens will try to abduct the humans before you can save them. When you save humans, they are teleported to your rocket ship. To escape the planet you must also collect rocket fuel. Once The Giant Brain has been defeated and peace restored to the galaxy, you will return to Earth with your human cargo where they will be freed.

In Otto Matic...

• 10 levels on strange alien planets!
• Battle 25 different alien creatures!
• Attack with 7 different types of space-age weapons
• Fight off giant radioactive killer vegetables!
• Ski behind giant metal beasts on a sea of toxic ooze!
• Ride soap bubbles across noxious lakes of slimy goo!
• Get shot out of a cannon!
• Smash alien clowns in hovercraft bumper-cars!
• Drink radioactive potions to grow to 50ft tall!
• Ride a zip-line to escape mutant radioactive robots!
• Pilot a flying saucer and lay waste to an alien fortress!
• Battle the Giant Brain from Planet X

And much, much more!

View the Otto Matic Instruction Manual Here: http://pangeasoft.net/otto/instructions.html
Added Spanish localization to description in the app store. No changes to the game itself, but Apple require us to resubmit in order to add a new language to the store.
Ratings and Reviews
A Blast From the Past
I originally played Otto Matic when it came bundled with my family's eMac back in 2002. This game is amazing and I was thrilled to find out it would run on my current generation 2013 MacBook Pro with Retina Display. There are just a few little issues that need to be addressed. When your computer goes to sleep whilst running Otto Matic, the controls get bugged upon waking up, and I find myself controlling Otto with the computer's trackpad while the keyboard is completely unresponsive. I've read other reviews by people who've had similar problems. Also, the game isn't optimized for Mission Control and Spaces, so I can't swipe between Otto Matic and other applications to listen to music from iTunes, take a break to work on schoolwork, browse the web, or anything at all. If and when these issues are fixed, this game would be well deserving of five stars. It runs smoothly, even while playing at full 2560x1600 Retina Display resolution, and it's incredibly fun and inventive. Thanks!
The Bomb!
For five dollars, it doesnt get much better than this. The game is old but it still shines. The retro graphics are fun to look it, the music is awesome, gameplay is smooth with few bugs and issues. The controls for the game are a bit clunky at times, but they work. My only major gripe with this game is its difficulty. The two boss fights in the game are easier than the first level, while some of the platform jumping challenges will have you banging your head against the keyboard. It just seemes as though the difficulty ended up in the wrong places. The levels are otherwise intuetive and clever, each one with something different to offer. Absolutely worth your money and time!
Please Help.....
I dont know what is going on, but I really want to enjoy this game. The only problem is, not a single control is responding on my keyboard....except movement, which isnt even correct. It says on the controls that the arrow keys are to move, which would be wonderful if it worked, but instead, I have to move my finger along the trackpad at a very slow, constant pace in order for him to keep moving. It looks like I would have a lot of fun with this game, but no controls work. Thanks iTunes, you really know how to overprice every single song and game, yet still convincing people to buy them, and then they dont work properly.
Information
Seller

Pangea Software, Inc.

Size

145.8 MB

Category

Age Rating

Rated 9+ for the following:

Infrequent/Mild Cartoon or Fantasy Violence

Copyright

© 2011 Pangea Software, Inc.

Price

$9.99
Supports
Family Sharing

With Family Sharing set up, up to six family members can use this app.