OutlineEdit - Beautiful Outliner
By Robin Schnaidt
Open the Mac App Store to buy and download apps.
Description
Mac|Life Magazine: GREAT - Macworld: 4/5
Every great idea starts with a blank page. Then you collect your thoughts, reshuffle them, structure. To end up with something that's just right.

Everything you need

・ Works intuitively: Create new items, structure them using indentation and drag & drop
・ Use Touchbar for fast editing
・ Bold, italic and underlined text
・ Side notes
・ Checkboxes
・ Adjustable text size
・ Fold item groups to focus: manually, automatically to a set layer or to a maximum
・ Fast search

What makes it even better

・ Color labeled categories add a second layer of structure
・ Filter for all items of one or multiple categories to get an overview and to export them directly
・ Quickly save drafts without setting a name or folder
・ Fast access from anywhere: drafts and recent outlines, just one click or global shortcut away
・ Statistics, always at a glance: number of items, layers, words or characters and even track the time you have been working
・ Collect and structure information from the web using OutlineEdit Marker in Safari
・ Pinboard for Today View: keep to do lists and notes always in reach, just one swipe away
・ Layer and group guidelines
・ Built-in window management: arrange outlines perfectly on the screen
・ Let an outline float on top of all applications for uninterrupted access

Open to the World: Export & Sharing

・ Export to a paginated PDF or RTF file - of course including all your notes and categories
・ OPML export and import, including notes, categories and checkboxes
・ Automatic exports: OutlineEdit can keep your OPML and PDF exports seamlessly up to date
・ Upload outlines to Evernote®
・ Send outlines to your Amazon Kindle®, perfectly sized for its 6" display
・ Copy an outline as plain text
・ Print your outlines directly

Any questions, feedback or ideas? Please feel free to write: contact@outlineedit.com



(AMAZON, KINDLE, FIRE AND ALL RELATED LOGOS ARE TRADEMARKS OF AMAZON.COM, INC. OR ITS AFFILIATES. EVERNOTE, THE EVERNOTE ELEPHANT LOGO AND REMEMBER EVERYTHING ARE TRADEMARKS OF EVERNOTE CORPORATION AND USED UNDER A LICENSE.)
What's New in Version 1.7
・ Quicklook for OutlineEdit documents
・ And many more improvements
Screenshots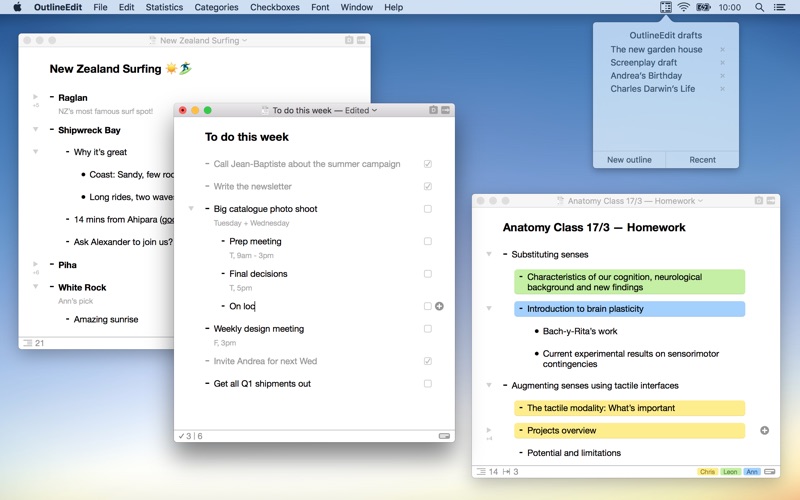 Customer Reviews
Almost perfect and absolutely powerful
I've been using Outlinedit for a while and i've switched completely over to using this app from another one that just wasn't as flexible. The features give me everything i need for organization and the categorization feature is the icing on the cake.

With an ability to right click on an item in a outline to copy the entire item, this app would be 5 star perfect. Nevertheless, it's the best app i've used. I'd be more than willing to pay $5 to $10 for this app.

A completely non-essential feature would be an IOS version that syncs to the Mac version. Meanwhile, I'm using Evernote as a way to see the outlines in IOS that i've made on my Mac.
An outliner for outlining - how refreshing and useful!
Most outliners these days have become pseudo databases, notetakers, or time management tools, bloated with features that make them almost useless for wriiting down and organizing ideas. Outline Edit is simple and nearly all the commands you'd want to slice and dice your thoughts are there.

Update: there are a couple of useful features added since I last reviewed. One is floated window: the app is always on top, but stays transparent unless selected. If you like, you can also keep the window semi transparent when selected. You can pin an outline to the today menu for quick access.
App scrambled my nested outline
I completed an outline that runs about 5 levels deep then needed to reorder parts of it by dragging folded items to new locations (mostly just up or down the list).

The resulting document looks like the output of Blendtec demo. Relationships are scrambled, important children adopted by unrelated parents, great grand children are orphans, and notes have gone missing. Drag stopped working on the lower half of the document, which was briefly fixed by restarting the app.

A complete nightmare. Two hours of work now so scrambled that I need to restart the research and document after finding an outliner that actually works correctly and isn't just another pretty face.

Problem seems to be related to drag. The item being manipulated develops a significant offset from mouse pointer so it is impossible to tell what the insertion point will be. Plus the list's response to drag over becomes increasingly unpredictable with huge gaps appearing. An item will often slingshot around during drag as if it belongs in two places in the list at once, suggesting the underlying data structure is confused.
View in Mac App Store
Free

Category:

Productivity

Updated:

Mar 09, 2017

Version:

1.7

Size:

4.2 MB

Languages:

English, German

Seller:

Robin Schnaidt
Compatibility: OS X 10.10 or later, 64-bit processor