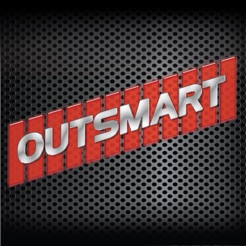 Description
Now Free !!

Support us and keep this free. Look at some of our other products :
Fizz Weather, Fizz Traveller, Soccer Manager, Diffords Cocktails 8, StarChefs and many more.....

Enjoy - www.fizzsoftware.com

OutSmart
--------

10,000+ Players. Download your copy now and tell your friends.
http://fizzgo.com/out

Outsmart is a simple but highly addictive board game which is easy to learn but hard to master. Play on your iPhone, iPod Touch or iPad. Play alone, with a friend, or with anyone in the world via Game Center. Can you take on the world and become an Outsmart legend ?

Fully optimised for iPhone 4 retina display, iPod Touch and iPad.

Outsmart is a simple strategy board game for two players.

The game is played on a 4x4 board with each player having 8 tiles numbered from 1-8.

Players agree to an even number of rounds to play and which colour tile plays first, then alternate who starts each subsequent round.

The game begins when player 1 places a tile anywhere on the board. Player 2 then places their tile on any free square.

Play continues with each player taking turns placing their tiles until either all tiles have been played or until a player Outsmarts their opponent by achieving four counters in a row vertically, horizontally or diagonally.

Outsmart is the ultimate win and any player who Outsmarts their opponent in a round automatically wins the entire game regardless of the number of rounds played or scores up to that point. Feel free to let your friends on FaceBook or Twitter know how amazing you are when you Outsmart your opponent!

If a round is completed without an Outsmart then the round is scored by the sum of the face value of any three tiles in a row vertically, horizontally or diagonally. Tiles can score multiple times if they are within more than one row of three.

Scores will accumulate over multiple rounds and if all rounds are completed without an Outsmart then the player with the most points wins the game.

Can you deliver the knockout blow and Outsmart your opponent with four in a row and be the ultimate winner?

Outsmart - British Patent Pending no: 1018712.8
Ratings and Reviews
Grid needs to be bigger
This game has potential. There is no way someone can get an outsmart on a 4x4 grid unless you are playing with a dummy. Perhaps the grid size needs to be increased. Perhaps the goal should be getting points instead of getting an outsmart. Glad I got this for free cuz I'm deleting this now until gameplay is improved.
Cool strategy 'board' game!
Thank you for making the game free...
I have played a bit under the solo game and can see how some clever strategy will be needed. The game looks and plays great and I look forward to trying it with some real world opponents.
Clever twist on tictactoe
I wouldn't have thought anyone could find a way to make 4x4 tictactoe interesting, but the addition of scoring does it. You can get wrapped up in trying to outscore your opponent and leave yourself open to a sudden tictacK.O. Simple and fun. Bravo.
Information
Seller

Fizz Software Ltd.

Size

62.4 MB

Category

Compatibility

Requires iOS 4.1 or later. Compatible with iPhone, iPad, and iPod touch.

Age Rating

Rated 4+

Copyright

© Fizz Software Ltd 2011

Price

Free
Supports
Family Sharing

With Family Sharing set up, up to six family members can use this app.