Ovia Fertility Period Tracker
By Ovuline, Inc.
This app is only available on the App Store for iOS devices.
Description
*** Track your cycle | Get pregnant up to 3x faster! *** Track your period, ovulation, symptoms, moods, and so much more in one beautiful app! With customized ovulation predictions based on your unique cycle, Ovia Fertility makes it fun and easy to manage your health and achieve your goals.

How? When you log your data, our proprietary algorithm will help you track your cycle and predict your exact ovulation dates and fertile window, even if you have irregular periods! Track your period, ovulation, symptoms, and more with Ovia Fertility.

ESSENTIAL TOOLS & FEATURES
◆ Ovulation calculator and calendar
◆ Period tracker
◆ Customizable health tracker: log the data that fits into your life!
◆ 2000+ articles and tips on fertility, conception, and reproductive health
◆ Data-driven predictions of fertility and ovulation
◆ Non-TTC mode for women not trying to conceive
◆ Community: ask and answer questions anonymously
◆ Option to export data to Excel
◆ Personalized background with various colorful themes

COMPREHENSIVE HEALTH TRACKER
°°° Period and cycle
°°° Moods and physical symptoms
°°° Intercourse
°°° Nutrition and weight
°°° Activity and exercise
°°° Sleep
°°° Ovulation and pregnancy tests
°°° Cervical fluid
°°° Medications
°°° Blood pressure
°°° Basal body temperature (BBT)

CUSTOMIZABLE FOR YOUR UNIQUE LIFESTYLE
◆ Receive support for irregular periods
◆ Share data and sync your calendar with your partner
◆ Receive detailed health summaries and statistics
◆ Use Apple Health integration to share weight, steps, blood pressure, and body temperature data
◆ Sync your FitBit, Jawbone, and Nokia fitness tracking devices
◆ Back up your data securely in iCloud
◆ Protect your app with a PIN number
◆ Take the health assessment to unlock more tips & tools

LOVE FROM OUR USERS
◆ "It has everything! Absolutely everything!! From moods to cramps to what your period and spotting looks like to when you have sex. It's like having a best friend in your pocket."

◆ "With an irregular cycle, it's been extremely hard for me to track my fertility, but with Ovia Fertility, I love that MY data is being processed for ME."

◆ "BFP this morning! Conceived on cycle with Ovia after trouble for two years more or less. I honestly never thought I would have so much fun tracking my data, this has been a very enjoyable experience to conclude a very difficult time."

**OVIA HEALTH**
Ovia Health uses data science and your daily information to deliver personalized plans, milestones, and immediate alerts for health risks. It's made available through insurers and employers worldwide who share our goals of helping women monitor their reproductive health and start families with confidence. If we partner with your employer or insurer (and you identify them in the app), you'll have access to an expanded set of tools and features!

THE HISTORY & SCIENCE BEHIND OVIA HEALTH
Ovia Health is a digital health company that uses mobile technology to help women and families live healthier lives. The Ovia Health apps have helped millions of women and families on their fertility, pregnancy, and parenting journeys. With billions of data points collected and analyzed, Ovia Health uses data-driven science to help women conceive up to 3x faster than the national average, have healthier pregnancies, and start families with confidence.

STAY IN TOUCH
Blog: http://blog.oviahealth.com
Facebook: http://www.facebook.com/oviahealth
Instagram: @oviahealth
Twitter: @oviahealth

CUSTOMER SERVICE
At Ovia Health, we're always working to improve your experience with our products. Have an idea for Ovia? Let us know! Email us at support@oviahealth.com
What's New in Version 4.1.2
New! We've made it even easier to track and manage your fertility health with Ovia Health for Fertility.

Tap on the "Health" icon in your left menu to take the health assessment, view all your health programs, read program content, and learn more about Ovia Health!

Health programs include:
+ general health
+ irregular cycles
+ sexual health
+ and more!

Love Ovia? Leave us a review :) Thank you for being an incredible Ovia user!
iPhone Screenshots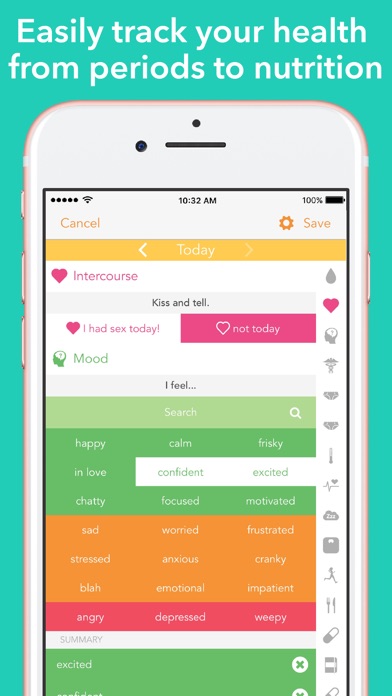 Customer Reviews
I wish it would connect!
I like the Ovia app... however, I wish it would completely connect to "My Fitness Pal" & Apple Health. Between the two apps, it records my sleep patterns, my exercise, what I ate, my water intake, and how much I weigh daily. As of now, Ovia only links my period and my sexual activity with Apple Health. I downloaded this app while I was on vacation. Once my vacation ended, I found it harder to keep up with the Ovia app in addition to "My Fitness Pal". I like the concept of the Ovia app. But I also find it beneficial to keep track of my personal health. I would love to have the accessibility of both apps without having to input my data twice each day on two different apps. I had a different fertility app prior to Ovia, but I loved that this app does currently link to "My Fitness Pal" & Apple Health... but it only shares sexual activity and mensural cycles. Please help!
Too much going on
I love the pregnancy app and hoped to love this as much but there are two areas I am not happy with and will likely delete it for: 1) the "community" section is never made sense to me- why do I have to answer questions to see comments and why do the questions expire? Why not have boards that can be searched like so many other apps? And 2) it over complicated tracking my cycle. I do appreciate all there is to be able to track but, at the end of the day, is it too much to ask for a calendar that shows both my projected period along with when I enter my actual period so I can see how far off from a regular cycle I am? Maybe I'm missing something, but it seems to auto-fill my period until I go on day by day to correct it. Very frustrating.
Highly recommend—pregnant first try!
My husband and I used this app to track ovulation the very firm time we tried to conceive. As my husband would say, "one shot, one kill baby!"

The very first time we sex without any contraceptive devices, the app said my fertility score was a 10. Less than two weeks later, I Knew I was pregnant, as I had early pregnancy symptoms (very sore breasts, fatigue, and shortness of breath). I highly recommend this app to give yourself the best chance of getting pregnant. Obviously, pregnancy starts with a healthy woman and partner, but this app certainly helps with the timing.
View in iTunes
Free

Category:

Medical

Updated:

Dec 25, 2017

Version:

4.1.2

Size:

113 MB

Language:

English

Seller:

Ovuline, Inc.
Compatibility: Requires iOS 9.0 or later. Compatible with iPhone, iPad, and iPod touch.
More iPhone Apps by Ovuline, Inc.