Paintstorm Studio
By Sergei Komarov
This app is only available on the App Store for iOS devices.
Description
Paintstorm Studio is the first iOS App designed not only for simple sketches, but professional digital painting of any level, genre and technique. Paintstorm helps you to discover the magnificence and unleash the full potential of Apple Pencil and brings you to a whole new level of drawing. Creating an art masterpiece has never been so mobile.
A major feature of Paintstorm Studio is the array of brushes to choose from. We did our best so that you can easily and quickly adjust the brushes suitable to your painting style.
Anyone who has ever painted knows it's hard to overestimate the painting tool and the importance of all the seemingly insignificant details. We tried not to miss any of them. Our goal was to create an intuitive, simple-to-use but at the same time functionally powerful tool that brings the process of digital painting to a new level, making it as comfortable as possible.

- Full control of all brush options (Incredible possibilities for brush settings)
- Bristle brushes of any form and kind
- Stroke post correction (You can take an action on any option. Not only on the stroke thickness)
- Parameters binding to the perspective
- Dynamic interface (Global interface scale, panels scale, opacity, color)
- Custom panels
- Full controlled mask-brush (Each brush can work as mask for other brush)
- Takes underlayer's color while blending
- "Close gaps" function when you fill or select
- Dirty brush mode
- Stroke stabilizer
- Usable color mixer
- Different gradient strokes
- Mirror drawing
- Standart tools pack (Lasso, Magic wand, Crop, Fill, Gradient and etc)
- Control of the random amounts
- Photoshop PSD and ABR supported
- Apple Pencil support (Pressure, Tilt, Direction)
What's New in Version 2.10
- Bluetooth keyboards support added
- You can set hotkeys in Menu-> File-> Define Hotkeys. Note: iOS modifiers Alt, Cmd, Shift, Ctrl cannot be set as hotkeys separately from other keys.
To set the hotkeys of the sliders, press «Enter» and click the desired slider.
- Now Paintstorm keeps all the open documents when you shut it down. And the next time you start, the all the documents will be automatically restored.
- «Question mark» button is added to the upper right corner. Click it to activate the Tooltips mode. After that, you can click different interface elements, read their description and get some useful tips.
- New «Refine Edge» featured added for selection. Now you can expand, feather and smooth out the selected area.
- «Lasso» tool improved:
«Stabilizer» slider added for the lasso for more accurate selection. The edge of the selection became smoother.
«Auto action» option added for the lasso. It can be used to perform actions after the selection automatically: Fill, Gradient, Delete.
- «Color wheel» can now be dragged to the Custom panels.
If you hold the corresponding hot-button, the "Custom 1" panel will move to the mouse pointer and become a transparent background and when release, it will return back.
- «Brushes history» added. Enable it in the «Brushes» panel settings
- «Rulers» improved.
Ruler states can now be saved / loaded.
You can choose the color of the lines: gray, RGB or the custom color.
Holding ALT + R (by default) you can highlight all ruler states and quickly select the one you want.
For the 2-points and 3-points perspective, a point is added that can be used to rotate the horizon.
An ability to «disable the following rulers» added
- The parameters of the H, S, B - brush have been slightly changed. Now the sliders can be moved in both directions for a more accurate distribution of random values
- «Place image» feature added to Menu-> File to import the image to the current document.
- You can now change the cursor type between Arrow, Point and Cross in Menu-> File-> Options-> Cursors. There you can choose the «Brush Drag resize" tool mode as well
- You can set the selected preset as a default in the «New File» panel. After the relaunch, a new canvas will be created of the new default size
- A new «Lines width» slider added for guides, rulers, helpers, etc. to Menu-> File-> Options-> Main
iPad Screenshots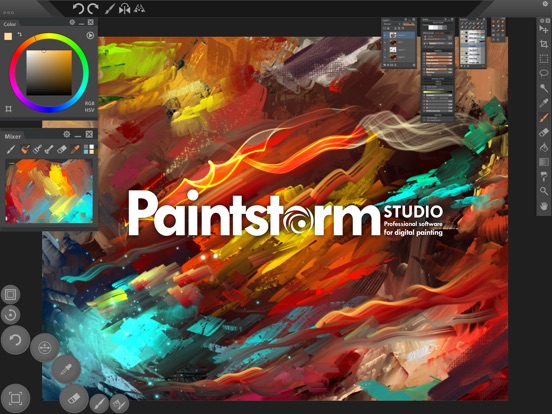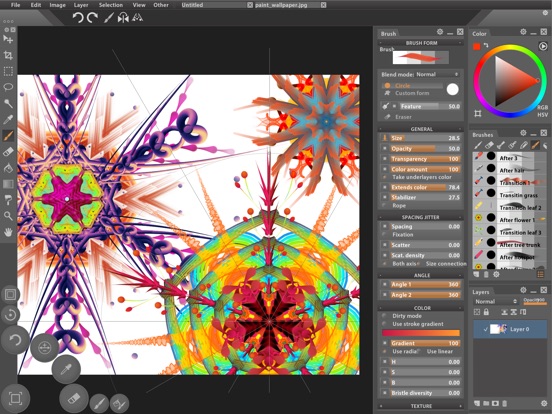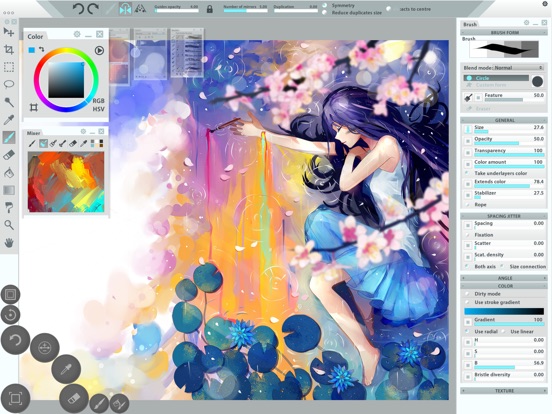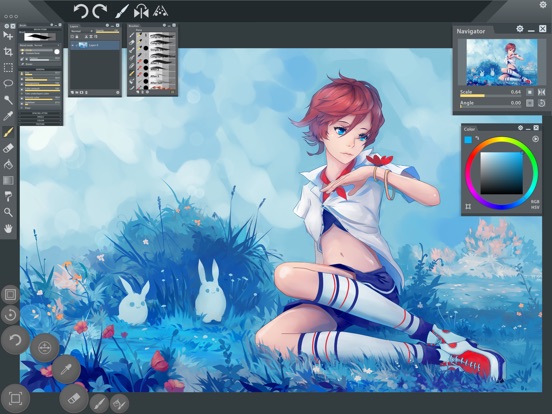 Customer Reviews
An app that needs more attention
If you aren't sure you want to spend 12 dollars on Paintstorm, don't worry. It's worth every single cent! It's easy to work out, and you can make beautiful pieces from all of the features. It's a great app and I hope it will continue to grow!
One thing I wish would be fixed is the auto saving. (Going forward note that I use my iPad mini 4 for the program) sometimes when I close out of the app and turn off my iPad, all of my progress has been lost. I've had to redo a lot of pictures because of this issue. I hope that this issue will soon be fixed, because it's always really disappointing to find out all of my progress has been lost.
Otherwise great app! It's very underrated and I hope it gets more popular.
💥 HUGE bug makes it nearly impossible to use w/ last release
HUGE bug makes it nearly impossible to use with ipencil as it appears impossible to use apple stylus AND default brush resize button. What I did do: Disabled all multiple gestures and shortcuts in iOS and PS. Tried both the Lite and the Paid version. It works as designed if I disable stylus and use fingers. I also tried changing the new features for behavior options of the resize button to no avail. I'm frustrated spending hours of limited debug. The one star rating is to raise awareness since bug overlooked in reporting tool. Of course this pains me since this is my favorite app! *Found temp unpractical work-around by turning on + & - UI brush resize toggle buttons. iPad Pro 2, 512 and iOS 11.
iOS 11 ruined it! New IPad Pro 10.5
Worked fine before the update, now i cant close out projects right away, i have to restart the app a couple of times. Which it also crashes upon trying to load initially almost everytime. I have lowered my undo levels history memory and states. I gave up and upgraded from the 9 inch one because of the lagginess and as soon as i updated it, it started do the same kinda stuff. Get it right paintstorm people! Its a great app otherwise. But i use it for work and it does look unprofessional sometimes, when your sitting there with a client and start fumbling with a laggy app.
View in iTunes
$12.99

Category:

Productivity

Updated:

Nov 16, 2017

Version:

2.10

Size:

40.4 MB

Language:

English

Seller:

Sergei Komarov
Compatibility: Requires iOS 10.0 or later. Compatible with iPad.
More iPad Apps by Sergei Komarov