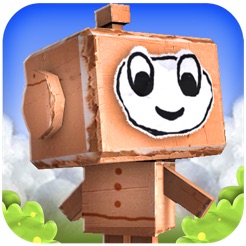 Description
SUPER SALE!! 66% off THIS WEEKEND ONLY!!
The #1 iPad and Mac game in more than 10 countries is available for OSX and looks better than ever.

USA TODAY
"From the gameplay to presentation to control, Paper Monsters is a real treat for iPad owners"

IGN
"Crescent Moon's Paper Monsters is one of the prettiest games to hit the App Store in a long time."

G4TV.com
"The controls are masterfully crafted"
"a fresh, original soundtrack add those special touches to an already solid game"

--DESCRIPTION--

Dive into the world of Paper Monsters and watch a living world made out of paper, cardboard, and a few cotton balls unfold right before your eyes.
Paper Monsters mixes all of the classic 2d platforming elements and combines them with gorgeous 3d graphics.


--FEATURES--

•Classic 2d sidescrolling gameplay with gorgeous 3d environments.
•Original and adorable characters
•Awesome original soundtrack - headphones recommended!
•Fun under water and flying powerups.
•Use keyboard or gamepad for controls**
•Awesome updated graphics exclusively for OSX
•16 Large Levels across 4 unique worlds
•Tons of secret areas!
•High score dash mode for endless replay value!
•Fun for all ages

--System requirements--
OSX: 10.6.6 or higher

Memory: 2gb (4gb higher recommended)

CPU: Intel Core 2 Duo (Intel core i3 or higher recommended)

Hardrive Space: 1GB of free space

Graphic Accelerator: NVIDIA GeForce or ATI Radeon with 256 MB (512 recommended) No Support for Intel integrated graphic chipset

TIP - click the apple icon on your toolbar and select "About this Mac" to check your system

**3rd party gamepads and controllers must be compatible with OSX. Check with manufacturer for compatibility.

Follow us for the latest info and game news!

• http://crescentmoongames.com/other-games/
• http://facebook.com/crescentmoongames
• http://twitter.com/cm_games
Ratings and Reviews
An average game with an awesome price
The graphics are really great, thought it takes a lot of performance for so little.
Also, it's clear that the developer mixed Mario with Donkey Kong Country Returns with Little Big Planet and, while I think the Mario part was a tribute, the Little Big Planet style was more of a copy. Papercraft is a nice theme to explore and they really didn't have to make it look just like Little Big Planet.
The soundtrack is cute, but gets really repetitive after some time.
The controls are great, though there's no explanation about the double jump and I couldn't navigate any menus using the keyboard. The problem with that is on the first stage, where you need to keep jumping on the "?" switch to see instructions and reach to your mouse every time to proceed, that's really annoying.
Of course these are things we can close our eyes to enjoy the game, but the thing is that the game have the wrong balance of complexity on gameplay and level design.
You have hearts (life metter), you collect silver buttons, gold buttons, paper clips and you also get points for revealing flowers and mushrooms hidden on the ground. Sorry, that's too much!
On the othe hand, the level design does not offer challenge enough to make you WANT to play the game.

Graphics: 4/5 (great, but lacks originality)
Sound: 2/5
Controls: 4/5
Gameplay: 2/5

Overall: 3/5
It's an ok game that's really worth $.99, but don't expect hours of fun with it. Maybe your kids will enjoy it better.
Great some improvements would make it fantastic -more levels
I like it. It's fun addictive and has great graphics. There could be a few more levels though. I'd also appreciate it if you made it so you could skip over the video clips in boss levels. It gets pretty annoying to watch everytime. Also I don't see why when your wearing a hat you can't wear glasses or headphones. A few minor changes would be great. I really want more levels to explore. Otherwise the game is fluid, not TOO hard and always interesting. Definitely worth one dollar!
Think Mario meets Little Big Planet
Fantastic game thus far! I'm not far into it yet but so far the level design and the graphics have kept me entertained. The controls are awesome as well. It reminds me a lot of Little Big Planet in its design, but without the hassle of that game. It's a straight forward platformer with collection elements… like the old Mario games. Highly recommended, especially for only $.99.
Information
Seller

Crescent Moon Games LLC

Size

137.7 MB

Category

Compatibility

OS X 10.6.6 or later

Age Rating

Rated 4+

Copyright

© 2012 Crescent Moon Games, LLC

Price

$4.99
Supports
Family Sharing

With Family Sharing set up, up to six family members can use this app.