Paragraphs - Minimalist Writing
By Triplane
Open the Mac App Store to buy and download apps.
Description
Paragraphs lets you focus on what you do best: write. No distracting menus, no complicated formatting options. It's just you and whatever you feel like writing.

Features:
- A distraction free writing environment. Once you begin typing the interface disappears and you can focus on what counts: whatever's on your mind.

- A quick formatting toolbar that's there when you need it and gets out of your way when you don't. Just highlight some text and you're good to go.

- An overview screen that makes it easy to switch between your writings.

- Just enough settings. Select from 4 layout and font options optimized for writing. Or switch to dark mode for writing at night or a low light setting.

- Easily export to markdown, html, or plain text.

What Paragraphs isn't:
- Paragraphs isn't a word processor or desktop publishing application. It doesn't have tools for creating complicated layouts, and only has formatting options that are absolutely necessary for pure writing. Paragraphs provides an ideal environment for getting your ideas on "paper" and can work well along side a page layout application for formatting your finished work.

- Paragraphs doesn't natively edit markdown files (although it can export to markdown.) Paragraphs is a rich text editor. What you see is what you get!
What's New in Version 1.1.4
- Adds search to Documents Overview
- Adds support for the Touch Bar
- Fixes for a few small graphical glitches
Screenshots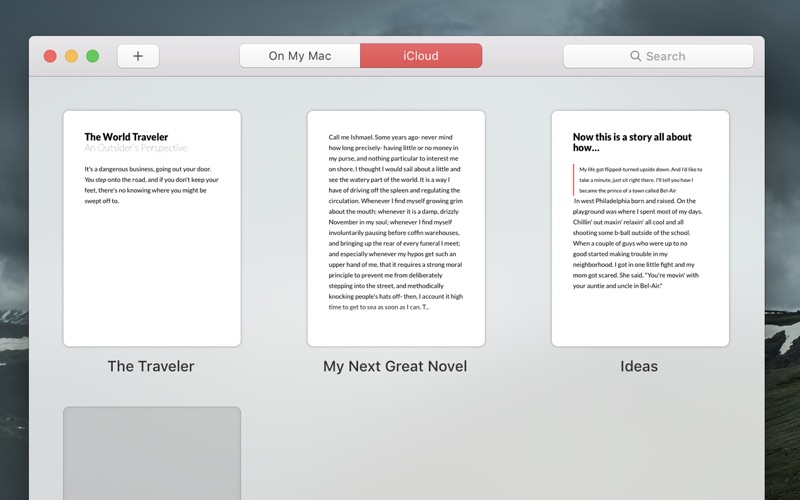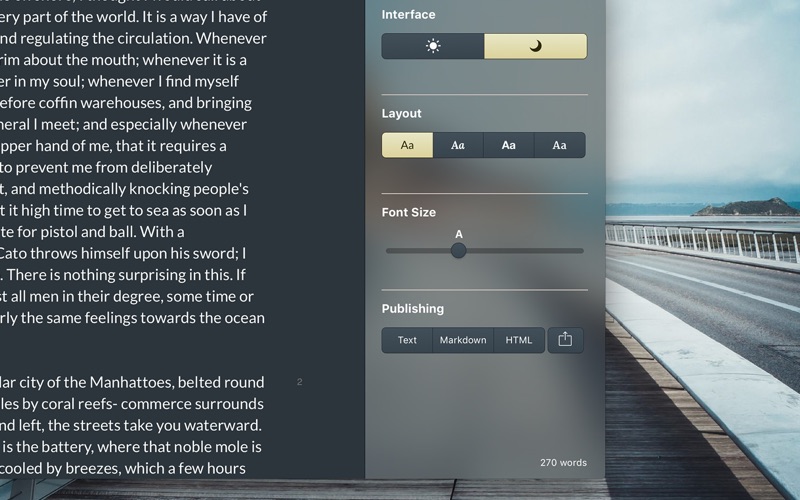 Customer Reviews
Could be Improved While Keeping the Simplicity
I sense from other user reviews and the developers' response that they have already done about all they intend to do with this app. Simplicity is nice, and I even prefer it, but many user suggestions have just been reasonable tweaks to make that simplicity work even better.
My two irritants are: As you add new documents, the wall of existing documents keeps expanding and soon you are scrolling down to find the latest created, or, most inconveniently, to click on the new-document blank icon to open a new one. At the very least, allow us to choose the default as new and newer at the top. Nor would it take away from the Simplicity mission to let us slide notes into stacks or subfolders to organize them a bit.
Oh yeah, it would also be really nice if we could turn off the automatic insertion of "inspiring" quotes onto brand-new documents upon opening. Personally I find that cluttering, not simplifying.
Nice potential, but not much promise for it to be developed.
Wish I could like it
I had originally given this ap 5 stars because I really liked the feel of writing in it, in its dark mode. But after using it more and more, I've downgraded to 1 star. It doesn't seem possible to have two paragraphs docs open at the same time. So you are always having to go back to its increasingly annoying "overview" page. There doesn't seem to be a folder/file organization option, so if you have a lot of docs, you have to wade through the highly inefficient "overview page." I can't find the docs in iCloud, which means they are hidden from me, which means I have to put 100% faith in the app not to lose anything. And there seems to be something buggy about iCloud not recognizing it, but still storing docs. As I look back over prior reviews, these have been problems for others, with numerous requests to fix them. I will change my review if the authors can fix these problems, because I love the feel of writing in Paragraphs, but as I soon found out, with even the most simple of apps, there's more to a good user experience than a pretty face.
Just what I have been looking for
In one night of writing this has become my preferred app for minimalist, distraction free writing. I love the visual iCloud-esque document management, the simple settings, and the intuitive method of allowing basic formatting, or even changing the document's entire style (such as Markdown and HTML, though I don't use those). I open it and I'm writing in two clicks (one to choose my document, one to go Full Screen). All highly polished and well thought-out.

I do have a few suggestions that would make this app even more perfect, in my humble opinion:

1. Ultra-Dark Mode: Black screen with a yellow font color, for those of us who need that extra intense focus.

2. Truly variable font sizing, or more options. Dragging the slider on font size results in leaps that, for me, leaves the ideal size in between two size options.

3. Nesting documents: Since I have just begun using this app, I only have a few documents, but I can see the point of other reviewers that someday, a hundred documents in, it may begin to feel cumbersome or disorganized (the way iCloud storage sometimes feels) resulting in the need to "search" for your work. I imagine it would be possible to represent a group of related documents as a single multi-page icon, allowing groups of documents (such as chapters in a novel) to be nested or organized together, but keeping the clean and elegant visual approach. Fewer documents, less clutter, less searching, but the same visual approach, which I love. This is not about a multi-pane view, or working with more than one document at a time, but simply a way of jumping to a group of related documents that, often because of length or project preference, is easier to separate into individual documents.

4. Auto-titling based on the first line. In my quest to keep writing without having to organize or do anything else, I desperately want to never have to think about the title of my documents (until, of course, I am ready to publish).

5. Maybe one extra Preference allowing the open state to be either the last open document, or a new document. I always waiver between which I prefer, which is why I like the option to choose, but Preferences can be a plague so if this was available I would probably hide it in Preferences, rather than the Settings side menu.

I have used most of the top-rated and top-selling writing apps, and have even tried to work with some of their developers on specific needs to get closer to a Zen experience. For one reason or another, I have continued the search for the perfect minimalist writing app. I think I finally found it. Thank you!

**Update: I have decided to downgrade my original review to 4 stars. Everything I stated above remains true, and my wishlist remains just that, minor improvements that would make this app better for me, but now that I have been using this app for a few days, and moved on from writing to editing, I have found the "disappearing cursor" when repositioning the pointer to be of an annoyance level that I had to reconsider my previously perfect rating. I have no doubt this will be fixed in a future version, but for now it is bad enough that it has to be noted.
View in Mac App Store
$9.99

Category:

Productivity

Updated:

Feb 20, 2017

Version:

1.1.4

Size:

5.8 MB

Language:

English

Seller:

Triplane LLC
Compatibility: OS X 10.10 or later, 64-bit processor