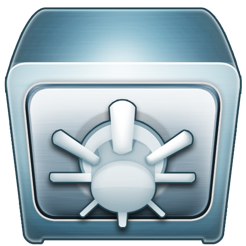 Description
★★★ Note from Developers: Password Safe currently only supports secure storage of website, login, and password information, and supports strong password generation. Please be ensured that this information is encrypted, and stored securely on your machine, and NOWHERE else. Only YOU will be allowed to unlock and decrypt your personal information. In fact, we're so confident in our application's encryption, here's my entire (encrypted) password safe information for all of my websites (Google, Flickr, iTunes, Bank of America, and etc):

5kBqXNYIRkItslmRzOvfIY5eXFq4FxulUpnI8sJu8LFEmmp3qdQ14RyjKV18j9Nz1wQkVM2ktd-
D8AoN/QFKorwAIdKJvt+jh9jKhLT/9FXfu/FxOpzBzpRK2q9YLIrVlHnCXS9oGUmVsMt0izkqSP61K-
J87pvfn27oNuMbdSZL24RdE0uePYYqhPiVVvzvCleDFQRpyOH4po/sJUgeeHUVGz0KRFVvWsK+6pEd-
E72Q/xR+YRqTzoLTPb4a3uQPR/MEjeEDTlU6t....

Our application was made to help you utilize strong login passwords to avoid them being easily hacked, and to store these passwords securely so that you don't have to remember them. Storage of other crucial information, such as credit card numbers and notes, will be supported in the future! We look forward to continue improving and supporting our app for our users. Thank you for your feedback, and keep sending them our way at passwordsafe@kappboom.com.

★★★ Limited-time Offer! To celebrate the launch of Password Safe, you can get it for only $0.99. Better hurry, we're going to move the price up soon! ★★★

Password Safe is the easiest way to securely store your passwords and sensitive information. The contents in your personal safe are visible only to you, and can be accessed with a click of a button. Use the unique password generator to build the strongest passwords known to man and use them easily after storing them into your secure safe. You'll never have to remember a complex password ever again, and in the meantime still enjoy having strong and unique passwords for every website in the palm of your hands! Only you can unlock the information in your Password Safe Deposit Boxes!

★★★ NSA TOP SECRET Level Security ★★★

We use the best encryption, AES-256 (Advanced Encryption Standard 256) to secure your information--the same encryption used by the National Security Agency and top Governmental Security Agencies. Furthermore, Password Safe will encrypt your personal information multiple times over, making it impossible to for anyone else to read the information. Only you can unlock the information in your Password Safe Deposit Boxes!

★★★ Strong Password Generator ★★★

Now you can generate a strong password consisting of uppercase, lowercase, numbers and special symbol characters of tremendous lengths at the click of a button. Password Safe will then store the generated password for you into a safe deposit box, so you won't ever have to memorize a new password again. Then, to recall the password, you can simply open the Password Safe and click on a deposit box!

★★★ Convenience, Everywhere ★★★

Password Safe also comes with a convenient icon on your status bar that allows you to easily recall your private information right when you need it. Furthermore, after using your Password Safe, locking the safe is done with two simple clicks: one on the icon, and then clicking on "Lock Safe"!
Ratings and Reviews
Hopeful, but slightly disappointed
I was so hoping that this password app was similar to the Password Safe available for PC use. It has most of the fields, but it doesn't have a notes field, which comes in handy when documenting answers to security questions. It also doesn't have a way to restrict how the password generation is handled (e.g., at least 12 characters, use special characters, easy to read characters only, etc.). I know it only cost $.99, so there's that. I, personally, don't want my passwords stored "in the cloud" and this would have solved my problem. Oh well, I'll keep looking.
Great for Online Banking
I found that 3 fields were really helpful and the Description field was advantageous - it provided a short handle/name for use with the LOCK ICON in the status bar.
Sometimes the LOGIN is a name and other times it's an e-mail address (e.g. PayPay) and still other times it's a phone number; so that's helpful information to keep a record of as well.

All in all, a great app for the ONE intended use of it in this first iteration of the app.
My mom loves it...
My mother was constantly complaining. She couldn't remember the passwords to access her accounts! Every month when she paid her bills she'd curse the computer out while trying to access various websites.

I installed this on her macbook. Things have become so peaceful! She doesn't scream at the computer anymore!

It's a simple app that securly stores your usernames and passwords. If you want anything more than that, this isn't for you.

If you've got 20 different sites that all want you to have a slightly different login, this app is a godsend. I've even started using it myself to save my health insurance and credit card account passwords!
Information
Seller

Kappboom Inc.

Size

1.5 MB

Category

Compatibility

OS X 10.6 or later

Age Rating

Rated 4+

Copyright

© 2011 Kappboom Inc.

Price

$0.99
Supports
Family Sharing

With Family Sharing set up, up to six family members can use this app.