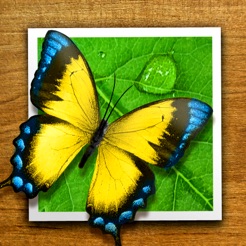 Description
Free for ONE day only!

It's all about one thing - your perfect photos!
Perfect Photo is your ultimate photo editor for quick and powerful image editing on iPhone.

"You can say goodbye devilish red eyes and blemishes with Perfect Photo for iPhone" – TiPb.COM

"Must-own app, whether you're a novice or an experienced iPhoneographer" – Appadvice.com
__________________________________

28 most essential photo editing tools & effects to improve your pictures
Perfect for all types of your photos: portraits and selfies, nature and landscapes, family shots and more.

- Red Eye Removal
- Spot Healing (fix skin imperfections)
- Noise reduction
- Crop and Rotate
- Exposure adjust
- Color Temperature Adjustment
- Alignment
- Flip image
- Saturation
- Sharpen
- Hue
- Color Balance
- Gamma Adjustment
- Brightness
- Contrast
- Shadows balance
- Highlights balance
- Lightness
- Levels Balance
- One tap image enhancement

Effects
- Vintage
- Posterize
- Bloom
- Pencil Paint
- Black and White
- Invert
- 6 Brand NEW Lomo style filters
- Indio
- Cross process
- Silver Blue
- Lomo
- Danburry
- Bronze

Other Features

- Save Image to Photo Album
- Copy to Clipboard
- Save to the Documents folder (easy sharing between computer and iOS device)
- Twitter Sharing
- Facebook Sharing
- Flickr Sharing
- Tumblr Sharing
- Printing Featured

- Take pictures from inside the App
- Load pictures from Photo Album or Documents
- Multiple Undo and Redo
- And more!

After you install Perfect Photo on your iDevice, it may become one and only editing App you will ever need for your iPhone and iPod touch pictures.
- User interface improvments
- Minor bugs fixed

- Improved Read Eye Removal tool
- Improved Sharpen tool
- Improved Denoise tool
- Improved Levels adjuster

- Old effects improved
- 6 new awesome effects
- Indio
- Crosspro
- Silver Blue
- Lomo
- Danburry
- Bronze

- Added tumblr sharing
- Added printing

Ratings and Reviews
****BUYER BEWARE.... PLEASE READ****
This app is no longer supported. The last update was in March 2011!!! That means the OS is obviously not compatible with this. I almost ALWAYS read the reviews but I was so excited about this being $0.99 and having the red eye corrector and an all-in-one amateur photographer lover's dream for editing but sadly, I was sorely mistaken; extremely disappointed!!! Ninety nine cents is small change but like most people, I don't have a lot of money to just throw away. Now I have to spend more money on another app when I should've done my research properly in the first place. That's my fault. However, someone should be accountable for leaving "dead apps," like this one, for suckers like me to constantly waste our money on. Is Apple to be held accountable? Certainly they are making money on them and having no problem policing those that simply sit dead for years at a time. "Let's just sit back and collect these suckers' money... they'll keep shelling it out!" And we will... Sad f@$ing fact! Bottom line: read the description, read when the app was last updated, and please... READ THE REVIEWS!!!
Perfect Photo
This is my 3rd and last review. Used to be my favorite photo app on my 3GS. Updated to iPhone 4S w/6.0 IOS. When I open app it won't allow me to access my photos (??????) as before! It appears I have not allowed PP access to my camera roll (?????)! Why have this app if I can't get to my photos?? My photos I consider PRIVATE! IDK if new 6.0 IOS is the problem! Next thing you know you'll want me to buy a live Web Cam app!! About 10% of my photos are for MY EYES ONLY & are somewhat provocative but not graphic, mostly downloaded pics and some of a personal nature for mature viewing! I have downloaded a new, highly rated photo editing app! I will surely miss PP as just had 1st grandson and enjoyed using PP to edit his photos w/good resolution, more than enough quality as my daughter has numerous edited photos of our grandson hanging in 8X10 or larger frames. I'm not computer savvy & perhaps don't understand this "Allow Access" request. Feel free to contact me if you wish. Regrets -
Great Basic Features - Very Easy to Use - Most Stable Photo App
This is almost ALWAYS the very first app I use to edit my pics. It has a nice assortment of basic editing options, and is very simple and easy to use. Also, I appreciate the ability to adjust and fine tune each editing feature. But, my favorite thing about this app is how extremely stable it is. Unlike EVERY other photo editing app I have used, it has NEVER crashed. While it may not have the largest variety of editing options, it does have all the basics. That is why it is my first choice and often my last. Even better? It's FREE!!!
Information
Seller

macphun.com, LLC

Size

13.9 MB

Category

Compatibility

Requires iOS 3.0 or later. Compatible with iPhone, iPad, and iPod touch.

Age Rating

Rated 4+

Copyright

© 2009-2010 MacPhun LLC

Price

$0.99
Supports
Family Sharing

With Family Sharing set up, up to six family members can use this app.