Perfect Web Browser - Extraordinary Browser & Download Manager with Dropbox
By AppSimply
Open iTunes to buy and download apps.
Description
Perfect Web Browser is the best and the most advanced web browser with Downloads, AdBlock, Tabs, Night Mode, Auto Refresh, Dropbox, Google Drive, Desktop Rendering Modes, Passcode Lock, Saved Pages, TV Out & more. It's fast, lightweight and the quickest way to browse the web.

Highlights:
√ AD BLOCK
Perfect Web Browser can block most ad banners in webpages. Enable in Settings > AdBlock.

√ ADVANCED DOWNLOAD MANAGER
Download files from the web, fast. Perfect Browser automatically detects downloads from web pages. Download all files at once or one by one. Can also long press on links to download.

√ CONFIGURABLE PER-TAB AUTO REFRESH
Long press a tab and choose 'Auto Refresh...' to configure page refresh duration.

√ DROPBOX & GOOGLE DRIVE UPLOAD
Perfect Browser can save files to Dropbox & Google Drive.

√ SCROLLING ENHANCEMENTS
Scroll easily using Touch, Precision Scroll Bar or by Touching Up/Down buttons. Pages scroll fluidly.

√ FULL SCREEN MODE
View websites using the entire screen.

√ DESKTOP BROWSER RENDERING
Perfect Browser can display web pages like Chrome, Opera, Safari, Firefox, Internet Explorer or any browser by spoofing the user agent.
- Websites show up as if you were surfing from a desktop browser.

√ SAVE FULL WEBPAGES OFFLINE

√ BLUETOOTH KEYBOARD CONTROLS
Perfect Browser supports external keyboard shortcuts. Scroll with cursor keys, zoom, adjust font, bookmark, navigate, search, input url.. Every action is just a key press away. Requires iOS 7+.
- 25 shortcuts are supported.

√ FULL SCREEN TV OUT
Perfect Browser mirrors web pages and documents in full screen on TV or Projector via VGA/HDMI/AirPlay-Mirroring. Full screen display in landscape mode.

√ PRESENTATION MODE FOR TV OUT
Perfect Browser lets you choose a specific tab to be mirrored to a TV or projector.
- Switch to different tab(s) and browse the web as usual, and it remains on iPhone's SCREEN only.

√ TABS
Browse with unlimited tabs. Long press to open links in new tabs or in background.
- Tabs load simultaneously.

√ FILE ORGANIZER
Perfect Browser supports numerous file types: documents, pictures, archives, audio and video. Includes an A/V player and an enhanced PDF reader.
- Edit/rename/move/organize files & folders.
- Extract Zip files
- Transfer/Add/Copy files using iTunes File Sharing
- Send files via Email

√ SEND & RECEIVE FILES TO/FROM APPS via Open In

√ PASSCODE LOCK
Protect access to files & browsing session with a password.

√ GESTURES
Frequently performed actions are even faster with intuitive gestures.
- Flick 3 Fingers Up: Enter address. Down: Close tab.
- Flick 2 Fingers Left/Right: Switch tabs. Three: Go Back/Fwd.
- Tap 4 Fingers: Toggle Fullscreen.
- Every gesture & action is customizable.

√ PRIVATE BROWSING
Perfect Browser provides three levels of private browsing modes for unsurpassed privacy control.
- Option to have Tabs & Session Auto-Cleared on pressing Home, Power or on receiving a call or interruption.

√ RAPID WEB SEARCH
Perfect Browser displays search suggestions.
- Tap 'Insta' to navigate directly to top result w/out having to wait for search results page.

√ AUTO ZOOM
Perfect Browser can display web pages zoomed in, with adjustable zoom amount.

√ AUTO FILL
Autofill data can be saved for a site with one tap. Perfect Browser automatically fills out forms data when you visit that site.

√ IMPORT BOOKMARKS
Perfect Browser can import bookmarks from any desktop browser.

√ EXPORT BOOKMARKS

√ ADJUST FONT SIZE (25% to 500%)
Perfect Browser can also save custom font preferences for each site.

√ SHARE LINKS
Share links via Twitter, Facebook, Email & iMessage

√ NIGHT MODE - SCREEN DIMMER
Brightness can be turned down much lower to an extra dark setting

√ Lots of Great Features:
- Rotation Lock
- Address auto-completion
- Background Audio
- View Source
- Save Images
- In-Page Search
- Block Images Option
- AirPrint
- Web Compression Option
What's New in Version 12.0.1
- 'Force Desktop Layout of web pages' option in Desktop Browsing Mode
- Numeric Passcode option
- Optimized for 64-bit
- 'Paste' / 'Paste and Go' in address bar keyboard. Can be disabled in Settings > Interface and Fullscreen.
- Increase / Decrease buttons in Adjust Font Size
- Option to disable JavaScript
- Bookmarks button in Fullscreen Mode. Can be disabled in Settings > Interface and Fullscreen.
- 'Privacy Controls' section added to Settings
- Hold 'Cancel' or 'Clear Search' buttons in search to deselect text
- Tap and Hold on a tab for 'Copy URL'
- 'Ask before Form Resubmission' option
- Corrects a few issues that were reported
iPhone Screenshots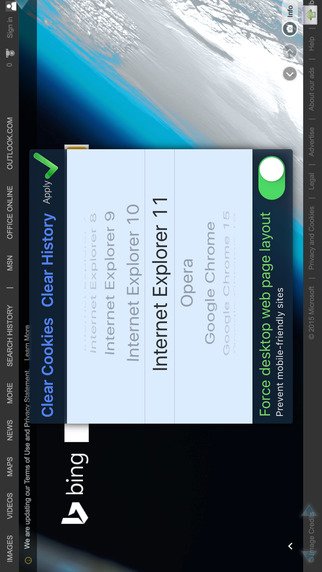 Customer Reviews
PDF Downloading & Private Browsing
The ability to retrieve PDFs from any site and save them to my Google Drive is the reason I bought this app. It works perfectly. A further bonus is the terrific private browsing options that are so easy to access and use, so you can just run Safari in standard mode all of the time without changing cookie and password settings and use this when you need to search something discretely for any reason. Simply press the home button and this browser forgets everything as it minimizes. It's also very stable and full featured. This is a great app.
Fantastic alternative browser
I really enjoy the browser, am very happy with due diligent search for an alternative browser for the iPhone 6. I enjoy the tab browsing I particular, especially for websites which offer external links within, whereas Safari offers tables browsing. I'm actually quite shocked Apple still encourages Safari on iPhone when there are so many limitations to Apples Safari! Apple really needs to play catch up soon with other smart phones or else the "fad" of iPhone will wear off very quickly! Sorry to say so being an AVID Apple device user!
Beats buggy iCab
...yet is also full featured!

The latest update(s) added nearly every tweak I frustratingly suggested many months ago, and I'm very happy now that I can close tabs easy whereas before I had to hold down my finger to access the pop-up menu to do the closes. Sounds like a seriously thought out update. Now the orientation lock uses the overall Apple settings pane setting.
View In iTunes
$4.99

Category:

Business

Updated:

Jul 21, 2015

Version:

12.0.1

Size:

3.8 MB

Language:

English

Seller:

AppSimply, LLC
Compatibility: Requires iOS 6.0 or later. Compatible with iPhone, iPad, and iPod touch.