Periodic Table of the Elements
By Kevin Neelands
This app is only available on the App Store for iOS devices.
Description
This is a standard periodic table of the elements - a necessity for anyone interested in or even exposed chemistry. However, the version differs in that instead of cramming all the information for an element into one little square, you can select a chemical attribute and have the entire chart color coded to plainly show how the different elements vary with regard to the selected trait.
You can select
1. Atomic Number
2. Chemical Family
3. Electronegativity
4. Radioactivity
5. Melting Point
6. Boiling Point
7. State (Solid, Liquid or Gas)
When State is selected you can change the temperature using a slider control to see the states of the elements at the temperature you select.
What's New in Version 1.3
Some spelling have been corrected,
some column headings have been corrected
iPad Screenshots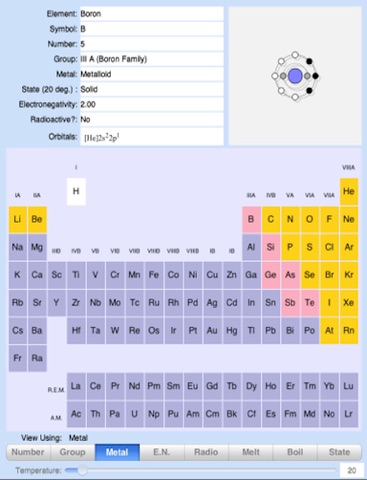 Customer Reviews
Like the app, but it has incorrect info
I recently wrote the author of this app because the orbital information about each element is wrong. I didn't go through every element, but take a look at molybdenum for example. It should be [Kr] 4d5 5s1. He has [Kr] 5s2 4d4. The orbital diagram is also incorrect. Even Wikipedia lists this correctly so I am not sure where he got his information. be careful when using educational apps to make sure they have valid information in them. Even the professional reviewers didn't catch this one. If you look at his example photos, Iodine is displayed. The orbital information on it is correct so some of them may be correct.

Also, the previous reviewer is correct, it does not support landscape mode, only portrait mode. I am still looking for a nice periodic table app.
The temperature scale
This is for Sara's review.
First off I find this app to be very useful plus it beats paying 5 dollars and a trip to the book store for another table with less information. I recently finished chemistry 1 and 2 using this app at temple university and it served me well for basic information and help finding information for homework.

For a previous review by Sara. She was concerned with what scale the temperature slide bar tool was in. The answer is in C, the reasoning behind this is if you compare it to s melting point and compare the states it gives you the correct scale. For example I did this with Hydrogen having a melting point of -259 I slide the scale until hydrogen changed states to liquid which was at -260 so the scale must be in C.

But other then that great app for the price and the use for common chemistry information.
Great tool
It gives a very good idea of the trends found in the periodic table fast and in a visually appealing way. I teach college freshmen biology and it's great to show the properties of atoms and explain concepts like electron shells or electronegativity.

I am sure it would be as useful, if not more, for chemistry professors.

And it's free!
View in iTunes
Free

Category:

Education

Updated:

Jul 25, 2010

Version:

1.3

Size:

0.2 MB

Language:

English

Seller:

Kevin Neelands
Compatibility: Requires iOS 3.2 or later. Compatible with iPad.