Digital Film Tools
By Digital Film Tools
This app is only available on the App Store for iOS devices.
Description
DFT (aka Digital Film Tools) is the definitive digital toolbox meant to simulate optical camera filters, specialized lenses, film looks and grain, optical lab processes, color correction as well as natural light and photographic effects. DFT gives you the tools to edit, control and correct your images as well as create interesting effects with 74 different filters and 810 presets.

WHAT'S INCLUDED
In DFT we bring you 74 exciting filters: Ambient Light, Auto Adjust, Black and White, B&W Looks, Black Mist, Black Silk, Bleach Bypass, Center Spot, Close-Up Lens, Color Correct, Color Gradient, Color Compensating, Color Conversion, Color Infrared, Color Looks, Color Spot, Cool Mist, Cross Processing, Day for Night, Depth of Field, Diffusion, Dual Gradient, Edge Glow, Enhancing, Eye Light, Faux Film, Fluorescent, Fog, Glow, Grain, Halo, Haze, High Contrast, Highlights/Shadows, Ice Halos, Infrared, Levels, Light, Light Balancing, Mist, Mono Tint, ND Gradient, Net, Night Vision, Old Photo, Paint, Pencil, Photographic, Polarizer, Reflector, ReLight, Sharpen, Skin Tone, Silk, Sky, Soft Light, Star, Streaks, Strip Grad, Sunset, Temperature, Tint, Two Strip, Three Strip, Vignette, Warm Black Mist, Warm Center Spot, Warm Mist, Warm Net, Warm Silk, Water Droplets, Wide Angle Lens and X-Ray

DFT's visual workflow encompasses all levels of photography with easy to use tools that help you create stunning images.

FEATURES
- Choose from 74 filters organized into 8 different filter groups
- Select from a total of 810 presets
- Try one of the 62 different color or black and white film looks
- Add realistic diffusion to photos using a library of 50 interesting textures
- Create natural lighting effects using 117 different patterns
- Choose from 27 grain presets to simulate popular motion picture film stocks
- Paint on the image using Color, Clone, Blur, Black and White, Mosaic, Red Eye, Repair, Scatter and Eraser brushes
- Crop, Rotate, Straighten
- Zoom into the image with the Close-Up Lens filter
- Add multiple filters without saving
- Selectively apply filters by painting a mask
- Modify filters with sliders, on-screen controls or presets
- Retina display ready
- Edit in portrait or landscape mode
- Quickly search for filters and presets
- Integrated Help
- Share your DFT processed image on social media

Photos Copyright © 2008--www.iofoto.com
What's New in Version 6.0
DFT (Digital Film Tools) is the successor to Photo fx from the Tiffen Company. As a result of Digital Film Tools taking over the product, some filters were renamed and others deleted where there was a duplication of functionality.

- Renamed Filters
Color-Grad renamed to color Gradient.
Diffusion/FX filters renamed to Silk.
Dual Grad renamed to Dual Gradient.
ND-Grad renamed to ND Gradient.
Nude/FX renamed to Skin Tone.
Pro-Mist filters renamed to Mist.
Soft/FX filters renamed to Net.
Sunset/Twilight renamed to Sunset.
Ultra Contrast renamed to Shadows/Highlights.

- Removed Filters
812 Warming has been removed as it is a variant of Tint.
Glimmerglass has been removed as it is a variant of Mist.
HDTV/FX has been removed as it is a variant of Silk.
Smoque has been removed as it is a variant of Fog.

- Filters Moved to New Group
Enhancing moved to Image tab.
High Contrast moved to Image tab.
Polarizer moved to Image tab.
Shadows/Highlights moved to Image tab.

- Added 64 bit support

- Removed maximum size limitation
iPhone Screenshots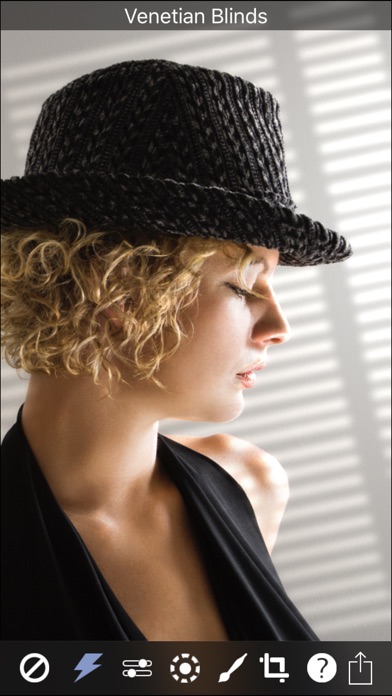 Customer Reviews
Essential Cinematography App imho
The ability to use my iPhones camera or a calibrated photo to preview thousands of gel colors plus compare gels side by side over the image?

This update is a game changer for my location scouts, tech meetings and those quick "What gel looks good here?" moments.

I can't wait to use it out in the field and on-set. It's top of the stack now in my iPhones Cine Apps folder.

One suggestion on improving the app.

If the apps photo preview feature gave us the ability to selectively erase or paint on an area of the color gel overlay (for still photos only, not the live camera) this would really help in coming up with complex color combos. The ability to show Production Designers, Set Painters and Props people where a gel color wash will play on a live set would be incredible for an iPhone app.

Tiffen used to have 2 iPhone apps that allowed masking to a certain degree with their camera filters overlaid on top of still photos. They sold it off I believe and it's now called "DFT" aka Digital Film Tools in the iPhone App Store. It still functions the same and I use it all the time.

I don't know how complex app coding is but just a thought on how to take the app to the next level.

Have a great New Year!

Kurt

Kurt Rauf
Director/Cinematographer
Thanks DFT!
I've enjoyed this app for years and was sad to see it slip into disrepair. I'm happy it's back. If you like creating your own filters instead of just settling for presets this is a great tool, and very easy to use. You just choose the effects you want from a large selection, adjust them to your liking, and layer or paint them on.
It's good but..
It's a little confusing. I'll come back later when I learn to use it.
View in iTunes
$0.99

Category:

Photo & Video

Updated:

Sep 15, 2017

Version:

6.0

Size:

24.8 MB

Language:

English

Seller:

Digital Film Tools
Compatibility: Requires iOS 9.0 or later. Compatible with iPhone, iPad, and iPod touch.
More iPhone Apps by Digital Film Tools