Photo Tools Pro
By EigerStudios
This app is only available on the App Store for iOS devices.
Description
PhotoToolsPro is your complete suite of tools for advanced amateurs to working pros.

PhotoToolsPro will help you manage all of the crucial information that you need about every image you create - and it will automate the Zone System for you!

PhotoToolsPro is like your old moleskin notebook but even better with professional level note taking, a built in Zone System and exposure calculator, a vibration sensor, level, gear information database, references tips and much, much more.

PhotoToolsPro has become a very important tool for both traditional analog and digital photographers thanks to its ease of use and complete suite of tools.

PhotoToolsPro Features:

Professional - Level Note Taker
• Keep track of your images as you take them!
• Easily record the Camera, Lens, Film and Exposure you used.
• Attach Notes in either text, voice or both.
• Reference Shot lets you take a picture of the image that you can crop or rotate it so it matches what you are taking with your camera.
• Email the final set of Notes to your computer
• Coming Soon...Synchronize your Image Notes with the PhotoToolsPro website.

Professional Zone System and Exposure Calculator
• The Zone System in the palm of your hand.
• The Note Taker has an area for recording the exposure. Non-Zone System users can use the Manual Mode; simply indcate your fstop and shutter speed.
• Zone System users can specify their Zone 3 and Zone 7 values and the program calculates the exposure and Development (N number) automatically.
• Of course there are adjustments for Reciprocity, Bellow Extension and Filter Factors. We said Professional and we meant it.

Vibration Sensor
• Every photographer needs this. Is your camera moving? This app will tell you if there is even the slightest vibration.
• View camera users can just set it on the bed of the camera. Users of smaller cameras can use a runner's iPhone armband to strap it to the lens or a handy piece of Velcro placed anywhere.
• If the phone moves you will get an alarm.
• Can you set the sensitivity? Of course you can!

Photographer's Level
• Every photographer needs a level. Whether you are a View Camera user who is lining up his shot-- doing the Scheimphlug--or you're using a smaller camera and you want to link images together in a panorama.
• Want to make sure the front and back of a view camera are at the same angle? Yes, there are specific angle readouts. Professional.

Grab Bag
• Keep track of all your Cameras, Lenses and Film.

References and Tips
• Online help for each feature, general reference information and a simple description of the Zone System that anyone can follow.
• Tips from Lenny Eiger, from his 40 years of photographic experience.
• Automatic syncing. As additional Tips and Reference Items are added, they download automatically. Free, of course.

PhotoToolsPro was hand-crafted by working professional photographers who have already come to rely on this app's ease of use and complete feature set. Get PhotoToolsPro today and take your photography to the next level !
What's New in Version 1.1
This release fixes critical bugs that limited the photo note taker feature, causing crashes, as well as a variety of other bugs. It has been tested on IOS 6, 7 and 8.
iPhone Screenshots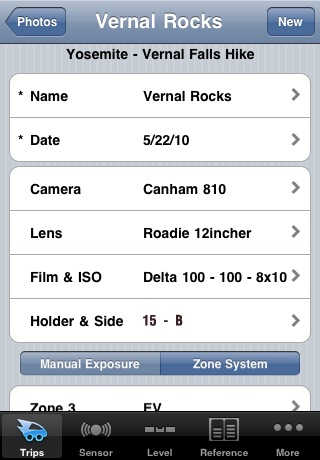 Customer Reviews
Bugs are fixed
I previously gave this app 1 star and a negative review, because of critical bugs. After contacting the author, and discovering that his programmer had quit, I offered to pitch in to help, since I'm also a photographer and a developer. The result is this bug fix release, which I pumped out as quickly as I could given my day job.

I am now working on a version that will be compatible with the iPhone 5 as well as making some Interface usability improvements. I will only rate this as 4 stars now until I finish that.

Maybe it is unorthodox for the developer to chime in here, but I was a customer first and I really want this to be a great tool for those of us still committed to film and large format photography.

I hope you enjoy the repairs, and stay tuned for another update within the next few weeks.
Great app!
Took me a while to figure out, and still working on it. Gave it a 4 star for two reasons. Voice notes, you can only record one per project if you forget and start recording again it deletes the previous one. The other reason is the notes, the keyboard gets in the way and you can't write more than a few lines before it hides behind the keyboard. Other than that its a very useful app.
Works again, good, too pricy.
The newest update knocks out all the bugs that made the app unusable. So it works again.

The program is good. The UI is cumbersome but it works.

You crate trips aka projects and then locations within projects and then shots. The shot records are simple and easy to enter with all the basic info needed plus notes. Enter the meter readings for zone 3 and zone 7 and it records the N value.

You can add notes and lens etc. Great around developing time.

Now that its fixed I'm using it daily.
View in iTunes
$9.99

Category:

Photo & Video

Updated:

Oct 02, 2012

Version:

1.1

Size:

3.2 MB

Language:

English

Seller:

EigerStudios
Compatibility: Requires iOS 6.0 or later. Compatible with iPhone, iPad, and iPod touch.