PhotoBulk: Watermark, Resize, Optimize and Rename
By Eltima LLC
Open the Mac App Store to buy and download apps.
Description
* FREE version available on our website *

PhotoBulk is easy-to-use bulk image editor that lets you add text/image watermark, resize, and optimize hundreds and thousands of images or photos in just one click.

You can also Rename multiple pictures and Convert to the most popular formats in no time.

Just drag and drop your images onto the app, choose desired actions and press "Start". Voila!

Chosen for Mac Gems 2013.
"...PhotoBulk is a solid choice that won't break the bank!" - Macworld USA
"What makes PhotoBulk stand out is the clean interface and easy-to-set controls." - Cult of Mac

**Bulk Watermark Options**

Bulk watermark lets you easily and quickly watermark multiple photos, using the great variety of options. Customize your photos with tags, logos or any other personal marks. Place watermark anywhere with the precise per-pixel controller, then switch to the angle mode and rotate it to that very angle you want and check the result immediately in real-time preview window!

Pick one of these amazing watermark features:

*Text Watermark. Apply watermark on hundreds of your photos choosing font, size, typeface, color, opacity, and angle.

*Image Watermark. Add image watermark by simply dragging and dropping the image to the app and activating watermark box, change its size by width/height, choose the opacity level and place it wherever you want.

*Script Watermark. Fill your photo with text tags. Text adjustment options are also available.

*Datestamp will stamp a date your photo was taken on wherever you choose it to. Various text options and date formats are available.

** Bulk Resize **

Resize hundreds of your photos in no time. Remember: reducing image dimensions will make the file size smaller. Use the variety of resizing options:

• By width and height. Fit your images to the spot, choose one of the dimensions and other will be resized proportionally.
• Percentage. No need to know particular dimensions, simply resize your photo by percent.
• By max size. Set the desired width and height, and all images will be resized proportionally according to the max side size.
• Free size. Use the desired dimensions by simply entering them in the box.

** JPEG & PNG Optimization **

Optimize file size of your JPEG or PNG images while keeping their original resolution, quality, and format. Use it to save your disk space or to share them faster over Internet. Please note that PNG optimization is time-consuming and works slower than JPEG optimization.

**Bulk Rename**

Forget about those weird camera names, rename photos by giving a new filename and number sequences. You can also vary starting digit and number of zeros.

**Bulk Conversion**

Convert hundreds of photos for your convenience and easy sharing. Save all your images in desired format without any troubles. Bulk image conversion works with the most popular formats, like JPEG, PNG, GIF, BMP, TIFF.

** Easy settings **

Save your favorite and most used settings to presets for even faster bulk editing.

** Real-Time Preview **

Check how your files will look like before they are processed. Experiment with watermarks and sizes to achieve the desired results.

** Supported Formats **

JPEG, PNG, GIF, BMP, TIFF

Save your time on image processing with PhotoBulk - simple app for batch/bulk resizing, optimization, and applying a watermark to photos and images.
What's New in Version 1.7
Added: prevent PhotoBulk from making images bigger ("Don't enlarge smaller images" option)
Fixed: application crash when processing images with accurate color representation caused by wrong color depth detection
Fixed: optimization was not implemented in case conversion of JPEG into PNG was applied at the same time
Screenshots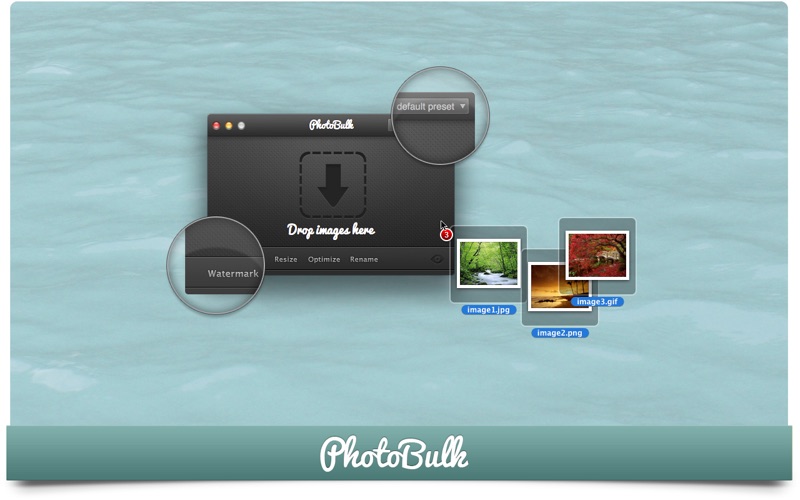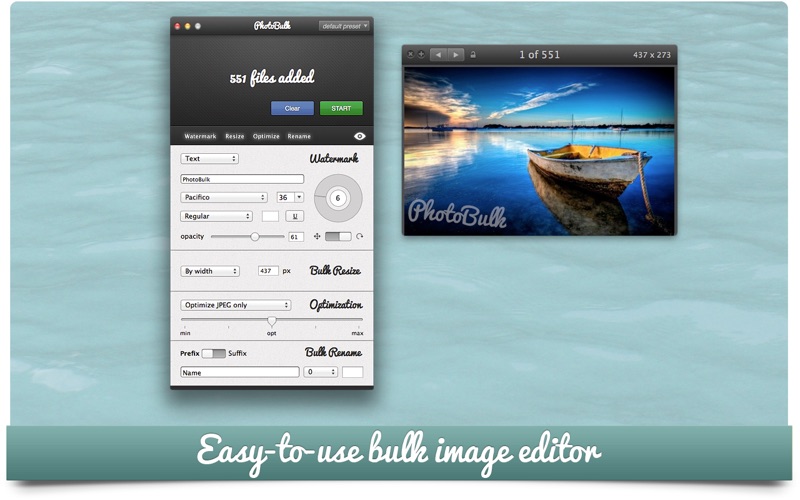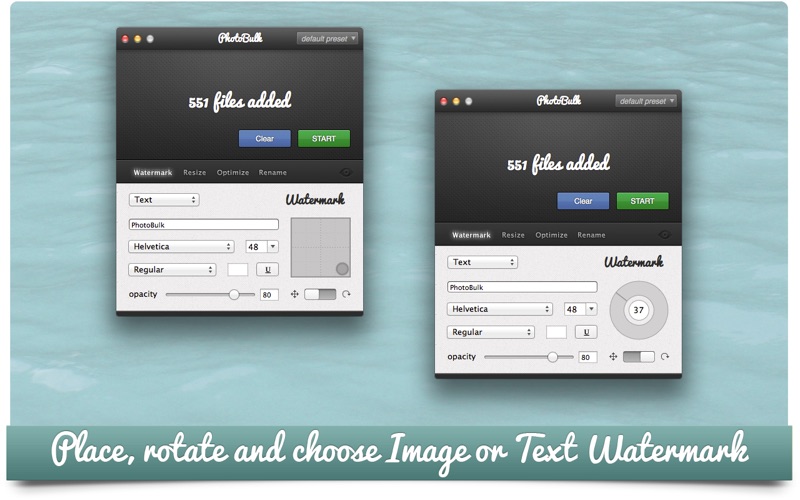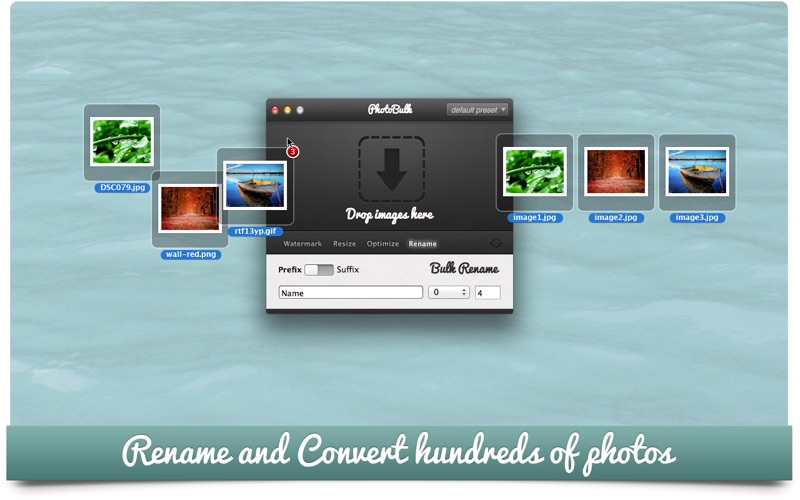 Customer Reviews
Does what it says and does it well
Are we really 2 years since an update? I think at the list price of 20 American bucks there isn't a whole lot of value here, but the value that makes this a buy is how easy it is. To offer constructive criticism, I'm not sure there's really any feature that would make it worth the asking price. You either need to do this quickly and easily or you not. And if you need this, then it's worth it. So, for less, it's a no-brainer. But at the price, only grab this if you're doing more than a dozen or two images at a time.

That said, I would be interested in change the save file naming convention. As is, it saves to the same folder but makes a subfolder and puts the files in there. I'm typically replacing files, so I would prefer to keep the same name and overwite the file. Or keep them in the same folder and, instead of making a subfolder, append the filename for example IMG001 becomes IMG001-watermarked where "watermarked" equals any variable string of text.

Still, all-in-all, this program does what it promises and it does it quickly & easily.
Very useful time-saving app!
I love this app. I use it almost every day and find it saves a lot of time being able to batch process images that I'm going to upload to websites. I have not noticed that reduction in quality that some reviewers reported. If you feel the quality is noticeably reduced, you can change the quality settings. I find 'Opt' works well for me in almost all cases. The algorithm seems to be very effective at reducing file size (far better than Photoshop and other image apps) while maintaining quality. The watermarking and resize features are also very good. You can't see within the app what the different fonts are going to look like for watermarking, so I just opened Font Book and looked through that until I found one I liked. I love that you can easily save 'Presets' of settings that you use a lot.

It processes the images quickly. Quick, easy and time-saving app. Invaluable for anyone wanting to optimize images for their website.
Good stuff
I like this app as it does the watermark that I wanted to do for my photos…My problem is that when I save them, I can no longer find them. I'm not sure where the file is going and I've searched my computer several times. I've noticed that when I save the files, it names it in the upper corner next to present…but I cannot pull my files from there. Can you please tell me where my photos went that have my watermark on them?

I also gave this a five because I noticed that the IT dudes would respond to the reviews with helpful information and I don't see that very often. That tells me you are really vested in what I think and are willing to help me get the most out of this app.

This is way better than photoshop and the clarity is awesome. If I could just find my photos…I'd be really happy!!
View in Mac App Store
$19.99

Category:

Photography

Updated:

Sep 03, 2015

Version:

1.7

Size:

3.6 MB

Language:

English

Seller:

ELTIMA LLC
Compatibility: OS X 10.7 or later, 64-bit processor