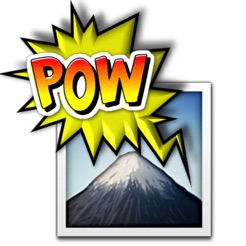 Description
PhotoToComic help you to turn your photos into comic layouts.
With this application, you could add speech balloons, over 3000 symbols including beautiful emoji, change fonts, rotate, customize frame for pictures, halftone, and grayscale filter

This is a great way to make your pictures tell a story or to turn your photos album into a graphic novel.

___________

Functions of the application:


✔ TEMPLATES:
Templates are included to help you to make comic page faster.


✔ CUSTOMIZE SHAPE TO APPLY IMAGE INTO:
There are many shapes for you to select as a photo frame.
You could also rotate the shape or change frame color, transparent level.


✔ PRE-DEFINED ICON:
There are many predefined nice images shapes for you to add to the comic page, including balloons items


✔ OVER 2000 BEAUTIFUL SYMBOLS:
More than that, there are over 3000 beautiful symbols to add the comic.
Please press the "☺" button on the left to add and select any symbol you want.


✔ DRAG/DROP IMAGE:
The application allows to DRAG/DROP many image files directly from Finder to current editing window.


✔ GROUP / UNGROUP ITEMS (new):
Group items for easy control of multi objects.


✔ COPY / PASTE:
The application supports copy/paste function for shapes.


✔ CUSTOMIZABLE COLOR / FONT / SIZE / LINE TYPE / TRANSPARENT-ALPHA:
Font color, font type, text size, line width, line color, line dash type, arrow type, background color, transparent (alpha) level of shapes could be changed easily by using toolbar controls.


✔ UNDO/REDO:
You can perform unlimited undo and redo of your actions when edit a comic page.


✔ SHADOW:
All items could be set to have shadow. Shadow setting includes: blur level, alpha level, and color.


✔ LOCK ITEM POSITION:
Press "⌘L" to lock position of items that you want to fix position, size.


✔ SNAP TO GRID
Allow snapping item to grid for easy positioning. Plus you could also change grid size.


✔ ALIGN MULTIPLE ITEMS:
Select many items then do right-click mouse to select alignment options as following:
★also allow to auto-align with another objects★
- Left
- Right
- Top
- Bottom
- Center (Horizontal or Vertical)
- Horizontal center in View
- Vertical center in View


✔ CHANGE DISPLAY ORDER:
Select items then do right-click mouse to select change order settings:
- Send to back
- Bring to Front
- Bring forward 1 level
- Send backward 1 level



✔ EXPORT TO IMAGE FILE:
Press "⌘E" to export current page to an image file with format of PDF, TIFF or PNG or JPEG.


✔ SUPPORT PRINT:
Press "⌘P" to print current document.

Ratings and Reviews
Not bad, worth $3
I have only been fooling around with the program for a few hours, but so far I have found that it does everything I need--even though some functions are a little odd.

Pros:
Tons of fonts
Imports my jpegs well
Can shift photos around in their frames (hit enter after importing photo—it took me a while to find)
Built in memes are great
Price= :)

Cons:
I wish there were more shapes to insert photos. (Like circles without lines through the center and plain square boxes without a frame.)
When I add a new page it is not the same size as the previous pages. I have found a way to fix the size, but I have to do it for every page.
Premade layouts are limited. They should add several for each style they have.
Okay alternative to Comic Life
I am a long time Mac user and we all remember the days of Comic Life - which is a great App. However, if you just want something to play around with and you're not willing to drop $30 for it on the App Store - this is a great alternative. Certainly not Comic Life but you get what you pay for and it actually isn't half bad.
Really good idea, terrible execution
I have had this application crash three times in the first five minutes of my purchase. I am going to request a refund.
Information
Seller

Tien Thinh Vu

Size

69.3 MB

Category

Age Rating

Rated 4+

Copyright

© 2012 Vu Tien Thinh

Price

$2.99
Supports
Family Sharing

With Family Sharing set up, up to six family members can use this app.