PicList To Do Manager
By Jenna Andrews
This app is only available on the App Store for iOS devices.
Description
PicList is a powerful, useful and simple to use to do management application with all the features you would expect to find like reminders, sorting, password protection and color coding tasks. But it also has the unique ability to instantly turn anything into a list without having to type it into your phone.

Spend your time doing it, not typing it.

That's right, you can turn virtually anything into a list. Take a screenshot of a new recipe to instantly turn it into a shopping list. Text messages, scribbled notes, a phone number on a napkin or a sticky note can all instantly be added to your list in a snap. Add as many pictures as you want! And if you just want to add a quick task or create a task list without any pictures, you still have all the power and features of a traditional to do list right there.

This one of a kind To Do Manager was designed to be powerful and simple at the same time. We have worked very hard to make everything you need just a couple of taps away.

Check Out These Features and also watch a video demo on our website:

✓ Take pictures of your lists and cross them off with your finger.

✓ Import a photo of anything and instantly turn it into a to do list.

✓ Two draw styles:
· Free Draw allows you to freely draw what you want on your list
· Point-to-Point helps you draw strait lines when crossing items off your list.

✓ Every picture list can have it's own stroke settings including:
· Size
· Color
· Opacity
· Draw Style

✓ Multi View gives you an overview of your whole list and allows you to go directly to any picture.

✓ Two views in every list:
· Picture View where you manage your Picture Lists and cross items off with your finger.
· Task View where you can add and complete items in a traditional to do list.

✓ Make traditional task lists simply by not adding a picture.

✓ Sort your task items.

✓ Organize, categorize and prioritize with 10 different color backgrounds for all your tasks.

✓ Set alerts with 30 different alert sounds.

✓ When an item is due and you need more time, easily add an Hour, Day or Week without even going to the task.

✓ You decide what you want to do when a task item is done. Delete it, move it to the bottom or just leave it where it is.

✓ Set application wide defaults so every list is set up the way you want from the start.

✓ Password protection.


For much more info please check out our website at www.mosecode.com
What's New in Version 1.02
New Feature: Export list with e-mail. Hold your finger down on your list in the main view to access new e-mail feature.

Fixed bug: Updating info in view
iPhone Screenshots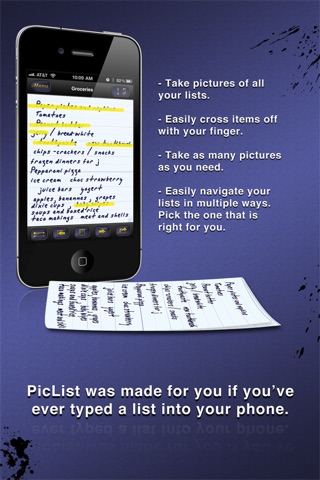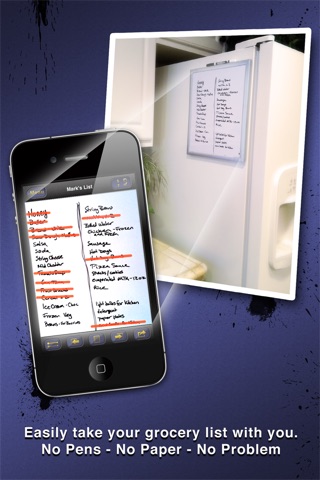 Customer Reviews
GLAD I FOUND THIS ONE
I have been looking for a simple user friendly app just like this for a long time
Blown away by the simplicity, and thoroughness of it planning

It would be nice to have a backup maybe to Dropbox

I LOVE being able to make my list by hand and then photograph it and then cross them off with choice of cross thru colors , opacity and thickness

I LOVE being able to add to a list afterwards too - it creates 2 lists in one if you do photo first as adding to it after is done by typing entries - might be nice to have the differentiation a little more bold or noticeable

Would like to see some sort of push notification that shows how many notes I have in the app - as I keep this app on my home page and could easily 'forget' I have stuff in there

Here are a couple ways how I use mine:

1
Make a manual list of stuff I might need at office supply store - the list stay on my desk for a week or more as I continue to add to it on paper - then when I am ready to go I can photograph it and cross items off the list as I shop

2
On the way home from work I know I need to make several 'stops' ie: get haircut, stop at tailors , pet supply, fabric store, grocery store etc - the longer my list the more I would forget to make a particular stop - so I write them down - photograph it and it keeps me on track

THANKS FOR A GREAT WORKING APP
One of my Must Have Apps!
I live by lists that I write at home - car - work - everywhere! Lots of little pieces of lists really. This app lets me put them all together with no fear of losing all of my brilliant post-it note ideas! Only request would be that I would like to be able to zoom the pictures as some of them are long lists so I have to be pretty backed out to capture the whole list in one shot. For now my suggestion for those other folk who NEED the zoom feature to see - like me - take a pic of the top section and then the bottom section of the list so you can read it all.
Lacks essential features
Good potential but lacks an individual undo when crossing off items. The text side works ok, but pictures need a way to integrate text notes and items. I like to use pictures as reference in other ways than copying a to do list. Integration of effective marking and text tools along with location links would make it a lot more useful.
View in iTunes
$1.99

Category:

Utilities

Updated:

Dec 22, 2011

Version:

1.02

Size:

48.1 MB

Languages:

English, Dutch, French, German, Italian, Japanese, Simplified Chinese, Spanish

Seller:

Jenna Andrews
Compatibility: Requires iOS 4.0 or later. Compatible with iPhone, iPad, and iPod touch.
More iPhone Apps by Jenna Andrews