Pike and Shot
By Slitherine
This app is only available on the App Store for iOS devices.
Description
This is a 32 bit app. You will always be able to play this app on iOS 10.3 or older but Apple may remove support for 32 bit apps in future iOS updates.

Time to reload your muskets as Tercio to Salvo, the official expansion of Pike & Shot, is now available through inapp purchase! With 49 new army lists, 2 new nations and 10 historical scenarios, get ready for some epic challenges in the heart of the Renaissance!

In the age of Pike and Shot, mighty struggles erupted across Europe for causes religious, political or dynastic. In 1494 A.D. The first of the Italian Wars broke out, starting a long struggle for dominance in the region, involving many major belligerents such as France, the Holy Roman Empire and Spain. After years of fighting, the conflict was not resolved until 1559.
Then from 1618 until 1648, The Thirty Years War raged across Germany and beyond, leaving devastation in its wake, but saw the rise of great commanders such as Count Tilly, Wallenstein and King Gustavus Adolphus of Sweden, and rapid developments in battlefield tactics. The Thirty Years War saw the involvement of great empires such as the Spanish and the French empires, as well as the Swedes.

And starting at 1642, the English Civil War erupted, tearing the country apart between Royalists and Parliamentarians as the fought for control of the country. After many musket volleys and cavalry charges, it was the famous Olivier Cromwell who led the Parliamentarians to victory, ending the conflict in 1651.

All these wars were fought during the age of Pike and Shot, a time where musketeers "gave fire" in a duel to the death, pikemen held stolidly against enemy assaults, and cavalry charged to glory or defeat. Now you can march into the footsteps of the great leaders of these wars, as you can take command in the greatest historical battles of the Italian Wars, the Thirty Years War and the English Civil War. Fight stand-alone "what-if" scenarios, or design your own scenarios using the easy to use editor and claim glory in Pike & Shot!

FEATURES

• Accurate simulation of battle in the 16th and 17th century Age of Pike and Shot.
• 10 full-sized historical battles in each campaign- The Thirty Years War, English Civil War and 16th century Italian Wars.
• Stand-alone battle system allows unlimited "what-if" scenarios using historically realistic armies from carefully researched army lists, on realistic computer generated terrain maps.
• Randomly generated stand-alone scenarios including open battle, attack on a defensive position, defence of a defensive position, awaiting reinforcements, enemy awaiting reinforcements, flank march.
• In stand-alone games players can pick their armies from the army list or allow the computer to pick the army for them.
• 5 difficulty levels allow the challenge to increase as you develop your battlefield skills.
• 20 troop-types, 25 "capabilities" and numerous different unit organisations allow full representation of tactical differences and developments throughout the period.
• Multiplayer mode allows historical scenarios and "what-if" scenarios to be played by two players using Slitherine's easy to use PBEM server
What's New in Version 1.2
+Mountainous, Forest and Hilly map types added to create more variety in skirmish games.
+Larger skirmish maps for better cavalry manoeuvre.
+Option to minimise tooltips.
+Improved AI.
+Lots of tweaks and fixes.
iPad Screenshots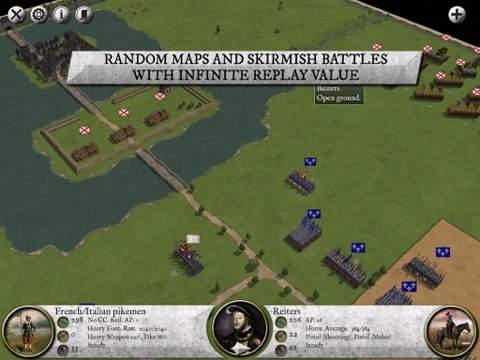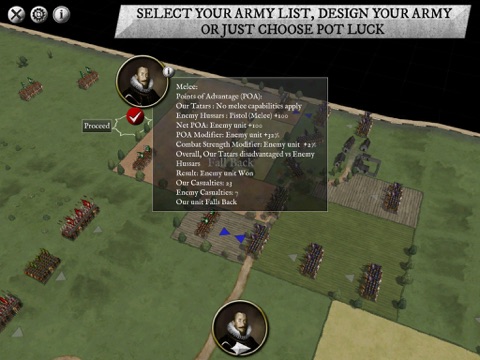 Customer Reviews
Excellent!
I am an avid wargamer and know a little about this period, but not an expert. I thoroughly enjoyed this game. It is the best wargame I have played on my iPad by far. It is very good at recreating the period feel. One must be very careful of committing your troops to melee. They will be locked in melee until resolved and even if they win there is a good chance they will pursue the broken enemy off the field (or at least so far that they have effectively taken themselves out of the game) especially cavalry! Bit of a learning curve. One gripe is I wish there was an undo as the interface can be finicky. For example, I have selected artillery units to fire and they limber instead, making them useless for the turn. Highly recommended!
Long Addictive Battles
Good for everyone. Long, extensive battles that are hard to walk away from. So good. I'm not, by any means, a die-hard war gamer, nor do I have any knowledge about the time period, nor did I download this game thinking I would get so into it. I really love it… I recommend to everyone… even those who are intimidated by the look and feel. It takes a bit of time to learn the troop types, at least for me, but it's worth it.
Fantastic wargame
Amazing wargame covering a colorful period of military history/not often seen in the strategy market. The interplay of units is fascinating and the battles engrossing. I disagree with some who criticize the length of the battles, as there is a robust mission editor that allows you to create just about any sized engagement you want. Most of my favorite fights have been 30min skirmishes with a handful of units. 'Hats off to the developers for a great game.
View in iTunes
$19.99

Category:

Games

Updated:

Apr 07, 2015

Version:

1.2

Size:

162 MB

Language:

English

Seller:

Slitherine Software UK Ltd.
Compatibility: Requires iOS 4.3 or later. Compatible with iPad.
Top In-App Purchases
Tercio to Savlo$9.99
More iPad Apps by Slitherine