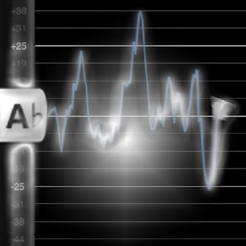 Description
THE APPCAST APP OF THE WEEK (44/2009)!!
SEE PITCH PRIMER IN ACTION: http://www.youtube.com/watch?v=5s2psD2sntY

**************************************
#1 IN FINLAND'S TOP PAID MUSIC APPS
**************************************

Imagine yourself playing in tune. Completely in tune. Imagine being able to analyze the exact pitch of your playing. Imagine the possibility to really enhance your ability to hear whether your playing is sharp, flat or pure.

It is now possible with Pitch Primer.

Professional and hobbyist musicians can improve their playing with Pitch Primer, software initially developed by professional musicians for their own needs to hear pitch purity more accurately and to improve their playing. Sibelius Academy, one of the biggest and most respected European music universities has helped these devoted developers to finalize their Pitch Primer software.

Pitch Primer enables the user to analyze audio in real time while recording and also after recording. The software draws a graph of the playing pitch in relation to desired temperament, zooming in and out interactively with playing. No more fumbling off pitch!

PITCH PRIMER HAS FIVE BASIC MODES
1) Record – Records audio, enabling the user to analyze it in real time.
2) Standby – Tuning mode.
3) Playback – Replays audio just as it was recorded.
4) Retune – Replays audio retuned pure to desired temperament, enabling the user to hear how the audio would sound in tune.
5) Analysis – It is possible to analyze recorded takes, scroll back and forth inside them, zoom in and out to examine the most interesting parts precisely and accurately.

Pitch Primer is designed especially for woodwind and brass instruments, but instruments such as strings and some others can reap the benefits as well.

ADDITIONAL FEATURES
- Six different temperaments to choose from
- Scales: Chromatic, Major, Minor, Maj Triad, Min Triad
- A Hz: Free frequency calibration (default 440)
- Themes: Five visually appealing skins to choose from
- Adjustable zoom
- Adjustable recording timeout
- History viewable by scrolling
- Histogram: Analyze the whole take - which notes were sharp, which were flat, which were pure and how much each was played
- Volume graph display (Optional)
- Exercises recorded: Keep, delete, rename and analyze

Visit our website at http://www3.siba.fi/pitchprimer/en for more information on Pitch Primer features and to see Pitch Primer in action! You have to see it to believe it.

If you have questions, feedback, or want to submit a bug report, you can email us at pitchprimer@gmail.com.

** NOTE **
iPod Touch requires an external microphone. See our website for further information.
Ratings and Reviews
A review from a pro cellist
If you believe in using a tuner and recording yourself to improve your intonation, this app would be a bargain even if it was more than $10. Forget about changeable skins, file exporting, etc.. You can pay somebody to listen for and correct your out of tune notes. Or you can see and hear them yourself with this app. The beauty of it is hearing the same passage replayed a second time WITH YOUR SOUND tuned the way it should be according to the A, temperament, and root note you choose (with equal temperament of course no root is required). You don't have to keep hitting record, stop, and play again as it does all of that automatically. Yes there is room for improvement (the display can be too jumpy, please move all the settings within the app itself so you don't need to go to the iPhone settings, improve the readout so #'s and b's are more legible next to the note names, make the timeout slider be a specific duration for starters). But I am already a devoted user and have gifted it to other pro musicians. It's on my home screen along with Cleartune,
iStrobosoft, and Metronomics.

- Joshua Gordon, cellist, Lydian String Quartet, faculty member at Brandeis University
Not worth money would be nice if free
I've had this app now for about 3 years and it crashes constantly, doesn't record of you have headphones in then pull them out if I record without headphones then afterwards when I'm listening to it with them in it will either sound all choppy and static or it will play the song I recorded really slow like half the original bpm, and you'll be recording something then for no reason even though your still playing loudly it will just stop recording and mess you all up. I just use it now to tune my guitar
Update
I am begging developers to update to new OS for iPhone. I love this app but will lose it if update my phone. Also my battery needs to be replaced and will lose it if I do so. I haven't updated my phone and won't because of this. PLEASE UPDATE THIS APP!!!
Information
Seller

Sibelius Academy

Size

1.5 MB

Category

Compatibility

Requires iOS 3.1.2 or later. Compatible with iPhone, iPad, and iPod touch.

Age Rating

Rated 4+

Copyright

© 2009 Sibelius Academy

Price

$9.99
Supports
Family Sharing

With Family Sharing set up, up to six family members can use this app.