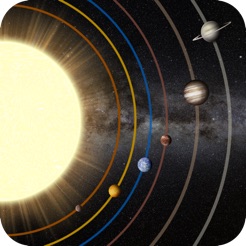 Planets -- Live Wallpaper
4+
Description
Place all planets from our Solar System right on your desktop and
enjoy an amazing interactive Solar System with a calendar, clock and
iCal task list.

Can you imagine what it looks like to look at the Solar System from
Mars or Uranus? Pick and place a planet at the center of the system
(use Options) and look at our Solar System from absolutely new point
of view - right on your desktop!

Features:
* Beautiful 3D Solar System live wallpaper for your Mac.
* Soundtrack with ambient sounds of deep space.
* Calendar and Clock.
* 3 closest tasks for today taken from iCal.
* Change the view - click on the desktop.
* Change rotation speed and angle.
* Place a planet or its satellite at the center of the system.
* Zoom in on a planet or one of its moons.
* Show planet moons and their orbits.
* 4GB of memory recommended
* Requires Mac OS 10.7 or higher.

Learn more:
www.LifewareSolutions.com

Video:
http://www.youtube.com/watch?v=b8xY8JNZLAU

Note: proportions of orbits and planets were adjusted to fit the screen.

Your support would greatly help us make the application even better:
if you like the app, please write us a good review on Mac app store.

We also appreciate your suggestions - let us know how we can make the
app better.
- Perseids added
- Performance improved
- Stars bug fixed
- Orbit pulsation bug fixed
- New asteroid belt
Ratings and Reviews
Fun talking-piece.
I'm middle school science teacher and absolutely love this app. Not only can I teach the planets with some basic information, but I can also talk about and show the lunar cycle! I would like an option under preferences where I can disable the camera movement. Every mouse click changes the angle, which isn't a big deal, but having the ability to disable would be fantastic.

Great overall app. Well-made and authors should consider creating science apps for multiple areas: plate tectonics, such as, plate movement, boundary interactions; creating atoms with subatomic particles; so much more you all can do.

Thanks for this, from an astronomy-lovin' nerd.

**NOTE** to the previous reviewer, and as mentioned by others previously, the circle in your menu bar at the top is the options menu for the app. Again, as another said, the black donut. Hope this helps, it sure helped me.

Also, if your animation stops and your using macbook, make sure you're plugged in or that you haven't selected "disable the animation when battery is in use".
Awesome Desktop Solar System...
This app delivers exactly what it promises, a beautifully rendered moving model of the solar system for your Mac desktop. The planets swing along their orbits in a mesmerizing celestial dance, while moons and asteroids move through their own orbits (if you choose). Makes for the perfect live wallpaper for the astronomically minded and a great teaching aid for kids. A nice range of preferences is offered, while set up and changes are simple. Looks fantastic on my 27" iMac. Kudos to the developer. This app is well worth the tiny price. Highly, highly recommended.
Freezing
I had to change some features on it because the noise was very distracting and the background movement as well. It moved too fast, so I had to reduce the speed of the movement of the planets. Also, the noise that came out was annoying because how can I listen to my music while listening to the noise of the planets in the background, makes no sense. So, I turned off the sound. Thereafter, the application keeps on freezing. Right now, there is no movement at all and the preferences does not want to open. This happened prior and I had to re-start my mac. I dont believe that the application is ment to change the features/options.
Information
Seller

Sergey Vdovenko

Size

67.2 MB

Category

Age Rating

Rated 4+

Copyright

© Lifeware Solutions 2010-2012

Price

$1.99
Supports
Family Sharing

With Family Sharing set up, up to six family members can use this app.