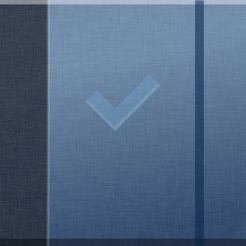 Planner for iPad - Weekly Calendar and Tasks
4+
Description
Planner for iPad puts your weekly agenda and todo list on the same page. A calendar on the left, a list of tasks on the right. New features just added (see below) and on sale for a limited time.

This format is very popular in many bound paper planners. It's a comfortable way to stay organized. The tasks stay put no matter what week it is, and you can cycle between your current, someday, and completed tasks. My wife used to move a post-it note with tasks on it from week to week; she inspired the layout.

Planner integrates with the built-in Calendar app to provide event alerts on the default calendar. Manage your life from the app; since the events show up on the regular calendar you can see your events and reminders on your phone or desktop.

You can enable sync to import events from the built-in Calendar app. If your Calendar app is set up to sync with Google Calendar or MobileMe (or others), those events will show up in Planner. If you make changes to them, they'll be sync'd. The color of imported events is determined by your settings in those applications (ie, if your MobileMe events are green, they'll be green in Planner and you won't be able to adjust their color from within the app).

Quick entry: you only need to type a word or two to create an event or a task.

Planner tries to make it easy for you to plan your week and get more done. It doesn't have dozens of task categories, tags, a half dozen status lists, and mandatory workflows. You're better off with another app if you need that; this one will never be busier than you.

* Note that you have to create each event and can't specify a recurrence period in this release.

Calendar Events
- Use quick entry feature to add a new event with a tap
- For new entries, you can specify the start time with a phrase (eg, "meeting at 10am")
- Assign colors to events; or you can also use colors that match the page
- Choose from fourteen event color themes
- Set specific due dates and alarms
- Integrates with built-in Calendar app so you get reminders (see notes above)
- Write notes about any event
- Pick the day you want the week to start on (ie, Sunday or Monday)
- Setting to show start time of the event (rather than just the title)
- Email or print your agenda from within the app
- Month view shows you every event for the current month
- Days dynamically resize to accomodate more events

Tasks
- Easily add new tasks: type and tap Done
- Optionally add notes to any task
- Set a specific due date that shows up next to the title
- Works with the built-in Calendar app so you get alerts
- Overdue tasks appear with a dark red due date. Time to act.
- Not sure about a todo? Send it to the Someday list and think about it later.
- Easily reorder tasks
- A single tap in the box marks a todo as completed
- Tap a task to edit its title, notes, due date, and category
- Use the buttons at the bottom to flip between current, someday, and completed tasks


Fully supported, guaranteed. I love hearing from you and will help you if you need it.

ALSO - If you need to take meeting notes at work try my new app Meetings!

Need help or have suggestions? Contact me from within the app or send an email to steven@slidetorock.com.
- Start & end date editor picks better end date based on start date

- New setting to show current week-of-year number

- Pressing and holding events to move them within the same week is improved

- Fixed task due date issues (overdue are red, due soon are dark gray)

- Reduced memory usage of weekly calendar view



Thanks for all your help!
Ratings and Reviews
Works well, but...
After looking through countless apps for this type of 'week' layout with a to-do list, I bought this app and love it. Makes it easy to see what you have going each day before you agree to go or do something. Has replaced my paper planner at this point.

Updates I would love to see;
- Repeat option for events. (you cadd repeat items by syncing the calendars, but... Then you can't change the event color)
- tasks appear on date they are due (I.e. a note to call the dr's office at a future date could be entered as a task, and then appear on the day you wanted in you day's items)
- in month view, be able to go forward and back between the months, and then being able click on a day in the month and go directly to that week's view. (instead of scrolling through week by week by week).
Could be better
Overall, I like the look and feel....however, a few things are missing: Recurring events, a monthly view (closer to iCal would be perfect), and having the TIME next to the events. The point of technology is to replace the old fashioned ways, but so far I haven't found a planner/to-do that does. Was hoping this was it. Hoping changes will comes because I think this has a lot of potential.
Good start, undeveloped, buggy, abandoned?
I hate throwing money away on apps that I pay for and then just have to delete. Program crashes on my iPad Air 2 every time I try to check a todo item as completed. Program will not allow creation of calendar events on anything but the default calendar so I must go into another program to create entries on a shared calendar. I wish these old unsupported buggy apps would just be deleted from App Store and save us from wasting time and money.
Information
Seller

Steven Romej

Size

259.2 KB

Category

Compatibility

Requires iOS 4.2 or later. Compatible with iPad.

Age Rating

Rated 4+

Copyright

© 2011 Steven Romej

Price

$2.99
Supports
Family Sharing

With Family Sharing set up, up to six family members can use this app.