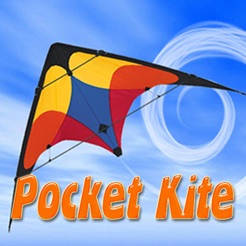 Description
Pocket kite is a unique arcade style kite simulator. Hone your kite flying skills to prepare for several entertaining kite games.



FEATURES

6 modes of play:



-Casual Fly

Just fly around for fun and get a feel for the controls.



-Balloon Pop

Pop the red balloons before they escape. Collect blue, green, yellow, orange and purple balloons for power ups but avoid the black balloon.



-Checkpoint Race

Race to the checkpoints before your time runs out. After each set of rounds the number of checkpoints increases.



-Kite Chase

Follow the target kite as close as you can to earn points and bonuses.



-Avoid

Lure enemy kites into the balloons to score points while avoiding contact with everything.



-Defend

Ram oncoming kites before they pop your balloons



3 kite styles that range in handling, wind factor, and speed:

- Novice - Slow movement and turning.

- Pro - Moderate speed and maneuvering.

- Ace - Fast and agile.



3 large scrolling environments each with unique music tracks:

- Beach

- Hills

- Plains



Special Thanks:

-Tony Trinidad

-James Bowen



Next Update 1.3:

-Animated/Upgraded backgrounds.

-Bug fix for incoming call pausing. If you receive a call and decline it you will need to toggle the pause button to continue playing.



Also Try:

-Globs

-Bastion
-Fixed Major incoming call and sleep interruption bug: Caused the application to loose sounds and become unresponsive to touches.



-Fixed jitter when impacting the ground
Customer Reviews
Buggy
Right control gets stuck on right side of screen. You have to quit and launch the app after each game since it locks up. Should be free.
Bad
This game is boring and a huge ripoff really needs to be free.
Stunt Kite
The controls take a little getting used to. I've tried a real stunt kite and couldn't get it off the ground, so this is definitely easier than that. There are 3 levels of difficulty. The easiest I found kind of boring. The middle one was the sweet spot for me.

The free play mode where you can just fly I found kind of dull. I guess I need more of an objective, so I was glad to see the balloon popping game. That one is entertaining, though I get turned around and l confused when the kite is moving downscreen (right becomes left, left becomes right).

I haven't tried Race mode yet.

The graphics are a mixed bag. The kite is quite realistic in its appearance. The background imagery, however, is lacking. Since there is no movement in the background (beach with waves frozen in place, for example), it looks and feels like you are playing in front of a painted wall.

Overall, 4 stars. The controls take a little bit of getting used to, but feel right. You get a sense of kite flying, so props to the dev on that. The kites look good, but the backgrounds are lacking.
Information
Seller

Chad Towns

Size

8.7 MB

Category

Compatibility

Requires iOS 2.2.1 or later. Compatible with iPhone, iPad, and iPod touch.

Age Rating

Rated 4+

Copyright

© Chad Towns

Price

$0.99
Supports
Family Sharing

With Family Sharing set up, up to six family members can use this app.