Portfolio for iPad
By Britton Mobile Development
Open iTunes to buy and download apps.
Description
Portfolio offers a self-contained, brandable presentation tool for your business. Once set up, it will look like a custom app developed exclusively for your business. Lock the interface with a PIN when you're done and it's safe for any client meeting without the worry of exposing the management interface underneath.

Whether you're a photographer showing photos and videos to a bride-to-be, a wedding venue displaying various table setups, a florist giving the choices of different arrangements, a landscaper showing different layouts, or a web designer describing past designs, Portfolio will give that extra bit of polish and professionalism to your presentation.

Key features include:

• Full or partial library syncing.
• Subgalleries for better organization.
• Customized branding for the app with multiple themes.
• Support for images, videos, and PDFs.
• Load from the iPad, File Sharing, Dropbox, Box, your Mac, or a SFTP server.
• Lockable interface allowing the iPad to be passed along without exposing the management interface.
• Multiple galleries and the ability to hide unneeded galleries.
• Slideshows with configuration options for slide duration and soundtrack.
• Ratings and notes editable per image.
• Full screen viewing and browsing or partial screen with or without thumbnails.
• Zoom in on details in imported photos.
• Compare up to four photos at a time.
• Keyword tagging and the ability to filter by keywords and ratings.
• External display support through AirPlay, the HDMI adapter, or others.


"Portfolio has many features the other [portfolio apps] don't."
- Professional Photographer Magazine

"For our money, the simple yet elegant Portfolio for iPad app is one of the best around."
- PDN "The Top Five iPad Apps for Photographers"

"If you are at all serious about using your iPad for presenting images to clients you need this application [Portfolio]."
- BestAppSite

"Portfolio is constantly being refined. No other app is as feature rich and pleasant to use."
- Jonathan JK

"If you are looking for a clean way to showcase your images I would defiantly recommend downloading the Portfolio for iPad app."
- Digital Photo Buzz

"Portfolio has a huge range of features aimed at the professional photographer, and yet it remains easy to use."
- DPReview

"It certainly is a must-have for anyone who needs to display a visual portfolio."
- Design By Sweet


The Mac Loader requires at least OS X 10.6 to run.

------ If you have a problem, please contact support. I am unable to reply to reviews left here. ------
What's New in Version 4.0.1
If you like Portfolio, please don't forget to rate it and leave a review in the App Store.

### 4.0.1

[Chg] The slide and transition delay settings now show a textual representation of the time.

[Fix] Fixed some pieces of thumbnail metadata not displaying properly in the manager.
[Fix] Fixed metadata not showing correctly in some positions on thumbnails.
[Fix] Improved performance of scrolling with large numbers of thumbnails.
[Fix] Fixed a crash resulting from rearranging items before loading finishes.
[Fix] Fixed a crash that could occur when changing the selection in the viewer after filtering them all out.
[Fix] Fixed a crash that could occur when trying to load images without a gallery selected.
[Fix] Fixed a rare crash in the media chooser if an item's path cannot be determined.
[Fix] Fixed a crash when trying to crop an image.
[Fix] Fixed a possible crash when tapping the previous arrow in a slideshow that's at the beginning.
[Fix] Fixed a crash on iOS 7 when entering the viewer.


### 4.0.0

[New] Brand new viewer with significantly increased speed and image quality.
[New] Up to four items can be selected at a time by tapping and holding on the thumbnail.
[New] Completely new Mac loader with increased speed and reliability.
[New] Portfolio now supports animated GIFs.
[New] Portfolio now supports PNG transparency.
[New] Added a previewer to the content manager.
[New] Added a new metadata display configuration panel with more fields available for choosing.
[New] Added a new sorting panel.
[New] Added a panel to configure kiosk-specific settings.
[New] Added an interface to control how much space Portfolio uses for its cache.
[New] Added the ability to customize the colors and font used for displaying metadata.
[New] Can now share any item in the manager via the system share panel.
[New] New and improved filtering panel with the ability to select multiple keywords.
[New] New and improved notes/ratings exporting panel.
[New] New and improved slideshow configuration panel with additional settings for further customization.
[New] New icon.

[Chg] All configurations areas are now reached by a configuration button in the bottom right corner.
[Chg] Added interactive buttons to replace the add first gallery and add first media help cues.
[Chg] Deleting a folder now deletes all contents rather than moving it to the top level.
[Chg] For password protected galleries the keyboard now shows automatically when trying to enter.
[Chg] Galleries and folders now show the thumbnail of the first item in them if nothing is set manually.
[Chg] Improved the progress appearance for for loading in new media.
[Chg] Increased the toolbar button text size.
[Chg] Moved sync panel help button to top bar.
[Chg] Removed old repair gallery option.
[Chg] The add/edit gallery panel now moves out from underneath the keyboard when needed.
[Chg] The backup/restore panel now uses a more modern, streamlined interface.
[Chg] The PDF properties panel has been redone to better match the rest of the app.
[Chg] The quickbar share button now uses the system share panel.
[Chg] The theme layout and appearance editors now use the same interface.
[Chg] Updated the metadata editor to use a more streamlined interface.
[Chg] Updated the video properties editor to a more modern appearance.
[Chg] Slideshows now show metadata if configured.

[Fix] Added a workaround for an iOS 8 Box SDK bug.
[Fix] Fixed a bug where the content on a notes/ratings export would gradually shift down the page.
[Fix] Fixed the tint color when setting a gallery or folder's name.
[Fix] If the item name overflows the column in the notes/rating export it's now automatically shrunk as needed.
[Fix] The viewer's toolbars no longer hide while help is active.
[Fix] Fixed sizing of SFTP bookmark editing view.
[Fix] Fixed being unable to delete SFTP servers.
iPad Screenshots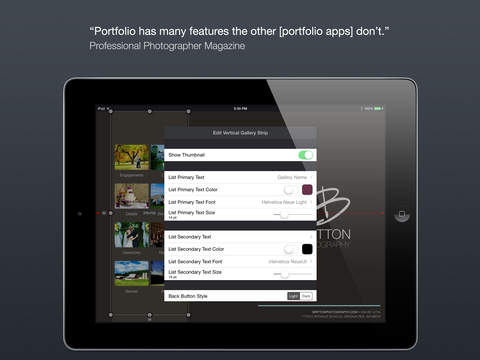 View In iTunes
$9.99

Category:

Photo & Video

Updated:

Feb 18, 2015

Version:

4.0.1

Size:

61.3 MB

Language:

English

Seller:

Britton Mobile Development
Compatibility: Requires iOS 6.1 or later. Compatible with iPad.
More iPad Apps by Britton Mobile Development