Postmates - Food Delivery, Faster
By Postmates Inc.
Open iTunes to buy and download apps.
Description
Postmates is the fastest, easiest way to shop local on-demand—place an order from any restaurant or store and a member of our fleet will pick it up and bring it straight to you!

Order Anything: We deliver from virtually any store or restaurant in your city. Order late night meals, last-minutes birthday gifts, cleaning supplies—anything!

Speed: Our system takes into account time and distance to ensure your order is assigned to the best possible Postmate, for the fastest possible delivery

We're Always Open: Postmates is a 365 days a year, 24/7 service.

Delivery Anywhere: We'll deliver to your home, office, a park—wherever you're at!

Real-Time Tracking: Keep tabs on your delivery progress on a live map!

Customer Service: Need help? Our world-class customer service team is available 24/7.
What's New in Version 3.9.30
Oh man, this is getting exhausting. Three releases in one week? Who even does that? Completely excessive.

Sorry folks, we're just codin' and shippin' out of control right now. Can't stop won't stop.

I need a reup badly because I'm running out of words this week. And I know words - I have the best words. So many words. Had.

We've got - a brand new, cooler looking referral program. I mean, it's not as cool as our $100 referral program that we stopped a few weeks back, but still pretty rad. Don't worry, keep watching that space. You know we're cooking something that's going to make you invite all your friends like early 2000s Friendster. Probably.

In a few very select cities, we're putting some household essential items front and center, where you can get them Postmated in less than an hour. It's like Walgreens except for your couch. If you don't see it don't fret, we'll get to you.

Finally - yeah we fixed a super rare crash that happens when you go and look at your delivery history and shake your head because you realize just how much money you spent buying stuff on Postmates. Now we don't make it worse by crashing rarely. You're super welcome.

Here it is, your moment of zen, 1 code good for 1 free delivery for the first 100 Dothraki: DRACARYS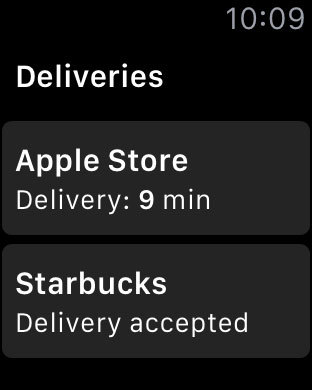 Customer Reviews
Account Placed on Hold Before 1st Order
My first (and only) time attempting to use the app, I chose where I wanted to order, what I wanted, and then ordered (or so I thought). I immediately got a notification that my account was placed on hold and that the order could not be filled. There was no explanation as to why. I received an email stating that customer accounts team would be looking into it and would be in touch. It also stated that if I wanted to expedite the process, I could contact customer service directly by clicking on a link in the email. Since I was placing the order for a work event that was supposed to begin in a few hours, I DEFINITELY wanted to expedite the account release/unfreeze process. Unfortunately, the link in the email only took me to an online fillable form. There was no phone number listed or customer service online chat or any way that I could speak to someone directly and immediately. Even their "expedited" process would take a few days. In the end, I ended up ordering to go food from another restaurant and my boss had to go pick it up. AND it's been 5 days since I initially tried to place my order and I have not heard a word from customer service about taking my account off hold.
Do NOT USE
Uber eats is the way to go! This app is never consistent. I've used it MULTIPLE times, in MULTIPLE cities. Drivers who deliver usually never speak much English, even enough to fix your order or communicate about where they are, (because the app and website tell you your order is 20 minutes away, and the driver is waiting out in front of your residence, but they can't tell you that, because they don't speak English!) But it gets better, you order beverage from a store, and you can't find ANY other locations that sell your selection of beer, so they call you and inform you that they are out of that selection, I requested to just pick anything comparable to the price and I just wanted something to drink. But no I had to cancel because the substitute button on the website doesn't load, so you can't substitute. So you get multiple phone calls saying to cancel. So I abide. I reorder, and yet again another item isn't available. I did it once more, and to no avail still not available. The app and website are useless and not accurate. You want food or beverage, use uber eats. This crap is worthless. 👋🏼👋🏼👋🏼
Worthless service
Got a push notification about free $50 delivery credit and decided to order some food using the app.
While browsing through a number of places I already had quiet an appetite. I ended up selecting a place and it was initially available, I spent 5-10 minutes making up my mind on items I want to order and finally placed it. A minute later I got a message saying order was cancelled due to place being too busy. Ok, that happens, I went back in and spent another 10 minutes looking for something else. Chose another place, 10 more minutes deciding on food, finally hit place the order and get message saying no postmates are available in the area (nobody on Market/Castro, really?). Wasted 40 minutes just to be told at the very end that both places are not available for different reasons. How hard is it to push a restaurant status update while user is still browsing?
At that point I was really mad and very hungry.
Worthless service that I don't see myself using ever again.
And for Christ sake add a "Cart" option to your UI.
View in iTunes
Offers Apple Watch App for iPhone
Free

Category:

Food & Drink

Updated:

Aug 11, 2017

Version:

3.9.30

Size:

93.8 MB

Apple Watch:

Yes

Language:

English

Seller:

Postmates Inc
Compatibility: Requires iOS 9.0 or later. Compatible with iPhone, iPad, and iPod touch.